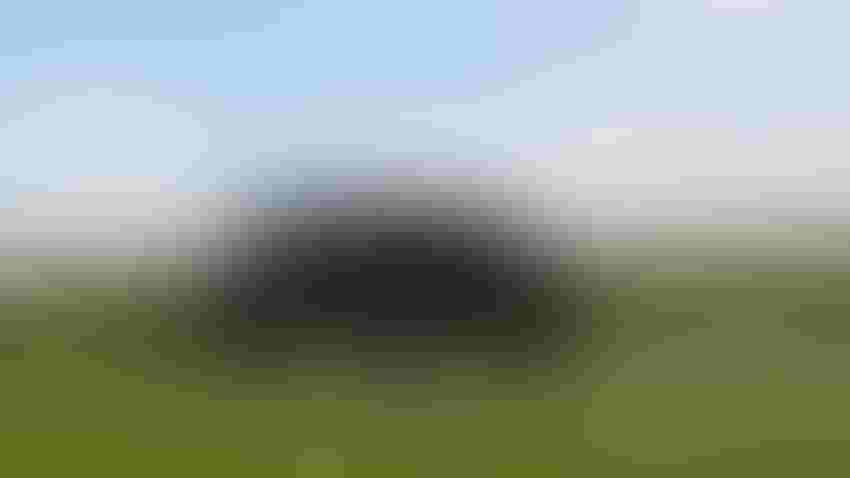 Photo submitted by Corteva Agriscience
Postharvest generally brings two feelings to mind: relief and reflection. Growers are relieved the stress of the season is over and then reflect on what they can do better in the next crop. This isn't any different when considering weed control in cereal crops. Staying on top of weeds in the fall and preparing for the spring and the crop breaking dormancy will provide relief and possibly some additional time for reflection over the winter months.
While some herbicides may go down in the fall, a majority of winter wheat planted as a forage for grazing cattle won't be sprayed. Still, the importance of keeping on top of weed control this fall will be revealed in the spring. Weeds such as henbit and brome species may be more prevalent this year, as some areas of winter wheat country received summer and fall rains — a change from the past few growing seasons.
"Weeds are cyclical unlike insects," says Michael Lovelace, field scientist with Corteva Agriscience. "If you had weeds in this year's crops, you're going to have them in the next one. This isn't always the case with insects."
Preparing now for applications of cereal herbicides once the wheat breaks dormancy will help keep growers on top of this chore all season. As days warm and moisture (hopefully) falls, it is not just the wheat that begins to grow but also early weeds, including henbit and mustards.
In the early time frame of February and March, Lovelace says, Quelex® herbicide with Arylex® active is an effective tool for control of broadleaf weeds in small grains, including henbit and early emerging marestail. Quelex combines a Group 2 active, florasulam, with Arylex® active, which is a Group 4. He recommends mixing Quelex herbicide with MCPA ester for additional broadleaf weed control, including mustards.
"Being prepared and knowing the environment will dictate how early you need to be out in the fields looking for weeds before they become a problem," Lovelace says. "Being proactive helps limit issues caused by the weeds."
Over the years, Lovelace has researched the impact different herbicide chemistries have on emerging weeds. He also has studied how the products perform in certain weather situations. For control in the spring, Lovelace has found Rezuvant® herbicide with Arylex® active to be effective on early season weeds. Rezuvant includes three active ingredients: fluroxypyr, pinoxaden and Arylex. Rezuvant helps maintain clean fields and, ultimately, protects yield potential.
"In winter wheat, we use Rezuvant herbicide mostly for Group 1 susceptible Italian ryegrass and wild oat control," Lovelace says. In the southwestern part of Oklahoma, he reports, wild oats have been an issue and Rezuvant herbicide provides effective control.
Lovelace recommends applying Pixxaro® EC herbicide with Arylex® active in the late spring or early summer for effective control of kochia and marestail along with bindweed suppression — helping to close out the season with a strong finish. It's important to get that final control before harvest to protect yield, Lovelace reports.
"Taking the time during the fall and winter and putting a plan in place to control weeds throughout the growing season is important," Lovelace says. "The weeds will be there, and having a plan helps growers get in the fields quicker and in a more efficient manner, too, for effective control."
Visit CerealHerbicides.corteva.us to discover which cereal herbicide hits the mark for your unique cereal farming operation.  
Legals: ™ ® Trademarks of Corteva Agriscience and its affiliated companies. Pixxaro® EC, Quelex® and Rezuvant® are not registered for sale or use in all states. Contact your state pesticide regulatory agency to determine if a product is registered for sale or use in your state. Arylex® is a registered active ingredient. Always read and follow label directions. © 2023 Corteva.  
CIDS:
Quelex: https://www.corteva.us/products-and-solutions/crop-protection/quelex.html?cid=mkch:nat_mktp:3pwa_ctry:us_brnd:cph_agny:BR_cpid:cpn-1389_cpno:104565_cpds:2023cerealsfpnov_tok1:%s_tok2:%ecid!|%epid!_
Rezuvant: https://www.corteva.us/products-and-solutions/crop-protection/rezuvant.html?cid=mkch:nat_mktp:3pwa_ctry:us_brnd:cph_agny:BR_cpid:cpn-1389_cpno:104566_cpds:2023cerealsfpnov_tok1:%s_tok2:%ecid!|%epid!_
Pixxaro: https://www.corteva.us/products-and-solutions/crop-protection/pixxaro-ec.html?cid=mkch:nat_mktp:3pwa_ctry:us_brnd:cph_agny:BR_cpid:cpn-1389_cpno:104564_cpds:2023cerealsfpnov_tok1:%s_tok2:%ecid!|%epid!_
Cereal Portfolio: https://www.corteva.us/products-and-solutions/crop-protection/Cereal-Herbicides-Portfolio.html?cid=mkch:nat_mktp:3pwa_ctry:us_brnd:cph_agny:BR_cpid:cpn-1389_cpno:104566_cpds:2023cerealsfpnov_tok1:%s_tok2:%ecid!|%epid!_
Subscribe to receive top agriculture news
Be informed daily with these free e-newsletters
You May Also Like
---