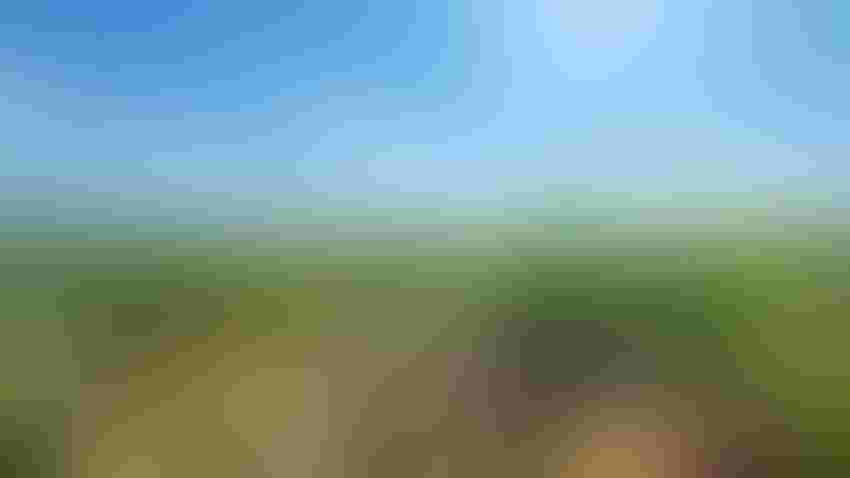 "The goal is to get a cover crop planted as quickly as possible after harvesting the summer crop," says Texas A&M AgriLife Assistant Professor and Extension Specialist Joseph Burke, Lubbock.
Shelley E. Huguley
Southwest farmers who plan to seed a cover crop to protect soil through the winter and to provide some biomass for the next crop should plant as early as possible after fall harvest.
"The goal is to get a cover crop planted as quickly as possible after harvesting the summer crop," says Texas A&M AgriLife Assistant Professor and Extension Specialist Joseph Burke, Lubbock.
That can be problematic with cotton. "It's a bit of a struggle because we can't plant until after we get that cotton crop out. So, you're looking in most instances between late October through mid-November. That's not a lot of time to get a cover crop established before we get hard freezes in the wintertime."
He adds that the crunch might be even tighter this fall. "We had a late planting date, and while we've had a lot of heat units throughout the summer, we haven't had moisture to go with those heat units. So, I think we're going to have a delayed cotton crop."
Planting behind crops harvested earlier — corn or grain sorghum — might offer a timelier option.
"Between October through mid-November would be fine with those," Burke says. "But the earlier you can get the cover planted, especially a wheat or a rye cover, and get it established, the better it will do."
Cereal grains top options
He says wheat and rye account for most of the cover crops planted in the Texas High Plains.
"We see a lot of wheat and rye in the region. Some people are doing some work with things like Austrian winter pea, hairy vetch, and other cool season annuals, especially legumes to supplement with nitrogen from the atmosphere.
"Dr. Katie Lewis has done quite a bit of work looking at cover crop species but we don't see as much interest as with the cereal grains. Most of the cover crops in this area will the grains."
Burke adds that the potential exists for a more varied mix of species. "A lot of work is being done now at some of the A&M research centers. Overton has a pretty robust research project and so does Vernon, breeding new winter hardy annuals, especially legumes, to implement those into these systems. The main limitation though is always going to be cost. Seed for those plants are between 5 to 10 times more than  cereal grain costs."
Water factor
He says water is always a limiting factor with cover crop decisions. "Most producers will not want to utilize irrigation resources for their cover crops. We hope to catch some fall rains. After cotton has matured vegetatively, it no longer takes up much water, so we hope to have soil moisture available to germinate cover crops.
"Also, we typically get rain in late September and early October. The cover crop can utilize some of that soil moisture. We hope to get a few sprinkles or some snow over the winter to help."
He says late winter and early spring will be the most critical period for water demand.  "Most of the cover crop growth takes place in the last eight weeks before we terminate it. We may see as much as 60% to 70% of its growth during that period — mid-February to mid-March."
Weed management
Burke cautions growers to watch weed pressure in cover crops as they get close to planting time for the summer crop. "For cotton, especially, make sure that you control broadleaf weeds that will come up in that system."
Managing weeds early in the cover crop should not be a significant factor. "It's always a good goal  to start clean before you plant a cover crop,"
Burke says. He adds that managing grassy weeds in cover cropping systems is difficult.  "Once we get towards winter, there's not a lot of bad weed pressure we have to deal with, but try to control those early season weeds, things like marestail."
He says from February through April is the key period to make sure the cover crop is a success and not something that will hinder production.
Burke says growers are unlikely to plant a cover crop into a weed-infested field. "They do not want to keep building up that weed bed."
Erosion concerns
Burke adds that weed management is not a key reason West Texas farmers plant a cover crop. "Some regions
see success with cover crops to control weeds. We haven't seen that in research trials on the High Plains. I'm not saying we have more weed pressure, although in some instances we do, but we don't generate enough biomass to control weeds.
"Most of the benefit growers realize from cover crops here is to keep the wind from eroding the soil surface."
He adds that the arid climate of the Texas High Plains will not produce as much biomass as in other regions.
"I read a paper not too long ago from a Mississippi study.  They generated about 25,000 pounds of biomass per acre with a rye cover crop. The most we've ever seen in Lamesa since I've been here, about eight years, was 4,300 pounds."
He reiterates that maximizing potential to produce enough biomass to prevent wind erosion begins with early seeding and a little help from Mother Nature's fall rainfall.
Subscribe to receive top agriculture news
Be informed daily with these free e-newsletters
You May Also Like
---