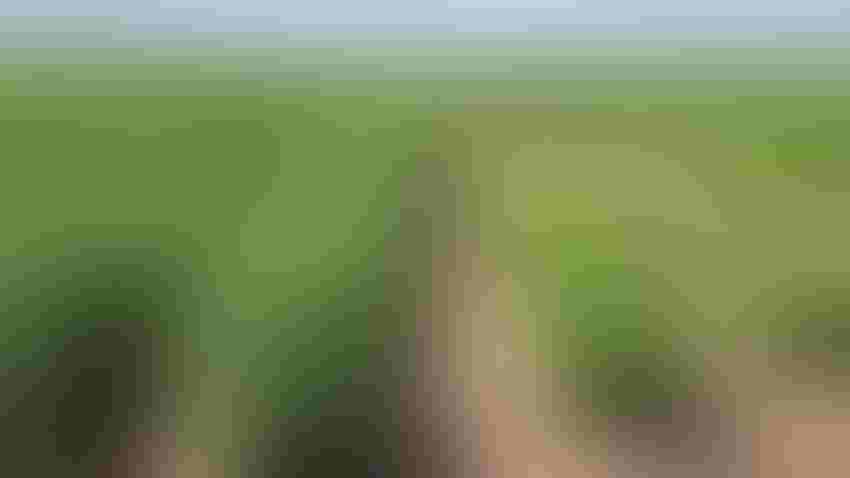 Reniform nematode damage in a Texas cotton field. Planting resistant varieties helps reduce yield loss.
Reagan Noland
Editor's note: Nematode infestations are not as obvious as armyworms, thrips, or fleahoppers, but the damage they cause to numerous crops can be devastating. Farm Press called on Extension and Research pathologists From Texas to Georgia to ascertain the damage nematodes can cause, the symptoms to look for in-season, sampling recommendations, and management options. Also, new research seeks to find more varieties resistant to nematode damage.
Without adequate management, moderate to high root-knot nematode pressure can cause as much as 25% yield losses in cotton. Reniform losses can be even greater, exceeding 50%.
"With some of the best root-knot resistant varieties, we can probably get that yield loss down to 5% to 7%," says Texas A&M AgriLife Research Plant Pathologist Terry Wheeler, Lubbock.
"With reniform nematode, resistant varieties yield on average about 110% higher than susceptible varieties in my trials, though I suspect there is still some yield loss occurring," she added.
"It's a good year to talk about nematodes," says University of Georgia Extension Plant Pathologist Bob Kemerait, Tifton.
"With several La Niña winters, too-warm winters, back to back, we are finding unbelievable numbers of nematodes in samples pulled in January and February," Kemerait said. "The winters we've had recently have not been conducive to reducing nematode numbers. The numbers don't lie. Sampling has shown tremendous numbers of root-knot and reniform nematodes active at times when I would least expect them to be."
University of Arkansas Division of Agriculture Extension Plant Pathologist Travis Faske, Lonoke, says across the Cotton Belt in 2022 loss to the southern root-knot nematodes is estimated at 387,000 bales with reniform nematodes accounting for another 168,000 lost bales.
"These two species do not infect peanut, which makes that a good rotation with cotton," Faske said. 
"In Arkansas, we estimate 4% losses to nematodes, on average."
Troublesome species, he said, are Meloidogyne incognita and Rotylenchulus reniformis in cotton, and Meloidogyne arenaria in peanuts.
Wheeler says cotton is the most vulnerable crop in West Texas with southern root-knot nematode and reniform nematode causing the damage.
Not on peanuts
She said nematodes pose no real problem on peanuts in the Texas High Plains, where most of the state's peanuts are grown.
"In the rest of the state, the peanut root-knot nematode (Meloidogyne arenaria) is probably the most important," she said. "Three other species of root-knot nematode can be found in Texas (northern root-knot nematode, M. hapla, Meloidogyne javanica, and Meloidogyne haplanaria).  I don't know how much damage is occurring on peanuts."
In Arkansas, Faske says nematodes are of particular concern in soybeans.
"We have about 3.1 million acres of soybeans, so our main problem is southern root-knot nematodes on soybeans."
In Georgia, peanuts and cotton are vulnerable. Kemerait figures some 65% of cotton acres are infested with parasitic nematodes (mostly southern root-knot and reniform), and 25% of peanut acres are infested with peanut root-knot nematode.
"The high production area in Southwest Georgia could be the poster child for nematode problems," he said. "The area features high production and high irrigation. But we've also got high root-knot nematode populations. They tend to be in our sandier fields."
He said growers who have nematodes find that the pest "drives other production practices."
Faske says nematodes affect cotton and soybean producers in Arkansas. He said he has no disease loss data on peanuts.
Top two problems
"In soybeans, the number one and two issue is always nematodes. Every year, the two top yield-limiting issues in cotton are also nematodes. That shows how much of an impact these critters have on a lot of our row crops," he said.
"My lead-off message for every meeting I've been going to for corn, cotton, soybean, and peanut growers this year has been that we are in a threepeat La Niña winter, which apparently just ended," Kemerait said.
"We've been too warm for too long and the little bit of extreme cold weather we had didn't knock them back. We are seeing unbelievable numbers of nematodes in samples when we shouldn't be finding any."
"You have to look for it," Faske said. "Based on yield monitors, you can see that some yields are off and assume fertilizer or water issues. But you have to sample and know what's there.
"Also, knowing which species you have can tell you how to manage it. Rotation, for instance, is a little harder with root-knot than it is with reniform. Sometimes the crop can tell you which one you have. If it's reproducing on peanuts, It's probably M. arenaria."
Producers of any vulnerable crop should know before planting if they have nematode pressure and what species.
After planting, options are limited.
"What makes it especially difficult is that with nematodes you basically get one chance to get it right," Kemerait said.
He said a fumigant, seed treatments and in-furrow nematicides, in addition to a few resistant varieties, are options before the seed is covered.
"If you call the right play before you close the furrow, you sit on the sidelines and watch the game between your crop and the nematodes play out in a good way as the season progresses. But you don't have many options to change the course of the season after you close the furrow."
Subscribe to receive top agriculture news
Be informed daily with these free e-newsletters
You May Also Like
---