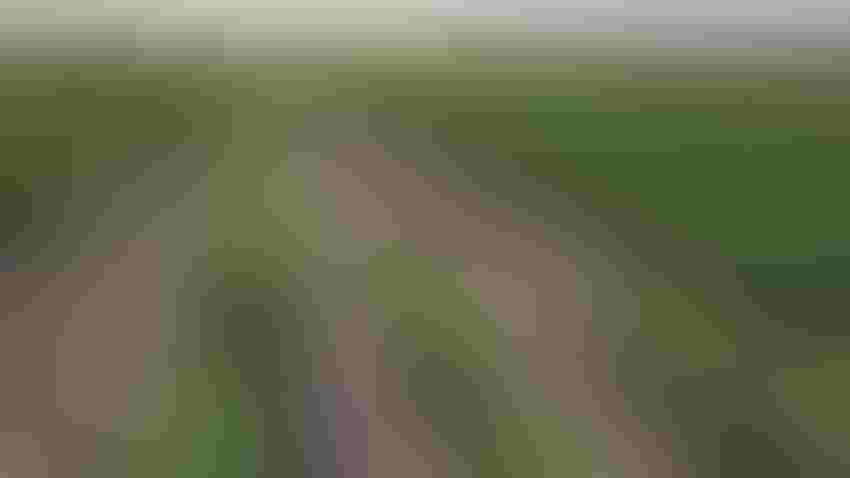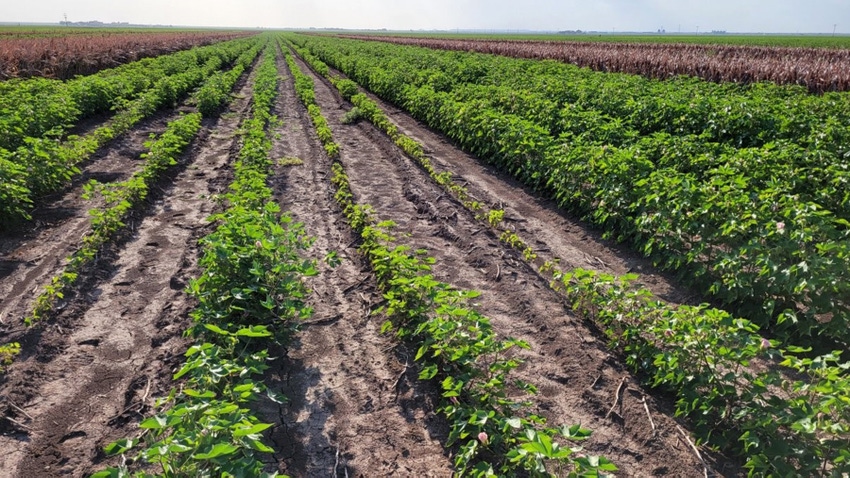 A cotton field with reniform nematode damage.
Reagan Noland
If available, cotton growers who know they have reniform nematodes should plant a resistant variety and rotate to non-host crops.
"We've quantified the value of those management practices," says Texas A&M AgriLife Extension Agronomist Reagan Noland, San Angelo.
Noland is testing several reniform nematode-resistant varieties in three Texas locations to determine efficacy.
Findings are promising, according to Morgan McCulloch, who is working with Noland on the studies.
"Looking at high input systems, we saw a huge benefit from genetic resistance, but in all cases across three locations —College Station, Lubbock, and Wall— when we compared resistance to susceptible varieties, we found a benefit from genetically resistant varieties," McCulloch said.
In the Wall trials, results showed significant advantages with resistant cotton varieties, more than 100% improvement compared to varieties susceptible to reniform nematodes, Noland said.
Aerial views
Morgan is working with aerial imagery to analyze in-season plant conditions. "We saw higher cotton yields but also taller plants with resistant varieties, based on aerial imagery," she said.
"We took nematode counts just before harvest and found more consistent stands and a reduction in nematode numbers in plots with genetically resistant varieties. The resistant varieties host less reproduction and result in lower populations during the growing season."
"In Wall (near San Angelo), where we had higher nematode populations, resistant varieties showed a 113% increase in irrigated cotton lint yields," Noland said
Results were not that high in other locations but still impressive. At Lubbock, where populations were smaller, the increase was 30% to 40%. The advantage in College Station trials topped 50%. "We saw an increase in yield and reduction of nematode populations in all cases," McCulloch said.
Reniform is main threat
The primary nematode causing trouble for cotton producers in the San Angelo area is reniform, Noland said. "I would contend that reniform nematode infections are worse here than anywhere in the country. Reniform is a big one across the Cotton Belt, is bad throughout Texas but especially in West Central Texas."He said reniform populations in Wall were 10 times higher than in Lubbock, "both sites were sampled the same way under similar conditions."
He's particularly concerned with high-input cotton where yields have declined. "We're seeing producers who went to drip irrigation 10 or 15 years ago, pushing for high yields with new varieties. They were making four- to near five-bale cotton. They are making less now. Over time, almost exclusively because of nematodes, some of those fields struggle to make two bales or a bale-and-a-half."
Resistant varieties are providing answers.
"We're seeing a stark contrast between resistant and susceptible varieties," Noland said. "It's been exciting, and one of the biggest impacts for the Extension cotton program in the area. Nematode infection is a problem some producers know they have, but many don't. They are learning, trying to figure out what to do."
Limited resistant options
Noland said reniform resistance varieties are limited. "We only have a few on the market. A few more are in the pipeline from multiple seed companies."
He said PhytoGen and Deltapine are currently the only companies marketing reniform nematode-resistant varieties.
"In our trials, we try to pick varieties of similar maturity. We have a mid-maturing PhytoGen, which would be PHY 443 W3FE, and Deltapine 2143 B3XF. Those two always stood out among the highest yielding. That was statistically consistent."
Noland said he started trials with experimental reniform-resistant varieties in 2018 and 2019. "Those became the first commercially available varieties. Resistance has been in development for many years through initial efforts by Cotton Incorporated and Texas A&M, and ultimate movement into commercial varieties by the seed companies."
Long-term process
It's not a new research initiative, Noland said."Some early work was in progress back in the 80s. Our first round of research trials when these varieties came to market was to look for cross resistance from root-knot nematode-resistant varieties. We had some anecdotal reports of that.
"The work we did in 2019 and 2020 showed that was not the case; root-knot nematode resistance was not imparting any benefit under reniform nematode stress. But we discovered that this reniform nematode resistance was the real deal. It is very good."
Another aspect of the trials compared nematicides. "We had a handful of nematicide treatments with and without root-knot nematode resistance. We didn't have enough reniform resistant seed to plant those trials in the first two years. Since then, we're comparing and quantifying the benefit of these new genetics."
He said McCulloch's work includes several production environments. "We want to look at different stresses. We have a good tool, but we want to learn why high-input cotton in West Central Texas is not doing better. Producers probably have nematode problems they don't know about.
"We also wanted to look at how these different varieties compared in contrasting environments, dryland versus irrigated across the state."
UAV trials
McCulloch has been using UAVs to delineate between nematode stress and other abiotic stresses."We know we can spot reniform damage," McCulloch said. "They present some typical above-ground symptoms. Those same symptoms can look a lot like nutrient deficiency, water deficiency, or pest damage."
She set up a test with a resistant and a susceptible variety under different levels of nitrogen and irrigated and rain- fed plots.
"We flew a drone, equipped with an RGB camera, over those fields. We consistently correlated plant height and canopy percentage with nematode stress.
"In all cases, susceptible varieties produced shorter plants with less canopy biomass. Susceptible variety yields with less biomass produced fewer pounds of cotton.
"In initial reniform counts, susceptible varieties had larger nematode populations. Near the end of the season, taller plants correlated more closely with higher nematode populations than with resistant or susceptible varieties."
That poses an important question for relying solely on resistant varieties to manage nematodes."How are we going to suppress this population or manipulate it so we can maintain consistent production?" McCulloch asked.
Noland said across sites and locations and under two irrigation regimes, resistant varieties reduced nematode density by 50%. "On higher yielding, bigger plants, across sites and years, we find a consistent relationship — even though the variety was tolerant, outgrew the nematodes, and made a lot of cotton, it is not truly resistant. It does not stop nematode reproduction."
He said resistant varieties suppress nematode reproduction. "It slows them down, but it's still feeding them. They're still reproducing on more root biomass with that bigger cotton. The point Morgan made is important. Early in the season, nematodes suppress plant growth; later in the season, plants feed the nematodes.
"At the end of the day, we want to know what's going on with those nematodes, but we can't make it our goal to use cotton to suppress the population," he said. "They'll still be there and they're going to reproduce."
Rotation necessary
In addition to resistant varieties, Noland and McCulloch said rotation should be a crucial part of nematode management."There's no substitute for a non-host when it comes to reniform nematodes," Noland said. "Resistance helps and it reduces reproduction, but it can't compare to something like sorghum or corn where there's minimal reproduction.
"Sorghum is a poor host or a non-host rotational crop. A plot of continuous resistant cotton would look horrible compared to a plot following sorghum. They're both resistant, but the carryover effect of planting cotton, even resistant cotton, two years in a row was very apparent."Reniform has a wide host range, but it reproduces extremely well on cotton compared to other crops. Continuous rotation will make cotton yields better," Noland said. "In our work, we've shown very clear results."
Best bet, they say, to manage yield-robbing nematodes will be combining reniform resistance with a consistent non-host rotation regime.
Subscribe to receive top agriculture news
Be informed daily with these free e-newsletters
You May Also Like
---