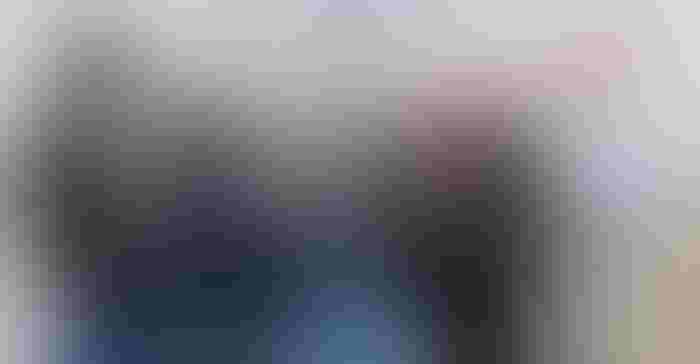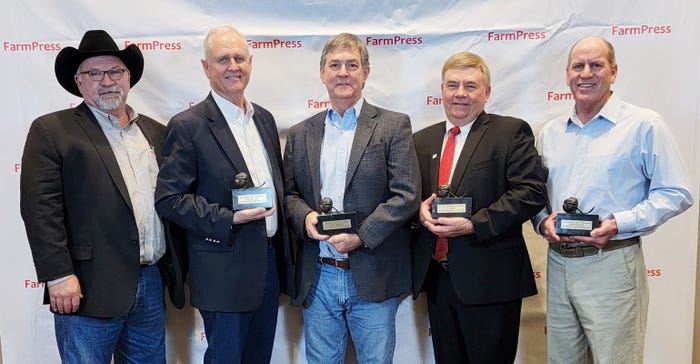 2022 High Cotton Award winners, from left, Todd Thelander and his uncle Dan Thelander, Maricopa, Arizona; John Lindamood, Tiptonville, Tenn.; Lee Cromley, Brooklet, Georgia; and Randall Bankhead, Roscoe, Texas. Shelley E. Huguley
The 28th Class of High Cotton Award winners were recognized today in Memphis, Tenn., at the annual High Cotton Awards Breakfast by Farm Press and the Cotton Foundation. The annual award recognizes producers for growing quality cotton using regenerative practices.
The 2022 winners from four Cotton Belt regions are as follows: Southeast – Lee Cromley; Midsouth – John Lindamood; Southwest – Randall Bankhead; and Western – Dan Thelander.
Farm Press Senior Content Director Brad Haire welcomed a packed room of honorees surrounded by their family and friends and industry professionals.
"The High Cotton Award program was created over 30 years ago. It's been a vehicle to showcase the country's top cotton producers who share similar methods, challenges and success," Haire said. " My Farm Press colleagues and I get to travel to many farms throughout the year, and we are humbled and grateful for every farmer who welcomes us and shares their valuable time."
Haire also honored the memory of last year's Southeast High Cotton winner Jerry Lee Hamill of Enfield, N.C. He passed away in October from an illness.  "He was a well-respected man in the industry, and we are thankful we got to honor him last year," Haire said.
"Since its 1994 inception, this program has given much-deserved attention to cotton producers who have made conservation practices a key component in their farming operations and in turn are demonstrating U.S. cotton's efforts to reduce its environmental footprint," said Cotton Foundation Executive Director Don Parker.
Regional Farm Press editors introduced their honorees.
"It's hard to find someone to say anything negative about Mr. Lee," Haire said.  "I didn't look too hard, though. But all who know Mr. Lee, including other cotton leaders, say he is a respected grower and a person who has for decades given his time to help guide the way for a better cotton industry at all levels.
"Even his congressman supported his nomination. You could say he was Congressional 'mandated' to be Southeastern High Cotton honoree. He and his wife, Ann, raised a family you like to be around. He and his brother, Charley, have a farm you like to visit."
"This is a real honor for me to receive this," Cromley said. "I've always enjoyed reading about past winners and using them as a guide where I can get new ideas."
He said he's not sure why he was chosen. "I'm about as average a farmer as they come. There's a lot of good farmers in our area and across the Cotton Belt, so many that are deserving of this award.
"The big thing about this award is not the individual recognition but the fact that it highlights all the good things going on in the industry."
"When I learned that the winner of the Midsouth or Delta High Cotton Award had never won the High Cotton Award, I was surprised," admitted Delta Farm Press Editor Brent Murphree. "John Lindamood is one of those cotton farmers you expect to be on the cutting edge.
"He started altering his tillage practices soon after getting back on the farm to help run the family business in Tiptonville, Tenn. He has adapted to digital technology as it has been developed."
He was also one of the first to enroll in the U.S. Cotton Trust Protocol. "He wanted to guarantee or show the world, that we really do grow the most sustainable cotton here in the U.S.," Murphree said.
Lindamood first thanked his wife. "When we got married over 40 years ago, farming was not on the horizon. As that changed and we moved home to farm, your love and support has made all that possible."
He also discussed the technological advances of the last 10 to 15 years, including the advances in GPS technology and irrigation. "There's no end to the technology we're able to employ. It helps us be more sustainable and do a better job and make use of our resources."
"Randall says it takes a village to raise a cotton crop," Southwest Farm Press Editor Shelley Huguley said. "It takes a village and he wanted me to know it's not him alone, it's not a single practice or piece of equipment or variety but it's about all the people who play a role in helping him produce a quality, profitable cotton crop year in and year out."
Included in his village are his wife Mary, adult children Scott Bankhead and Laura and Chase Schuchard and their two sons Troy and Ben. He also recognized his agronomist, gin manager and state and national commodity organizations.
"When I first got this award, I was hesitant to accept it," Bankhead said. "I thought, there's a lot of people more deserving than me. A lot of them are my friends sitting over here at the table. And one of them won this award in 2010. But as I said, it's not just about our operation, but our whole farming business, the big scheme.
"And it's got to start with family. I've got a wonderful family. Everyone is supportive. We work together. It truly is a family farm."
He thanked his friends who traveled from the Texas Rolling Plains to celebrate with him. "They're kind of like my advisor group. There's a lot of decisions to be made in farming and there's a lot of advice that comes from that table and some of it's good," he said jokingly.
"Over the years we've been involved in our Rolling Plains Cotton Growers, Texas Cotton Producers, our national organizations. We need those organizations. I find myself out on the farm by myself making those daily decisions and forget about the big picture sometimes. It just reminds me we're all in this together."
"This year's winner from the West knows how to maximize his water allocation," said Farm Press Assistant Editor Todd Fitchette. "He must if he is to farm high quality, high yielding cotton in the desert of central Arizona.
"Dan Thelander and his nephew, Todd Thelander, employ minimum-till practices to preserve soil, protect precious soil moisture and keep input costs down. Dan says he saves considerable money on tillage."
"Todd and I have been partners since 1985," Thelander said. "So, when it's 120 degrees in the desert, and there's a lot of work to do, Todd does the fieldwork and I find a meeting to go to." The crowd laughed.
He discussed the role drip irrigation plays on their farm. "I really like growing cotton under drip. I've found we can make high yields most of the time. That picture Todd took, was our best field this year. It made 5-bales (to the acre).
"We work together but it's not just the two of us. It's the whole industry. The National Cotton Council, the Cotton Foundation, Cotton Incorporated, our co-op gins that market our cotton through, Cal-Cot, our PCA -- there's so many different groups that come together to make our farms a success. So, I'd like to second what the other winners said, that it's not just a few of us, it's everybody."
The breakfast is held each year in conjunction with the Mid-South Farm and Gin Show.
Subscribe to receive top agriculture news
Be informed daily with these free e-newsletters
You May Also Like
---