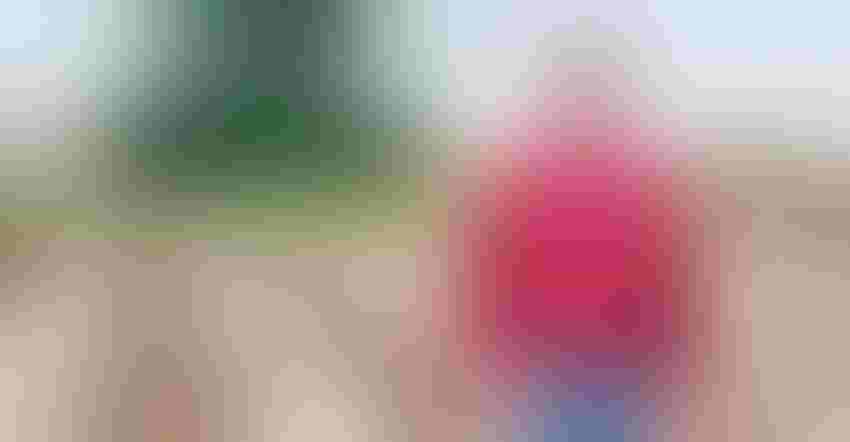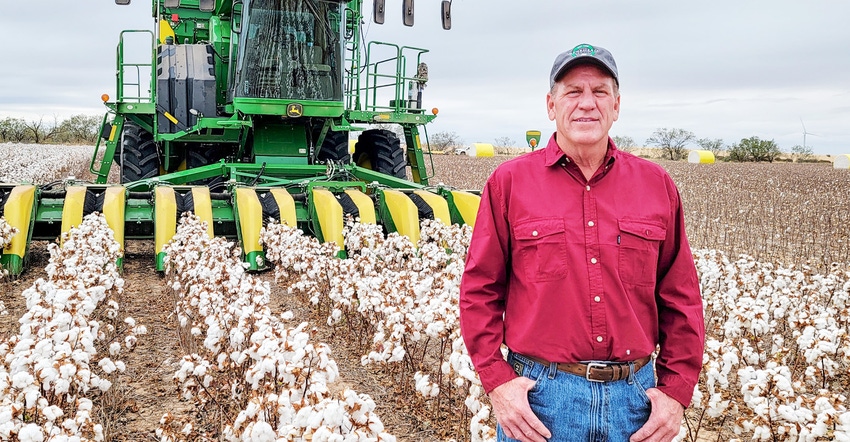 Randall Bankhead, 2022 High Cotton Award winner for the Southwest. Bankhead, who farms around Roscoe, Texas, says it takes a village to produce a cotton crop.
Shelley E. Huguley
Texas Rolling Plains cotton producer Randall Bankhead is well-known for his 12-species cover crops and no-till system. His production success is often credited to his management practices, but Bankhead said it's much broader than that.  
He compares his success to a cogwheel, with his family, specifically his wife Mary, as the primary extension. He also said technology, his gin, agronomist and the ability to adapt play a role. The Roscoe, Texas, farmer also credits cotton organizations advocating at the local, state, national and international level as a part of his success.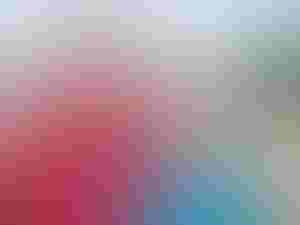 Randall and Mary Bankhead, Roscoe, Texas. (Photo by Shelley E. Huguley)
"I'm not in this by myself," Bankhead said as he overlooks land that's been in the family for more than a century. "There are so many people involved. That's the village effect I was talking about -- it takes a whole village to raise a cotton crop." 
Bankhead's cotton production, using regenerative practices, along with the support of his "village" has earned him the 2022 Southwest High Cotton Award. Along with three other Cotton Belt producers, he will be recognized by Farm Press and The Cotton Foundation Feb. 25 at the annual High Cotton Awards Breakfast. Annually, four growers are acknowledged for producing quality cotton while using environmentally friendly practices. The honorees include Lee Cromley, Southeast; Dan Thelander, West; John Lindamood, Mid-South; and Randall Bankhead, Southwest.   
Regenerative 
Bankhead farms 5,000 acres of no-till cotton and wheat. He doesn't describe his farming practices as sustainable, rather regenerative. "Sustainable to me is you're doing what you've always done. You're sustaining yourself. I like regenerative because it feels like you're growing something, adding value. You're increasing your soil health." 
Bankhead, who's been farming since the early 1980s, began his farming career using conventional tillage like his father and grandfather. But after a haboob blew out a family trip to Disneyland, Bankhead knew it was time for a change.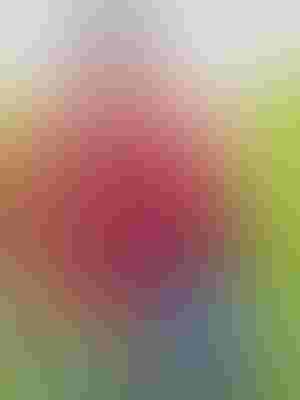 Bankhead recalled the wall of dirt. "We could see it coming. In a matter of two hours, our cotton crop went from a beautiful stand to nothing but sticks, just brown stems sticking up. We lost 100% of our crop in two hours." 
And thus, began his tillage transition. "I've gone through the gamut from conventional tillage to reduced tillage to strip-till and vertical tillage to where in the last five to seven years we're essentially no-till. I will till occasionally if we have to, but I try not to." 
A family affair 
When Randall thinks about people essential to his cotton production, he said family is first. Randall and Mary farm with their daughter, Laura Schuchard, and her husband, Chase.  
"It takes all my family members working together," he said. "We work hand-in-hand."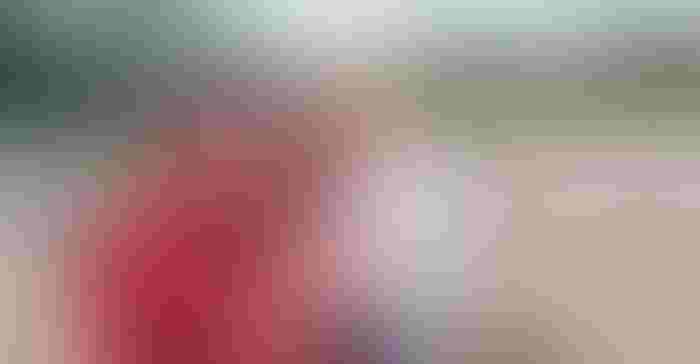 Randall Bankhead and his grandson Ben Schuchard (2) talk cotton. (Photo by Shelley E. Huguley)
While Mary and Laura tend to the billing and data entry, Randall and Chase take care of the fieldwork. "Mary is the counselor in the family that always puts a positive spin on whatever's going wrong, and she feeds us constantly," Randall said. Laura spends countless hours entering data required for the various farm programs, teaching and raising her and Chase's sons, Troy (5) and Ben (2). 
Chase has been farming with Randall since 2014. "Chase and I have developed a working relationship to where he and I think along the same lines," Randall said. "So, even if we don't talk, we know what we need to do." 
Although Chase doesn't have a farming background, Randall jokes he also has no bad habits. Last year, as Chase plowed a field new to the operation, he told Randall, "'My gosh, this takes so many hours and is so labor-intensive. Why does anybody till?'
"He doesn't have that tillage gene -- it's hard to break. So, he's important." 
Scott Bankhead, Randall and Mary's son, is a counselor for a Christian organization Joni and Friends. And though he's not on the farm, Randall said, "He is a great sounding board carefully analyzing the pros and cons of decisions we are trying to make as well as asking great questions." 
See photo gallery, Relationships, cover crops, no-till fuel Bankhead's cotton production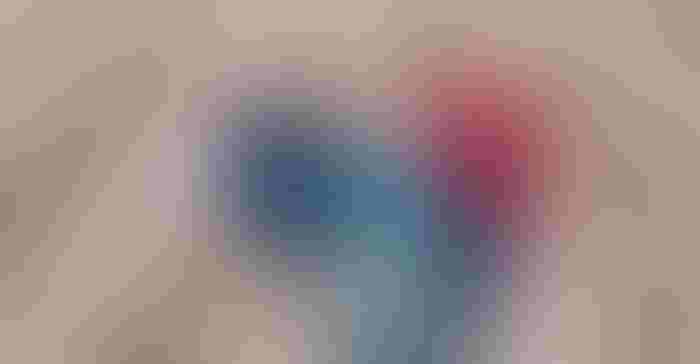 Family, from left, Ben (2), Chase, Laura and Troy (5) Schuchard and Mary and Randall Bankhead. (Photo by Shelley E. Huguley)
The family operation is 50% dryland and 50 % irrigated, with the majority irrigated by 30 center pivots and some drip irrigation. In their crop rotation, about two-thirds of their acreage is planted in cotton with the remaining third planted in wheat and a little corn. In the last three years, Randall said those same acres have also been planted in a cover crop. 
Variety 
Randall and Chase plant about 10 varieties of primarily DeltaPine and Dyna-Gro cotton seed.  "You've always heard the saying, don't put all your eggs in one basket? Well, I try not to do that with seed varieties," Randall said, although he admits sometimes he plants too many.  
They also grow 400 to 500 acres of DeltaPine seed blocks. "I like them for two reasons: One, you get to look at the different varieties, and you stay new. Whether we want to or not, change is here to stay. You either jump on board and be part of the change and the progress or you get left behind. So, I like being on the cutting edge of the varieties because they're changing so fast." 
Agronomist 
His agronomist Jennifer Lane is a key player. She's checked the family's fields weekly for the last 20 years. "She's important because it's another set of eyes (on that crop) that doesn't see it every day like Chase and I do. Plus, she sees so many producers from all over the Rolling Plains that she sees things going on elsewhere. And it's good to bounce ideas off of one another," Randall said. "I respect her knowledge and wisdom."  
Every fall, Lane pulls soil samples. "In the spring, we fertilize according to how the samples come back," Randall said. "We are seeing we need less nitrogen and phosphorus to make the same yields as we did 10, 15 years ago. That tells me we're moving in the right direction and our organic matter is going up as well. So, she is important from that standpoint."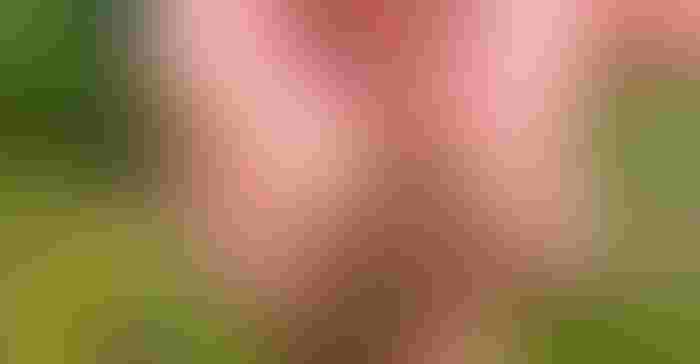 Randall Bankhead says he's excited about what happening in the soil as a result of cover crops, crop rotation and no-till practices. (Photo by Shelley E. Huguley)
Randall and Chase apply pre-plant fertilizer in late April, early May, and then side dress in season according to the weather conditions, sometime in late June to early July. 
Co-op 
Randall says Central Rolling Plains Co-op Gin is also essential to his success. "They are important because they process and market our crop. Larry Black is the gin manager and he's fantastic. I have a lot of confidence in him. He's passionate about what he does and lets me farm and do the things I love. It's just a good relationship working with the whole PCCA (Plains Cotton Cooperative Association) family, from the gin level to the warehouse to the oil mills." 
Cotton advocates 
Randall also considers cotton organizations such as Rolling Plains Cotton Growers, PCCA, National Cotton Council, Cotton Incorporated and The Cotton Board as an extension of his success. "Farming, you're out here by yourself doing your thing, but we need a voice and representation." He said the organizations play a role in representing the farmer so that people in Washington are aware of what producers do, need and want and can also relay their appreciation.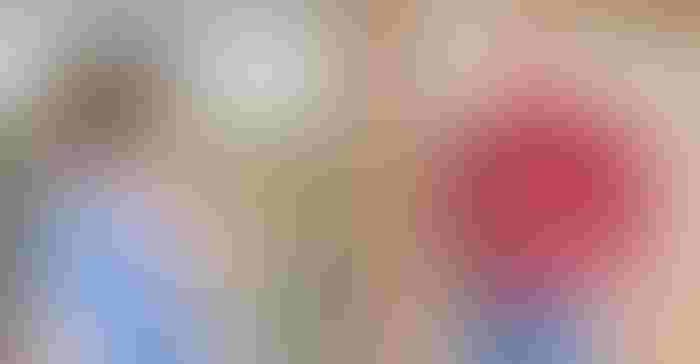 Rolling Plains Cotton Growers (RPCG) Executive Director Lauren Decker, left, visits with Randall Bankhead. Bankhead credits organizations like RPCG for helping him succeed in his cotton production. (Photo by Shelley E. Huguley)
A story to tell  
Randall doesn't like the attention something like the High Cotton Award draws to himself, but he sees it as an opportunity. "We have a neat story to tell. We need people in the press to tell our story," he said. "We need to tell our story, that farming is the right thing for everybody and at the end of the day, we're leaving the land in good shape or hopefully better than it was. That's important. 
See, High Cotton consensus: 'It takes a village to grow cotton'
"We need to tell the general public, who are one, two, three generations removed from the farm, what we're doing out here and how they benefit, that they benefit because they have cheap food and fiber."  
Family land, future generations 
Since 1906, Randall's family has farmed the same ground. "Mary always said, the reason they settled here is this is where the mule died," he said with a laugh. "That's 115 years. I'm the fourth generation Bankhead on this particular piece of land." 
He said while that's special, what he's prouder of is, "that we've been able to adapt with the changing farming practices, the changing environment. We've been able to maintain ourselves here and live here and just be productive on this piece of land. We've been able to maintain our operation and change with the times.  Being adaptive has been important in the past and to me it's even more important going forward." 
Subscribe to receive top agriculture news
Be informed daily with these free e-newsletters
You May Also Like
---