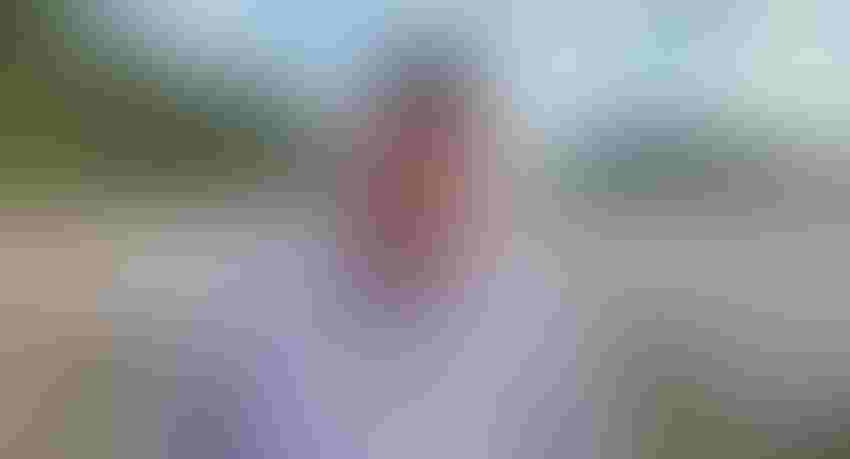 It was mid-morning in late November. A cool front blew over the horizon, advertising rain and putting harvest on a wait-and-see status. The cotton had been picking well, hitting three bales or better in enough spots to make Lee Cromley happy.
Cromley says cotton farmers, all farmers, learn to tolerate the good seasons with the not-so-good seasons. This growing season was on track to be appreciated and one not seen like in many: good yields and a good market outlook.
Cromley is direct, easy to talk to and easy to smile, and cares about the now and future of the U.S. cotton industry. For his land-focused approach to environmentally and economically sustainable cotton and his dedicated leadership for the industry, Lee Cromley is the 2022 Farm Press/Cotton Foundation High Cotton Award winner for the Southeastern States.
"I can name you many who are well more deserving for this." He smiled in his office outside Brooklet, Ga., where he and his brother, Charley, farm in partnership. Charley was down at the shop, keeping things on track. Despite the dark clouds, both men hoped they'd have a cotton picker in a field later that afternoon.
Cromley and three other Cotton Belt producers he will be recognized by Farm Press and The Cotton Foundation Feb. 26 at the High Cotton Awards breakfast. The other honorees include John Lindamood from the Midsouth, Randall Bankhead from the Southwest and Dan Thelander from the West.
Cromley, 62, is married to Ann. They have Mary Catherine, 28, Mollie, 24, and John, 20.
Production
The Cromleys grow 2,500 acres of cotton and peanuts in east-central Georgia. The cotton yield goal is 1,500 pounds per acre. "That's what we shoot for, but it doesn't necessarily happen every year," he said.
Another goal is to make the yields with minimum passes over a field. After harvest, the Cromleys destroy the stalks and plant a cover crop, mostly rye or wheat, something they've done for 20 years. They parked the harrow 25 years ago.
"After we did that, within three or four years even without cover or without anything else, just quitting with the harrow, we could tell a big difference in the tilth of the soil," he said. "It just got better."
The only time the land gets disturbed is during peanut digging. Their crop rotation is two years cotton to one year peanut. The peanut yield goal is three tons per acre or better.
They plant the cover in November. The cover crop reaches knee-to-waist high by late-February to early March when they come in with a burndown. They typically use a Roundup-Valor combination. "But with the price of Roundup where it's going along with many things, not sure what we'll do next year," he said.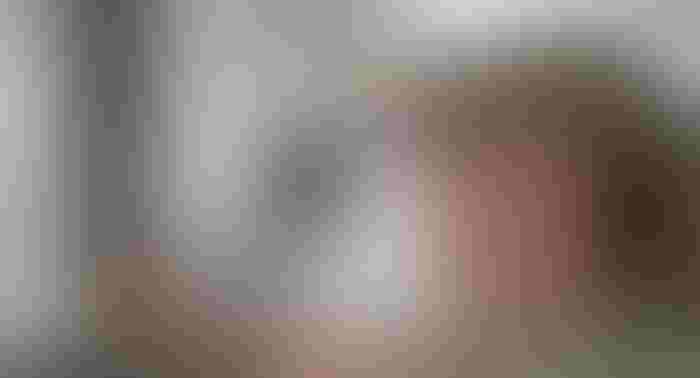 Charley Cromley farms in partnership with his brother, Lee, in Brooklet, Ga. "I've been able to do the things I've done with leadership because Charley is here to help keep things going. Not everyone has that option," Lee said.
They start planting the first of May with an 8-row John Deere 1720 planter with a KMC strip rig together. They also strip-till peanuts. They lay the cover down with rollers on the planter.
"We like to strip and plant together because we think we take advantage of the moisture and it's time saving. Feel like if we do it separate, and you have a dry spell, we lose some moisture there," he said.
They plant mostly Deltapine varieties. "We're still planting a lot of DP 1646. I know it's a two-gene seed that some are worried about, but even this year we're picking really good 1646," he said. "But we also plant some of the DP 20 varieties and we planted some Dyna-Gro this year. We try others, too, and they're good, but right now we're 75% or better Deltapine."
They put out Reflex and Dual or Warrant behind the press wheel. At planting, they also put out two-by-two a little nitrogen (15 to 20 pounds), he said, "to give it a little boost and to split it up a little bit. We still put out a majority of nitrogen over the top."
They put out about two tons of poultry litter in winter or early spring, when its available.
"We'll pull soil samples on everything every year. We do some grid sampling, but not every year. We grid as we feel we need on certain areas or certain farms. We'll send some to the state and some to private labs. We follow the recommendation," he said.
The Cromley's have a mix of dirt, like most Georgia farmers. "But we have some really good dirt; some Tifton-type that are a lot easier to manage. And then we have some lighter dirt, which can be more of a challenge to manage. The fertilizer tends to leach a little more on the lighter dirt, and in a dry season, it loses moisture quicker. But it'll produce really good peanuts, and in good years really good cotton."
In the last few years, they started putting out 60% to 70% of potash pre-plant, and whatever phosphorus they need will be part of the starter fertilizer. A little before layby, they will apply the rest of the nitrogen and the remaining 30% of the potash.
He said potash is their biggest fertility issue.
"Potash is something we have to be most careful about. Phosphate is not a big issue, but we do have to put some out, but it doesn't vary as much as potash. This year (2021), we had so much rain, especially on the lighter dirt, the nitrogen and the potash becomes a challenge from a leaching standpoint," he said. "So, splitting up that potash has helped, even in the years that haven't been as wet."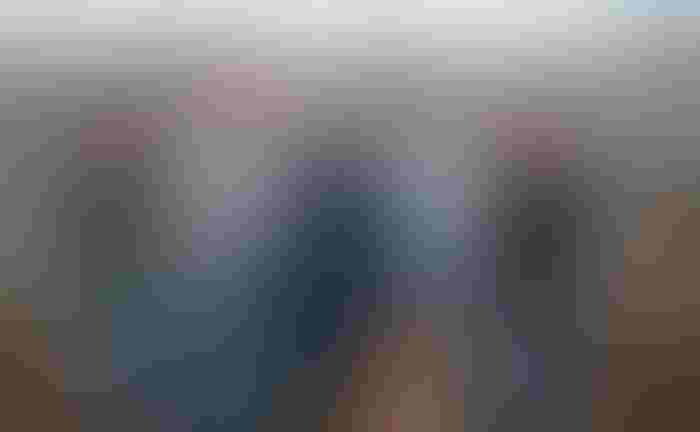 Lee Cromley is married to Ann. They have Mary Catherine, far right, Mollie, far left, and John. Abit is Mary Catherine's dog.
Their crop land is 40% to 50% irrigated. They started in the last couple of seasons to use soil sensors. They take that data, mix it well with their knowledge of the field or dirt, look at the short- and long-term forecasts and make irrigation decisions. This year, due to wet conditions, the pivots didn't move much, and that was a good thing.
They scout for insects and make application decisions based on farm-by-farm basis.
At the four to six leaf stage, unless there is a particular issue or hiccup, they apply a Roundup-Dicamba mix. "We use dicamba one time pretty religiously because of pigweed issues we've had in the past. And a lot of times, that one application, if we are able to stay on time with it, can get us through as far as pigweed in most cases," he said.
He added, "the varieties and technology we have now compared to twenty or thirty years ago is unbelievable, along with good research, has helped manage what we grow better. That said, the cost of those products and the technology doesn't come cheap. The cost of production, especially if you are talking doing it sustainably, is going up and that's a very real challenge growers face," Cromley said.
Wes Harris is the Cromleys' crop consultant. Harris began working with the family in the early-1990s when he was the University of Georgia Extension coordinator in Bulloch County.
"I quickly realized his farm was exceptional in every standard of production and profitability. … Lee never failed to agree to provide his operation as a platform for applied research plots and tour events. His unselfish cooperation enhanced the ability of Georgia farmers to apply profitable practices to their own operation. Lee sacrificed a significant portion of his time and finances to support these efforts," Harris says in a support letter for Cromley's nomination.
"Almost all we do, we get from Extension recommendations, and we've been lucky to have really good Extension in Bulloch County," Cromley said.
Leadership
Two decades ago, he said, industry leaders he respected asked him to seek leadership opportunities. He's glad he did. The cotton industry has many moving parts, and those parts need to move in sync as often as they can.
"I knew then about the farmer's side of the industry, but once I got involved in regional and national meetings and organizations, I learned about all the sectors and how each plays an important role for the entire industry," he said.
He said he also learned that "if you don't have a seat at the table, whether it's policy discussions, trade, regulatory, consumer or many other issues, you might just be on the menu, or you'll be stuck with the trash when it's done," he said, with a smile.
Cromley is a past president of the Southern Cotton Growers, Inc., and is now the chairman. He's been a board member of the National Cotton Council, Cotton Inc., Cotton Board, Cotton Council International and the Georgia Cotton Commission. He's a founding member of the Bulloch Gin, Inc.
Amplifying over the last five to ten years, the conversation about U.S. cotton has changed, he said. Consumers want to know more about the products they purchase and how they are grown and manufactured. He says that's a good thing. U.S. cotton has a great story to tell. Cotton growers are becoming more comfortable telling their stories and understand consumers need to hear their voices in the conversation.
Cromley enrolled their farm in the U.S. Trust Protocol, a voluntary program that applies sustainability measurements for U.S. cotton, and third-party verification for it. Several years ago, he admits, he wasn't too sure about the program, but is glad the farm is part of it now because it is a key step in telling and showcasing that U.S. cotton story.
Cromley's found himself sitting at many tables, but said he is keeping the seats filled and warm for the next generation of cotton-farming leaders.
"I think our industry does a good job getting the younger growers involved. It's important. We need to continue to do that and make it as accessible as we can," he said. "Spending a day or two or more driving or flying for meetings takes up time, though, and pulls you away from the farm, and not everyone can do that. I've been able to do the things I've done with leadership because Charley is here to help keep things going. Not everyone has that option."
The recent pandemic changed how some meetings were handled and that isn't bad. In-person meetings and fellowship are the backbone of the industry's leadership, he said. Now through technology and people becoming more familiar with it, the logistics of getting together to discuss industry issue can be done differently.
Back on the farm, the afternoon came. The cool front passed. Cromley said, "Let's see if we might be able to pick today. I think we can."
He drove to the field. The cotton picker had just pulled in. Cromley got out of the truck. "I guess Charley had the same thought," he said, pinching off some cotton. "Yeah, that'll pick just fine."
Subscribe to receive top agriculture news
Be informed daily with these free e-newsletters
You May Also Like
---