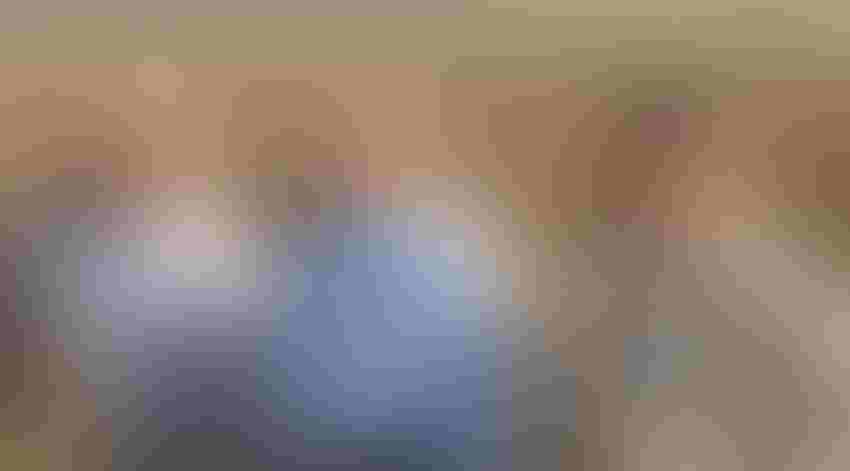 From left, Todd, Dan and Will Thelander in their central Arizona cotton in early December. It is typical for the Thelanders to extend cotton harvest to about the end of the year, after planting in early March.
Todd Fitchette
Water scarcity has long driven Western cotton farmers to find more efficient ways to grow their crop. Dan Thelander in central Arizona has maximized his conservation about as much as he can on his 1,200 acres of Upland cotton. Future cuts will come with fallowing.
Nevertheless, Thelander's ability to maximize his water efficiency through drip irrigation systems first designed for him by Arizona drip irrigation pioneer Howard Wuertz, father of 2020 High Cotton winner Greg Wuertz, allowed him to achieve six-bale yields over the years. Thelander's ability to add yield comes from the length of his growing season, which for him can run from March to December.
Thelander received this year's Farm Press High Cotton Award in recognition of his ability to maximize water use from the Central Arizona Project water. In partnership with his son Will Thelander and nephew, Todd Thelander, he managed to produce high yields on fixed supplies of water in his desert climate.
Key to success
His ability to produce higher yields on what in years past has been stable irrigation district deliveries remains a key to his success. Protecting soil moisture through minimum till helps. The climate also lets him take advantage of the extended growing season, planting earlier and harvesting later than others near him because of the microclimate and terrain. This can increase his bale count and his profitability.
The land where he grows cotton in Pinal County, near the towns of Stanfield and Maricopa, was once citrus ground. It sits on the high side of the surrounding terrain, extending his growing season.
"We tend to carry a bit longer on the drip and go for the bigger yields," Todd Thelander said.
"It allows us to make a bottom set and a true top set," Dan Thelander continued.
Thelander produces cotton for lint and save seed contracts. Arizona cotton growers in general have benefitted from these contracts, producing cottonseed for companies and growers across the cotton belt. In 2020 Thelander grew several NexGen varieties, including an experimental variety that may be released in 2022, a Deltapine variety and a Dyna-Gro variety.
Not all his cotton is grown on drip irrigation. Some is still grown in furrows. He admits his highest yields come from cotton grown on drip.
Thelander's farm is called Tempe Farming Company. That name recognizes where his father, Wallace Thelander, began farming. The family was the last cotton farmer to grow cotton in Tempe, which is now an urbanized suburb of the Phoenix metropolitan area.
Dan Thelander began farming the Maricopa and Stanfield area about 1995 with leased land. The farm they purchased in the area had a small irrigation ditch with long runs begging for irrigation improvements. At the time he knew a melon farmer who was subleasing land that already had a drip system with spacing that would work for cotton and melons.
Drip irrigation added
Over time he added drip irrigation to his farming operations with the help of Howard Wuertz. His systems today are buried eight inches deep on 36-inch spacings with pressurized electric pumps. He uses small farm reservoirs to collect district water to pump through the system. This does a couple things for him: It provides a ready supply of water that he could not pump directly from the district, and it provides reduced sediments for the drip system.
"Sometimes when you pump straight out of the ditch you couldn't run the system because of the dirt," Todd Thelander said.
With the drip system they're able to consistently yield a 4.5 bale minimum, with some fields going higher than that. This is largely due to giving the plants the water they need, when they need it, and spoon-feeding fertilizer to the crop through the drip tape.
Thelander also runs a minimum-till system on his farm. While neighboring farmers will cut stocks, rip, plow, disc, then run a leveling system, Thelander cuts stocks, runs a Sundance disc across the field a time or two, then plants.
"So, we save a lot of money on tillage," he said.
From that savings he can spend a little more money operating filter stations and pumps for the drip system, "but those costs are pretty minimal compared to our tillage savings," he said.
Thelander qualified for state tax credits for employing the water conservation technology on his farm.
He jokes that his crop rotation plan is cotton, followed by cotton and more cotton.
"In years past we've grown grain for rotation," he said. "We'll probably go four years in cotton then try to get a grain crop or silage – something like that."
He also grows Durum wheat under contract.
He's now trying his hand at a new crop called guayule (pronounced "why-ulee"). This crop is being promoted by Bridgestone Tire to create domestic production of natural rubber, rather than rely on imported sources. Guayule is promoted as a desert crop since it is a Mexican desert shrub with a natural form of rubber. It needs less water than cotton but requires a multi-year commitment because of how it grows.
Water scarcity
Thelander is facing significant water scarcity next year and years to come because of significant drought and new restrictions out of Lake Mead. Thelander's water comes from the Maricopa Stanfield Irrigation District, which gets its supply from the Central Arizona Project (CAP). Elimination of the agriculture water pool to the CAP will force growers in Pinal and Maricopa counties to fallow much of their farmland next year, he said.
Thelander cited a letter he received last fall from his irrigation district, telling him that he can expect 1.9-acre feet of irrigation water for his crops next year. In years past his allocation was four feet of irrigation water.
"There's about 90,000 acre-feet of CAP water that will be delivered to the districts next year," he said. This compares to about 300,000 acre-feet in years past, but all that changed with the tiered water restrictions out of Lake Mead in the wake of the Drought Contingency Plan and reduced lake levels.
Thelander said the restrictions to CAP ag districts will phase in over the next few years, with a complete loss of the ag water allocation in the next couple of years.
Next year will be considerably challenging as he faces a cut of more than half of his typical irrigation company allocation. He knows already that he will need to fallow some land to make his promised water allocation work.
Subscribe to receive top agriculture news
Be informed daily with these free e-newsletters
You May Also Like
---