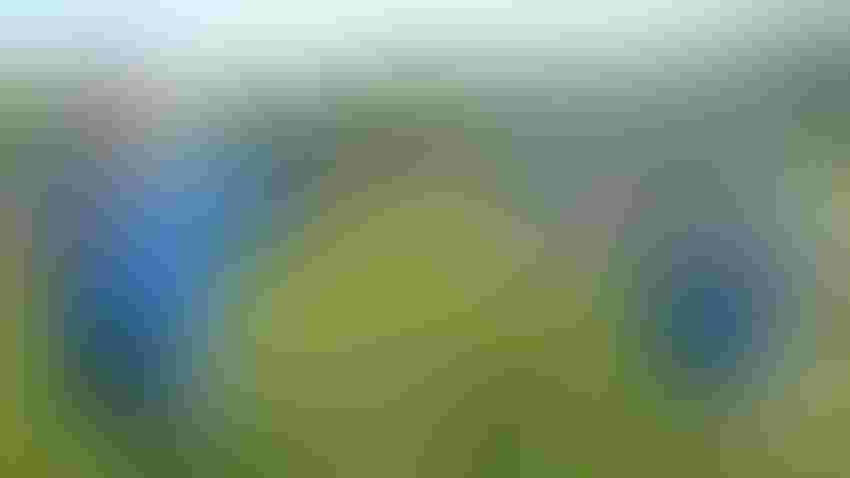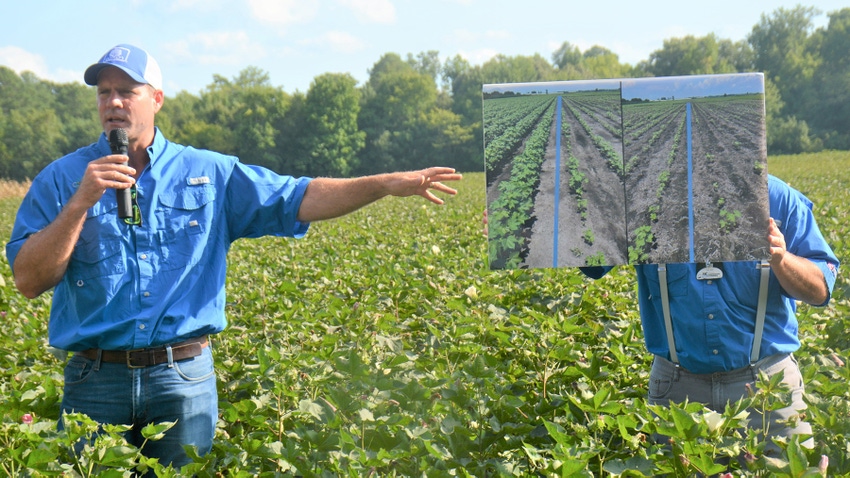 Northampton County Extension Agent Craig Ellison holds a poster showing ThryvOn cotton to the left and non-Thryvon cotton to the right. The photo was taken this year at the Tidewater Research and Extension Center in Plymouth.
John Hart
Dominic Reisig said the new ThryvOn cotton, with its Bt technology, is unlike any other Bt trait before. 
At the CHROME Regional Ag Expo Aug. 23 at the Peanut Belt Research Station in Lewsiton-Woodville, N.C., Reisig, North Carolina State University Extension entomologist, said ThryvOn cotton provides protection against thrips. His research in North Carolina confirms it. 
"What we've seen in all of our testing, and I've worked on this trait since 2014, is that we are not going to have any additional over sprays or in-furrow treatments for thrips if you're growing ThryvOn cotton. It's a standalone trait by itself," Reisig said. 
Protection 
ThryvOn is the industry's first cotton biotechnology trait that provides protection against key tarnished plant bug and thrips species. The 2023 crop year is the first year that the new technology has been commercially available to farmers. 
Bt cotton has been genetically modified by the insertion of one or more genes from a common soil bacterium, Bacillus thuringiensis.
"If you grow cotton in North Carolina, you are growing Bt cotton, and very likely you are growing cotton that has resistance to those caterpillar pests, those pests that we used to have to control in the '90s. Tobacco budworm and bollworm are well controlled with Bt," the entomologist explained. 
"These caterpillars take a bite of that cotton, they expose themselves to the Bt protein, and they die," he said. 
But Reisig emphasized that ThryvOn contains a different Bt trait than the caterpillar Bt traits. He said the ThryvOn technology doesn't actually kill thrips. "That's a very different mechanism of action that we've seen from our other Bt traits. Because of that, you will still find thrips on ThryvOn cotton. But they don't like to feed on it, and they don't like to lay eggs on it," he said.  
He emphasized sprays will still be needed to control tarnished plant bugs in ThryvOn cotton, but farmers will be able to reduce one to two sprays per season to control tarnished plant bugs. 
The mechanism of action against tarnished plant bugs is similar to the mechanism of action against thrips. Tarnished plant bugs also don't like to lay eggs on and don't like to feed on ThryvOn cotton. 
Square retention
Reisig said that square retention in ThryvOn cotton is a little bit better compared to non-ThryvOn cotton, which is an advantage, but he stressed that ThryvOn cotton is not a standalone trait for tarnished plant bugs as it is for thrips. 
"We're not seeing any synergy with our foliar insecticides.  That is to say, if I spray Orthene on ThryvOn cotton, it doesn't work any better than if I spray Orthene on non-ThryvOn cotton. It's not upping the activity of our insecticides. But it is one of those traits where tarnished plant bugs prefer not to feed on it. They prefer not to lay eggs on it. Even without foliar protection, we're seeing a big advantage to ThryvOn in heavy pressure situations," Reisig said.  
Indeed, the question arises, "What about resistance to the ThryvOn trait over time?"  Bertie County Extension Agent Billy Barrow raised that question to Reisig at the expo. 
"It's an excellent question that I don't have an answer to," Reisig replied, pointing out that it is difficult to predict how long it will take for the Bt trait in ThrvOn cotton to break down. 
"The reason is the mechanism for action. When we think about a Bt trait that's lethal for caterpillars, we can make some predictions about resistance over time. It depends on the dose of the Bt.  How much does it take to kill the caterpillar?  And it depends on how much of the non- Bt refuge that they have available," Reisig explained. "The more non-Bt  refuge, the more susceptible insects, the longer resistance will take to evolve." 
Reisig said he understands the spirit of Barrow's question. 
"When we plant something like this on broad acres, it's only a matter of time before this thing breaks down. We're going to hopefully work with growers and the company moving forward to make sure we steward this trait as long as we can. I think the company is doing some really, really good efforts," Reisig said. 
"The EPA requires them to put in a resistance management plan to register this trait so the company is trying the best they can. But in my opinion, it's really the wild west in predicting resistance. We just don't know how it's going to shake out in the field." 
The CHROME Regional Ag Expo is a collaborative effort of North Carolina Cooperative Extension agents in the four counties of the Chowan, Roanoke, and Meherrin River areas: Bertie, Halifax, Hertford, and Northampton Counties. 
Subscribe to receive top agriculture news
Be informed daily with these free e-newsletters
You May Also Like
---