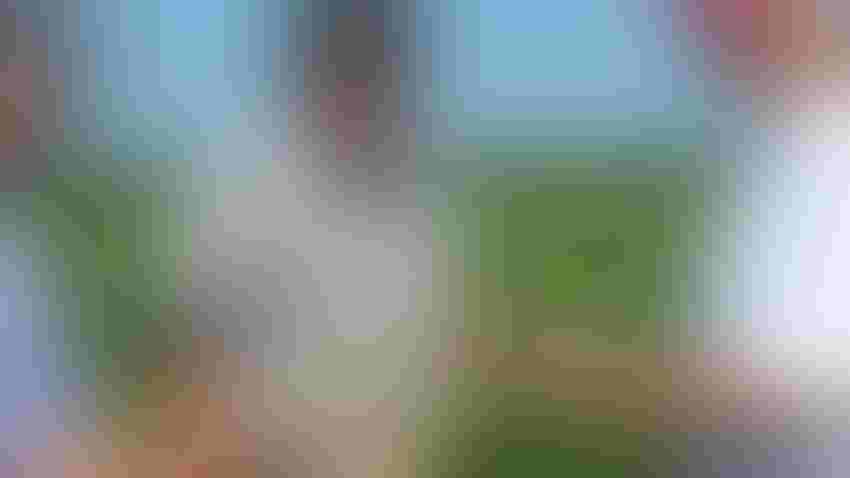 Time for plant growth regulator applications. Louisiana farmer Kody Beavers (center), Bayer technical agronomist Samuel Soignier (right) and Bayer Key Account Manager John Guthrie (left) discuss whether varieties in the New Product Evaluator trial need to be managed aggressively.
Pam Caraway
At a Glance
Kody Beavers treats cottonseed decisions like stock purchases.

On-farm industry and university trials aid variety decisions.

Variety evaluations start at planting and end with the gin report.
The days of pouring over cotton variety brochures like a young boy once devoured a Sears catalog are long gone. Tried and true is limited. And brand new is a roller coaster ride nobody can afford. 
That's why Kody and Melanie Beavers started choosing next year's cotton varieties three years ago. They evaluate the varieties that made this year's cut starting at planting. Pay close attention to management challenges across the summer. Watch what's going into the CP690 Cotton Picker – and look out the back window to see how much didn't. Though studies show that many farmers make the bulk of their variety decision at harvest, the Beavers aren't among that majority. 
"We're looking at it from start to finish," Beavers said. "We're pretty much boots on the ground." 
The Beavers also choose cottonseed from more than one company. In fact, they planted varieties from three cottonseed companies this year. And they varied trait packages – even though that complicated pest management. 
"You've got varieties that fit certain management styles. And you've got varieties that fit certain fields – like this field is sharkey clay and Commerce silt loam. We need a variety that performs on that soil," Beavers said, nodding toward a field that includes an NPE trial for Deltapine. "We're big on diversification. We try to play each variety to its strengths." 
To learn those strengths, they also host variety trials for Louisiana State University and a breeding trial for Bayer Crop Science. And they value insight from those who see variety performance across the region. Beavers said he and his wife, who is an agronomist, work with crop consultant Hank Jones, Extension specialists and industry representatives to choose varieties on a field-by-field basis.  
"We get information from every direction we can get it," Beavers said. "We're trying to get as much information as we can – for us and for our neighbors." 
Evaluate across the region 
That's one of the advantages of hosting variety trials for LSU and for Deltapine. The Beavers not only listen to what those ag professionals are seeing across the region, they also give those researchers feedback. 
"It's a good tool for us to provide information to the company guys to let them know what we're seeing and what we want to see," Beavers said. 
That feedback plays heavily into the company's decisions on which varieties will move forward, said Bayer Technical Agronomist Sammy Soignier. The NPE hosts casts votes on which varieties should be commercialized.  
"There's usually pretty clear winners," Soignier said, noting some varieties fill certain geographic niches and some are more broadly adapted. For instance, he said, "some in 2022 didn't do well down here, but did well on the East Coast." 
Varieties focused on pest challenges often have broader fits. Soignier and Bayer Key Account Manager John Guthrie put ThryvOn varieties in that category. Cotton farmers in some geographies may have underestimated the small seedling pests with the sizable resistant populations. 
Once again, the Beavers weren't among them. "This is our third ThryvOn crop. We were fortunate to see it firsthand when they were developing it," Beavers said. "In most scenarios, we don't have to spray it." 
The couple also saw ThryvOn planted side-by-side with varieties that didn't have the thrips resistance trait. "ThryvOn performed better," Beavers said. He also planted ThryvOn as a buffer between grain and cotton, protecting acres planted to varieties that didn't have the resistance trait. 
Though Beavers will quickly adopt a new commercial release, it's likely that variety is not new to him. 
"By the time I plant a variety, I've seen it on my farm for several years," Beavers said. "I don't necessarily have a preference for how long I keep a variety. But I want to see a variety in my field before I plant it." 
That said, Beavers has planted DP 1646 B2XF since it was released in 2016. And he's planted new varieties each year as well. 
"We always repeat some varieties and try some new. Year in and year out, I've always got a little bit of everything that I can get my hands on," Beavers said. 
Vary the variety portfolio 
Varying the varieties planted to their acres wasn't something this first-generation farmer learned from hard experience. Having earned both bachelor's and master's degrees in business at Louisiana Tech University, Beavers gives risk management high priority. 
"I'm not scared of a calculated risk. But if you can control it, I'd rather control it," he said. "It's like a good stock portfolio: you've got your blue chips, then you've got your riskier stocks." 
That's also why neither the bulk of the decision nor the final decision will be made on the turnrow at the Beavers' farm. 
"I won't make any guesses until we look at the gin reports," Beavers said. "I can make all the guesses on the turnrow, but they're not likely to line up with the gin report." 
Subscribe to receive top agriculture news
Be informed daily with these free e-newsletters
You May Also Like
---