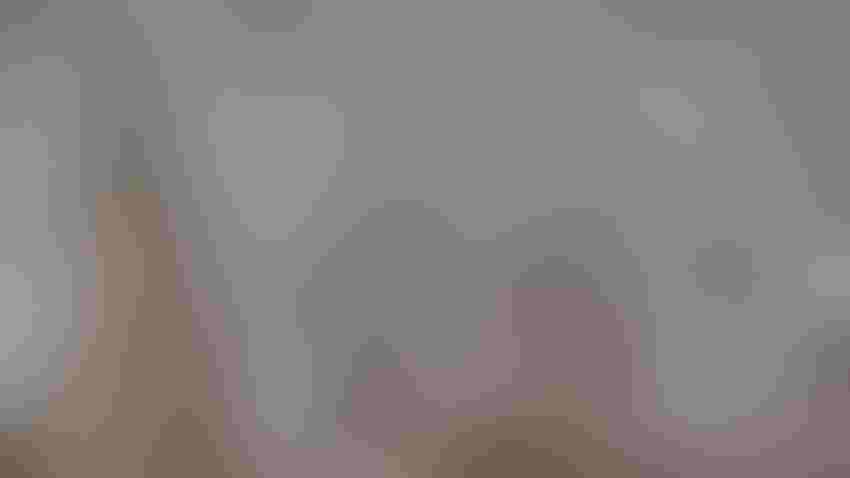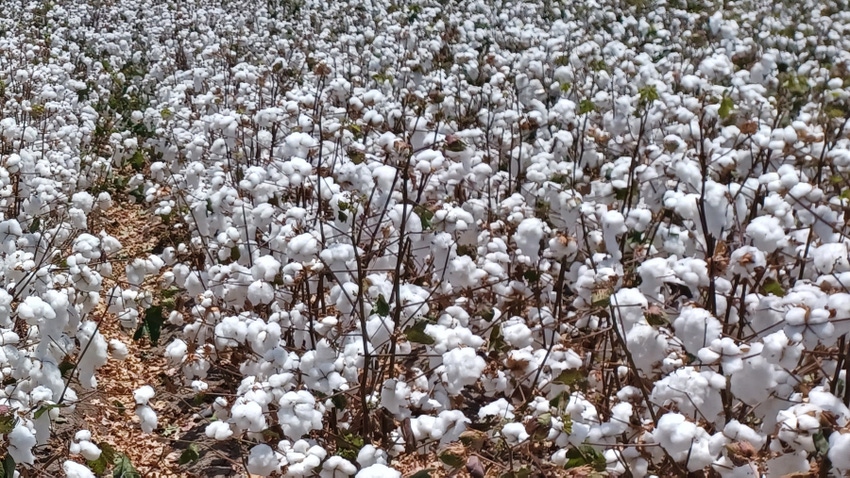 Irrigated cotton on Heron and Julie Castillo's Mercedes, Texas, farm. Defoliation is as much art as science. Read tips from Southwest cotton consultants.
Dwight Jackson, NCC
Cotton specialists have long contended that defoliation is as much art as it is science with success depending on numerous factors beyond a farmer's control.
However, a few important practices improve the odds of knocking off leaves in a timely manner and sending a cleaner product to the gin.
Three cotton consultants weigh in on the best tips to achieve the best results in preparing cotton for harvest, Oklahoma State Extension agronomist Todd Baughman, Ardmore; Mark Nemec, MJN Consulting Services, Hewitt; and Justin Chopelas, JWC Consulting, Inc., Odem.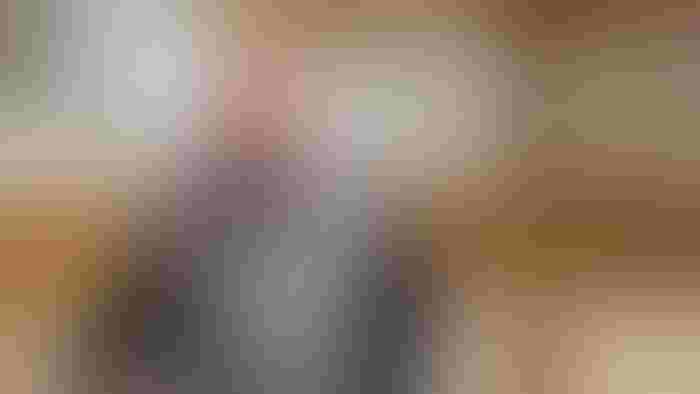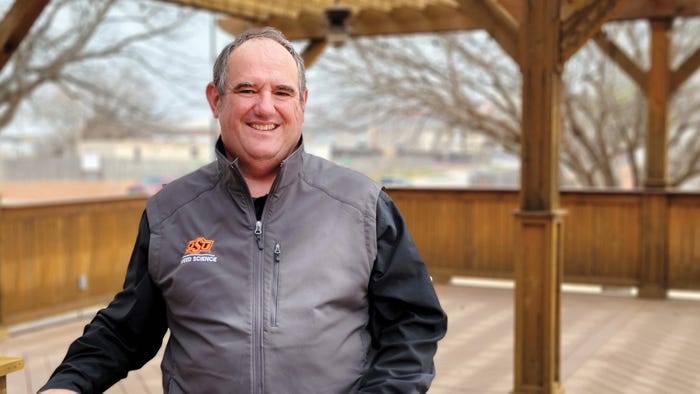 Todd Baughman, Oklahoma State Extension agronomist, Ardmore (Photo by Shelley E. Huguley)
Baughman offers six tips for effective cotton defoliation. Those recommendations are:
The number one thing is to try to do the best job you can to get the crop ready for defoliation when it's time. Practices should include managing fertility and irrigation to prevent growthy plants. "The less growthy and less vigorous vegetation when it's time to pull trigger on defoliation the better it will defoliate."

The second tip considers the unusual 2023 season, Baughman says. "The crop is all over the board this year. If the crop is not a great one, consider taking it out with gramoxone. One heavy shot should do but don't scrimp on the rate and be sure to shut the plant down and be  ready to strip."

Before harvest, make sure leaves are dry and crunchy. The gin can remove dry leaf, but if leaves are leathery and tough, they stick worse and leaf grades go up.

Keep an eye on cotton that's stressed and gets late moisture, which creates potential for regrowth. "Have a game plan for that. Typically, that's where PPOs come into play, to help with regrowth.

 "We've always said that defoliation is more art than science. So, be willing to adjust as the season changes, and be flexible in determining  what works best."

Timing is important, Baughman said. "Make sure not to get too far ahead of the harvester with defoliation. With late rains, the leaves could help protect open cotton."
As far as product options, Baughman recommends "staying with the tried and true. Apply Prep to set the crop up on two-shot program. Ginstar helps repress regrowth. If not worried about regrowth, a Def-type product or Def and a PPO.
"We don't have a lot of new products available," Baughman said. "Reviton, a relatively new PPO product, similar to Sharpen and Aim, is probably the latest."
Central Texas
 Nemec agrees that defoliation is "part art and part science, and sometimes it's part dumb luck.
 "Every year is different, starting from scratch trying to determine what to use," Nemec says.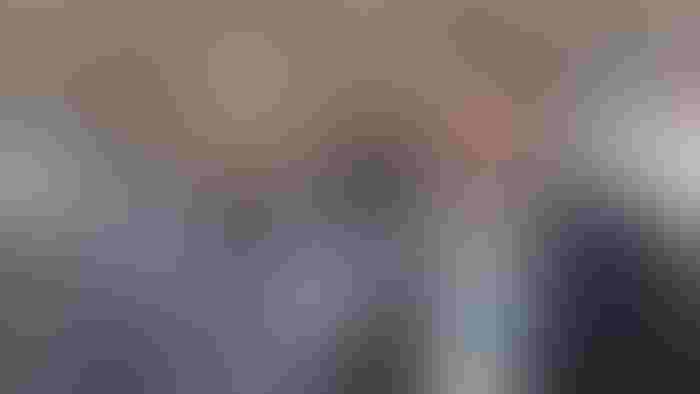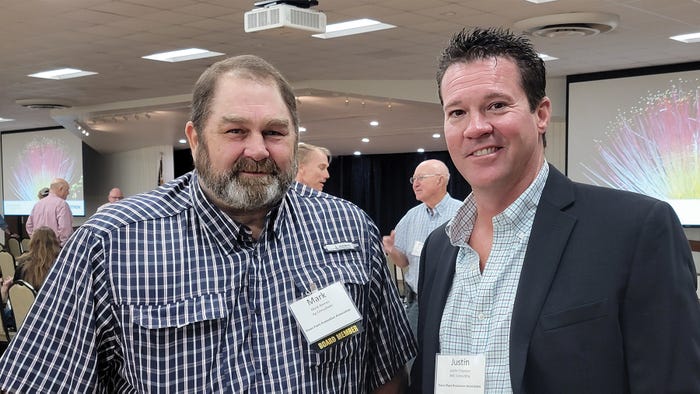 Consultants Mark Nemec, MJN Consulting Services, Hewitt; and Justin Chopelas, JWC Consulting, Inc., Odem (Photo by Shelley E. Huguley)
Nemec's tips for Central Texas include:
The crop needs to be ready with mature bolls before starting.

The condition of the plants determines what to use and when. 

Are the plants drought stressed or do they have a lot of regrowth?

 Is the weather wet or dry, cool or hot?

How much fertility was used or remains in the soil?

"Variety can play a part as well. Some varieties have a lot of horsepower and don't want to give up easily as others."
Texas Coastal Bend
Chopelas says location makes a difference in effective cotton defoliation.
"What I do here in the Coastal Bend might not work in Wharton," Chopelas says. "This year might be the toughest I've faced in 24 years of consulting." 
Chopelas says his system might be a bit simpler than programs to the north.
He cites two approaches to cotton defoliation. "One is nodes above cracked boll. The other is days to ethephon application when the plant is ready to pop bolls open."
He prefers the latter.
"We are fortunate in the Coastal Bend," he says. "It's hot. Dropp and ethephon work fantastic, so I haven't varied much from that over the last nine or ten years. Historically that system works. We don't have cold nights."
But 2023 has been different. "This is an oddball year."
He says he adds branded Ginstar because it makes Dropp rain-fast in an hour. "That's critical on the coast because of summertime showers. In a normal year, Dropp gets washed off. But not this year.
"Dropp, Ginstar, and ethephon are my basic go-to applications. But this is the first time in 24 years that I've  made a Folex recommendation. It's  so hot and dry Folex is working to cut the cuticle.  Dropp and ethephon are not working as well."
Chopelas says another approach is managed maturity.  "Over the years FMC has offered products used as conditioning agents to knock out vegetative growth on top to hasten maturity. In a normal year, I do a some of that.
"But typically, it's 100% two-shot applications —  Dropp or Dropp and Ginstar if it rains. I sometimes might make a third application of Dropp and ethephon. I don't vary from much that."
Chopelas says the 2023 cotton crop along the Coastal Bend is "awful. We're on day 62 ([on August 7) of 100 plus degrees. I've never seen a crop crater like this one."
Defoliation can be complicated: A little science, a little art, a little luck, and keep an eye on the weather.
Correction: In a previous version of this article, the brand name of a new PPO product was misidentified. The name is Reviton.
Subscribe to receive top agriculture news
Be informed daily with these free e-newsletters
You May Also Like
---