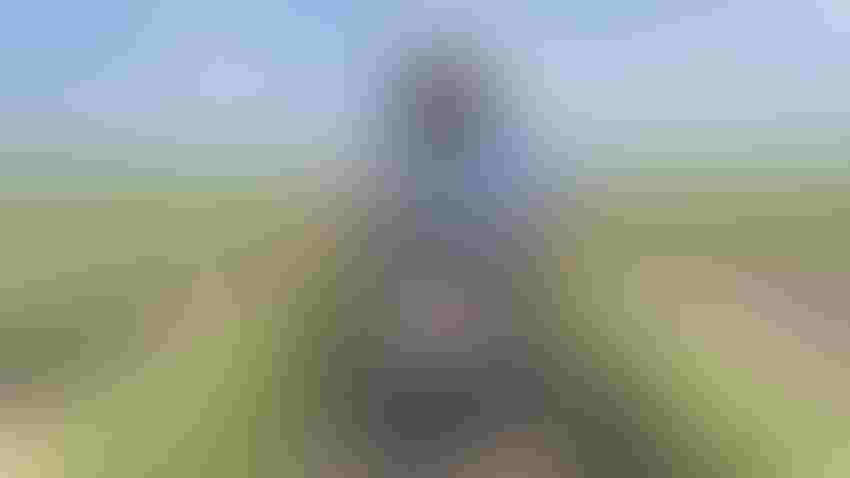 Arkansas cotton farmer, Nathan Reed, understands that conservation goes hand in hand with the U.S. Cotton Trust Protocol initiative to market sustainably grown American cotton for today's consumers.
Whitney Haigwood
At a Glance
Top brands and retailers are looking to deliver fully sustainable products to today's consumers.

The U.S. Cotton Trust Protocol works to ensure that American grown cotton has a place in today's market.

Arkansas farmer, Nathan Reed shares about conservation on his farm and his voluntary membership in Trust Protocol.
Sustainability matters for the land and the livelihood of the American farmer. For the first time ever, consumers are willing to pay more for environmentally friendly products. Top brands and retailers are looking for sustainable materials, and the U.S. Cotton Trust Protocol works to ensure that American grown cotton has a place in today's market. 
Arkansas cotton farmer, Nathan Reed, understands that conservation goes hand in hand with the Trust Protocol initiative. Through his membership, Reed can gauge his environmental impact and grow cotton with full confidence that his cotton bales are both profitable and marketable. 
Reed, chairman of the American Cotton Producers of the National Cotton Council said, "In America we are far above the rest of the world in sustainable cotton production, and we have these brands and retailers who must be sustainably sourced by 2025 to 2030. It is one thing to tell them that we are sustainable. It is another to have a program where we can prove it.  
"The beauty of the Trust Protocol is that if we have enough growers enrolled, it increases the demand not just for cotton – but for American cotton. That's a big deal it is what we are after as American growers. How can we differentiate ourselves?" 
He sat down with Farm Press to discuss conservation practices on his farm and how he uses Trust Protocol data to improve key sustainability metrics on his cotton acres. 
From dream to family farm 
For the Reed family, the dream of farming cotton began many decades ago. Reed's grandfather fought on Iwo Jima during World War II. After the war, family ties brought him to Marianna where he settled and carried out his lifelong dream of farming cotton in the Arkansas Delta. 
Since then, farming has been the family business. Reed pointed out the surrounding area known as Skidmore Ridge, "This is the first land my grandfather ever purchased," he said. "We call this the homeplace." 
He fondly recalled working on the farm with his father and grandfather throughout his boyhood years. Later, he followed in his father's footsteps to attend the University of Arkansas and earn a law degree. Then he returned home in 2005 to farm fulltime. 
As a third-generation farmer, Reed diligently implements conservation practices on the farm and accredits this his success. Conservation efforts are now commonplace to ensure efficiency, sustainability, and profitability, and his work is verified through his membership and participation in the Trust Protocol.  
"The way I look at it, sustainability and profitability generally line up," he said. "Sustainability means being profitable and staying in business and continuing to farm. To do that as a cotton farmer, we must become super-efficient, because the profit margins are so thin most years." 
Conservation cover cropping 
Of the conservation practices on his farm, Reed said the biggest payoff comes from cover crop. He started cover cropping in 2006, after switching to all non-GMO cotton; because, at the time, seed technology was of little benefit for weed and pest control. He relied on cover crops to help with weed pressure and saw remarkable success. 
Technology has since improved. Reed no longer grows all non-GMO cotton. However, he continues to plant cover crops on sandier soils and utilizes a no-till to minimum-till system. Cotton yields have increased along with improvements in irrigation, energy, and nutrient efficiency. 
"Through the use of cover crops, I have quit deep ripping," he said as he referred to a nearby field. "I haven't deep ripped that field in 15 years, and last year it made 3.7 bales an acre of cotton. Not having to do deep tillage pays for the cover crop." 
This field of cotton on Reed's farm has not been deep ripped in 15 years. He said that savings alone pays for the cover cropping system. It also made a high yielding crop in 2022, at 3.7 bales of cotton an acre. (Whitney Haigwood)
Reed noted that going no-till in the Delta has its challenges. Wet spring and fall weather inevitably put ruts in the field, but with a dry fall, he can plant a winter cover crop with little tillage. 
"When you are planting on raised beds, you have to refresh those beds at times. If we don't get ruts from a wet fall, we can go in and sow a cover crop and plant right back into it in the spring. Generally, we have enough bed left there," he said. 
Dialing in on irrigation and nutrient efficiency 
With cover crops, Reed saves on irrigation. He described furrow irrigation as "more of an art than a science," and his success is evident. Reed has cut water use in half across most of the farm. This enhanced efficiency is attributed not only to cover crops, but also to technology like Pipe Planner and GPS landforming. 
"Through Pipe Planner, we have really been able to dial in our irrigation and have proven that we can irrigate a lot less. Plus, you have all that organic matter out there soaking up water. The savings are huge, especially since energy has gotten so expensive.
"Also, to me, GPS landforming is the most profitable thing you can do in this area. By having the GPS technology versus the old laser technology, we can precision level fields where irrigation might not have been feasible before. Once you improve a field, the erosion basically goes to zero and your irrigation efficiency skyrockets," he said. 
In addition, he saves on fertilizer. Reed relies on nutrients from the cover crops that are released back into the soil and utilizes variable rate fertilizer. The farm is grid sampled every third year, and fertilizer applications are focused on deficient zones. 
Continuous improvement with Trust Protocol data 
Through Reed's membership in the Trust Protocol, he can verify that cotton from his farm is sustainably sourced and use data from the program to fine-tune the conservation efforts on his farm. He said, "The Trust Protocol data matrix shows the outliers in your operation and where you can improve. Those improvements generally line up with where you can reduce expenses." 
Reed noted that there is no need for a farmer to change anything to become a member of the Trust Protocol. He encourages growers to enroll, not only to certify their cotton but to continue improving their environmental footprint.  
"You do not have to plant cover crops or do variable rate fertilizer to become a member. Just sign up and enter what you are already doing. Right now, every cotton farmer in America can qualify for the Trust Protocol. Enrollment is painless and takes less than an hour." 
Trust Protocol members agree to the possibility of third-party verification, but Reed emphasized that this is not a compliance check. Third-party verifiers are advocates for ag and likely a familiar face in the cotton industry. Verification visits, if any, are meant to encourage sustainable practices and continuous improvement on the farm. 
Cotton growers have until Sept. 1 to enroll their 2023 crop, and Trust Protocol representatives are on call to help with the process. Growers are encouraged to enroll as soon as possible, and Climate Smart Cotton Program benefits are available to members. 
Enrollment is a priority, because like Reed said, "A rising tide lifts all boats." Perhaps in this case it is bales – cotton bales. And the Trust Protocol is here to ensure that our American grown cotton is lifted to top market value. 
For more information on enrollment and applications for Climate Smart Cotton Program funding, visit the website at TrustUsCotton.org. 
Subscribe to receive top agriculture news
Be informed daily with these free e-newsletters
You May Also Like
---