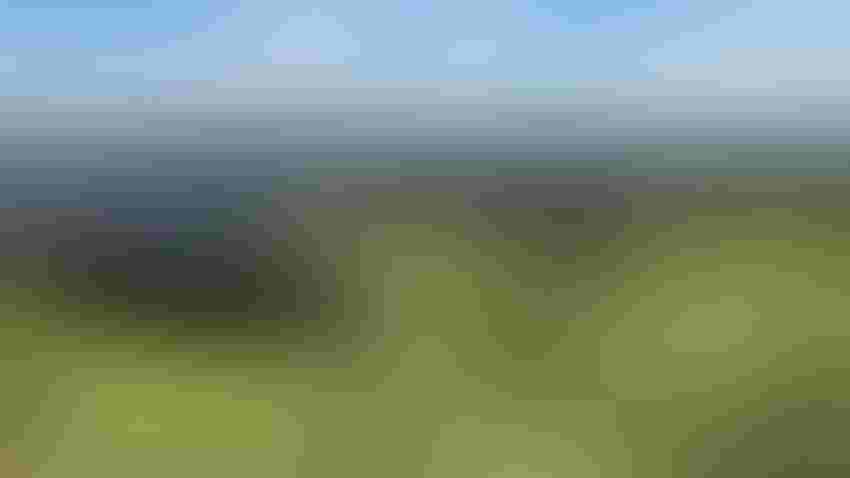 Before signing a solar lease, landowners and their ag attorneys should be ready to negotiate things like easements, damages, topsoil, and property taxes.
Whitney Haigwood
At a Glance
Landowners and their ag attorneys should carefully review all clauses in a solar contract.

Learn eight points to consider before signing your acres to a solar lease.
Part three of a three-part series on solar leases and considerations for lawyers and landowners. This is based on a presentation by Rusty Rumley, senior staff attorney, National Agricultural Law Center at the University of Arkansas System Division of Agriculture. The presentation was delivered at the tenth annual Mid-South Agricultural and Environmental Law Conference in Memphis, Tenn.   
Are you considering a solar lease? Perhaps you should unclick that pen and negotiate first. This final series installment unpacks other clauses to look for in the contract. We will also discuss a few points to negotiate. 
Rusty Rumley, senior staff attorney, National Agricultural Law Center at the University of Arkansas System Division of Agriculture said, "Depending on the landowner and the size of the operation, you may expect to see different clauses attached to the contract." 
That means landowners and their ag attorneys should be ready to negotiate things like easements, damages, topsoil, and property taxes. Rumley shared eight common points to review before committing acreage to a lengthy contract. 
1. Read the easements carefully.
Solar leases come with easements that typically ensure the solar developer's access to the property. Landowners should know how much property is included in the lease and the impact on those acres. 
Know how broad the easements are. Some clauses may permit the developer to cut down trees or keep the landowner from doing anything that blocks sunlight, like building a new home or farm shop. 
Also know how long the easements last. Read carefully, because some have an end date, yet others keep going. Rumley said, "Some of these easements are permanent. I have seen some last longer than the lease itself. Make sure you know what you are signing." 
2. Discuss your offer with neighbors.
Likely, neighboring landowners have been approached by a solar developer. Ask what offer they got and make sure it is comparable to yours. Also, be prepared to ask the developer for more money.  
Rumley said. "The rate may depend on whether the landowner asked for more, and many times, those who asked got a better rate." 
"Also, not all leases will turn into solar projects. If you suspect the lease will never turn into a project, it is not a bad idea to ask for a bigger bonus payment." 
3. Be specific when calculating damages.
Crop damage is likely, and Rumley advised to have a plan that clearly calculates damages. Furthermore, some contracts limit damages to a one-year term, and he said that may not be long enough. 
He posed a few questions to consider. "What is the average yield on those acres? What is the cost of grain on the Chicago Board of Trade on the date those damages occurred? I want to know in specificity how to calculate this. You need a good formula." 
4. Insist that powerlines are buried deep, and topsoil is replaced.
Electric lines will likely be dug through the property. Rumley noted that from a farm safety standpoint, powerlines should be buried deep.  
"If the electric line is only buried a foot and a half deep, that does not give me a warm fuzzy feeling when a farmer is out there with a plow," he explained. 
It is also important that the topsoil be replaced at the top. Otherwise, you chance compromising soil fertility over those buried lines if the rocky dirt is replaced above the topsoil. 
5. Clarify who will pay for an increase in property taxes.
Property assessment could shift from agricultural to commercial. A higher assessed commercial land value could result in higher property taxes. The solar contract should establish who pays for the increase. 
Rumley said, "Your property taxes may go up tremendously.  If the landowner pays for the increase, then it will be higher for the remainder of the lease. Watch carefully for these clauses." 
A common negotiation is splitting the increase between the two parties. In this agreement, the landowner accepts responsibility for an average of the past three years of property taxes and the developer pays for the additional value going forward. 
6. Look for miscellaneous clauses in solar contracts.
Review the addendums and attachments of your solar contract. The last few pages often contain clauses for assignment, confidentiality, and termination. Commonly, these clauses favor the developer. 
"Be aware of the legalese at the end of the contract. This is where a good ag attorney can look to shift these clauses in the favor of the landowner." 
For instance, an early termination clause is often included. It gives sole right to the developer to terminate the contract at their discretion. Landowners can protect themselves by negotiating a buyout clause with a possible payment and longer notice period in the event of an early termination. 
7. Keep future litigation on the local level.
There is a chance of conflict during the timeline of the solar lease, and Rumley advised that it is often best to keep it local.  
He said, "Make sure the venue and choice of law is favorable to the landowner. Sometimes availing yourself to the local county courthouse is the best option. You do not want to be litigating one of these cases in another state's court system." 
8. Learn the regulations in your state.
Different states pass different solar laws, making solar leases unique by location. These include things like tax incentives, zoning, metering, and decommissioning. 
Rumley said, "These laws are not always easy to find. As lawyers, we must do our due diligence to see if there are any state laws or regulations that are on point when dealing with solar leases." 
For more information on solar leases see the earlier installments of this series on common questions to ask and the phases of solar contracts. 
Subscribe to receive top agriculture news
Be informed daily with these free e-newsletters
You May Also Like
---