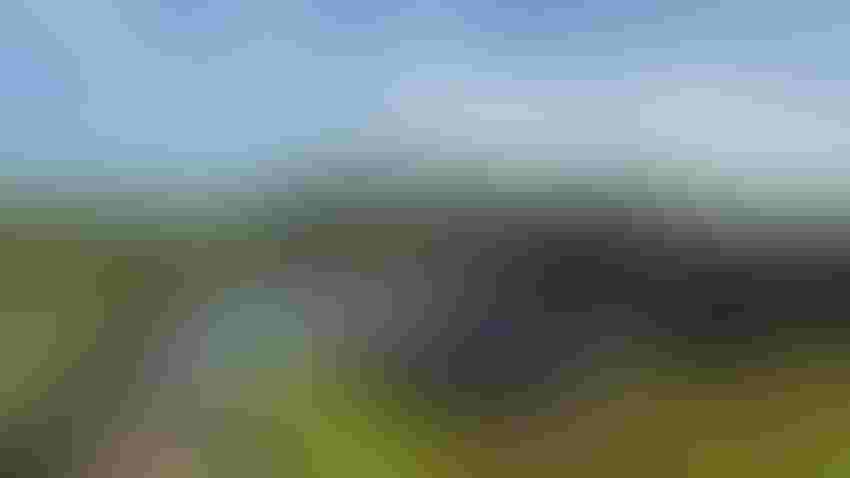 Solar projects are cost-effective compared to wind, but solar requires more crop production land.
Whitney Haigwood
At a Glance
Midsouth farmers are often approached by solar developers.

These solar projects feed the growing demand for renewable energy from big companies moving toward sustainability.

Before signing, landowners should understand the developer's timeline and intention for the acreage.
Part one of a three-part series on solar leases and considerations for lawyers and landowners. This is based on a presentation by Rusty Rumley, senior staff attorney, National Agricultural Law Center at the University of Arkansas System Division of Agriculture. The presentation was delivered at the tenth annual Mid-South Agricultural and Environmental Law Conference in Memphis, Tenn.  
Across the Midsouth, solar farms are gaining in popularity. These projects feed the growing voluntary demand of renewable energy, coming from big companies willing to pay extra in effort to meet sustainable goals.  
Optimum locations for solar projects require ample sunshine, flat and well-drained soils, and proximity to transmission lines with capacity. Such locations are also ideal cropland. So, let's talk about what landowners should consider before signing a contract with a solar energy developer. 
Rusty Rumley, senior staff attorney, National Agricultural Law Center at the University of Arkansas System Division of Agriculture, weighed in on solar project leases and what landowners should ask before signing. 
Cost-effective renewable energy projects 
The demand for renewable energy began about 10 years ago with wind projects. During that decade, solar became much more competitive and is now a cost-effective option due to the falling price of solar panels. Rumley referred to a federal report from the National Renewable Energy Laboratory, estimating an 82% price drop for utility scale solar projects.  
Rumley said, "We are still seeing wind projects go up. Wind can be competitive with solar, but the wind projects must be pretty big before they are comparable."  
While solar projects have more cost appeal, they require more crop production land. Frames for the systems are close to the ground, preventing farmers from pursuing traditional agriculture on those acres. Thus, farmers are left to utilize the ground around the solar system for wildlife habitat or livestock, most ideally sheep. 
Rumley said, "We are seeing backlash in different parts of the country. Specifically in states like Ohio, with arguments like 'Not in My Backyard' against solar projects. We have not seen as much of that here in the South, but it is happening in the East and West."  
In addition, learning curves remain. These solar projects cannot help with baseload power until there is a reliable method for storing energy. Developers are still trying to find cost effective means to store extra energy produced in the middle of the day to use during the evening hours. 
He said, "If you look at energy consumption, we burn more energy during the day. We also burn a lot of energy in the evening hours as we go home and the sun sets. One of the big goals is how do we capture that energy? Even in Arkansas, Oklahoma, and Texas, the sun doesn't shine all the time." 
Things to consider before signing a solar lease 
Farmers across the Sunbelt are often pursued by developers to sign contracts, and Rumley laid out a list of considerations. He shared his legal experience in dealing with multi-page solar contracts and the steps to take before signing. 
1.Talk to your neighbors.
Solar companies usually come to the farmer, and Rumley recommended discussing your solar options with local landowners. Talk with those nearby who have solar projects on their acres. Ask about their experience. Do they think it is a good deal? Did the developers do what they promised?  
"Talk to your neighbors. Chances are they either have or will be approached about a solar lease. Find out who is getting offered what," he advised.  
In addition, he noted that landowners should rely on a good ag lawyer, and there is power in numbers. When landowners come together to rely on a single ag lawyer, that attorney can keep everyone on the same page and help with negotiations. 
He said, "People who have gotten the best deals were using attorneys. For some of the top deals, all the landowners in that area used one attorney. Then, that one attorney knows what is offered to each landowner." 
2. Know the developer's intent with the acreage.
Familiarize yourself with the developer. What kind of relationship do you have with them? Are you dealing with an established local utility or co-operative? Or are they a private company looking to secure large scale acres? It is also wise to ask the developer if they have plans to later flip those acres.  
Rumley encouraged landowners to read the contract for assignment clauses. "If assignment clauses are in the contract, they will typically be in an addendum, and they are in favor of the developer. It is important to know if the developer plans to sell the project and flip it to someone else."
3. Ask about the timeline.
Solar leases are typically long-term projects. They may span 25 to 50 years, with multiple phases involved. To understand the timeline, landowners should ask the developer how far out they have planned.  
Discuss the timeline and specific phases of the contract with your attorney. Those phases include the options phase, construction phase, generation/payment phase, and finally, the decommission phase. 
For more details on solar leases, catch the following two parts to this series. There we will unpack what to expect during the phases of solar leases and elaborate on the points to consider when negotiating. 
Subscribe to receive top agriculture news
Be informed daily with these free e-newsletters
You May Also Like
---