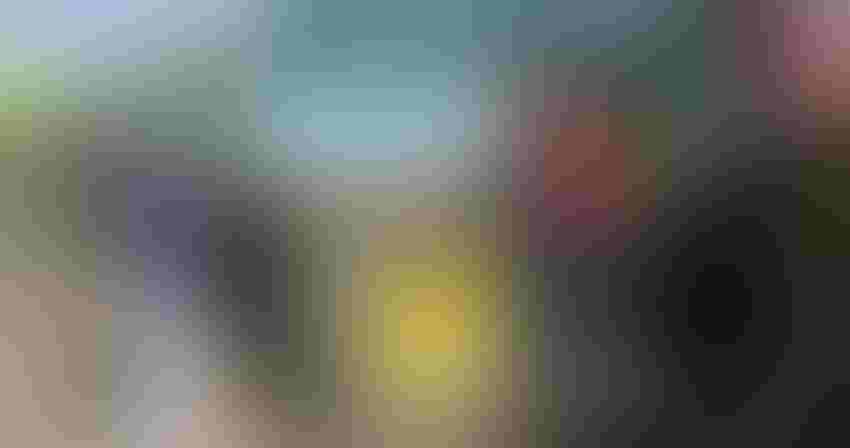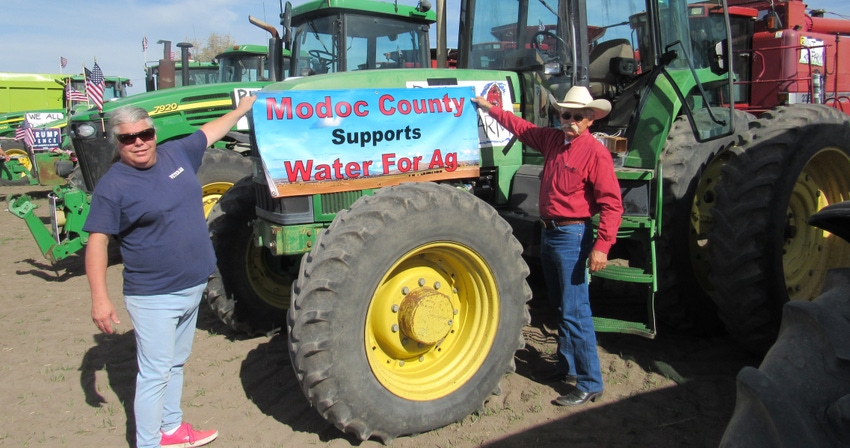 Participants in a heavy-equipment convoy through Klamath Falls, Ore., in 2020 promote more water for farmers in nearby Modoc County, Calif. Growers in the Klamath Basin straddling the Oregon-California state line face more severe water cutbacks this summer.
Tim Hearden
As a new drought grips the West, farmers in the Klamath Basin straddling the Oregon-California state line face another historic cutback of their water supplies.
Growers who rely on Klamath Project irrigation water were told April 14 they'd get just 33,000 acre-feet of water from Upper Klamath Lake, which farmers said was about 8% of what they need.
Water deliveries will also start June 1, two months later than usual, for the basin's more than 200,000 acres of farmland.
"The simple fact is it just hasn't rained or snowed this year," Klamath Water Users Association president Ben Duval said during a meeting with irrigators, according to The Associated Press. "We all know how dry our fields are, and the rest of the watersheds are in the same boat. ... There is no easy way to say this."
The drastic cutback is just the latest saga for a region that has endured endless water conflicts in recent decades, as farms, endangered fish, local American Indian tribes and downstream fishing businesses vie for limited supplies.
Related: Drought takes hold in West after second dry winter
The conflicts drew national attention in 2001, when biological opinions on endangered suckers and threatened coho salmon led the Bureau of Reclamation to abruptly shut off irrigation water to about 1,200 farms.
After local efforts to share water largely failed, the region's water wars heated up again last year, when Reclamation in May signaled plans to cut its allocation from 140,000 acre-feet to 80,000 acre-feet as part of a three-year operating plan, which was initiated under an agreement with the Yurok Tribe. Growers had planted their crops based on the higher allocation, and the further cut threatened to leave farms without surface water by midsummer.
The bureau later said spring rains enabled it to fulfill the 140,000 acre-foot allocation, after some 2,000 people participated in a heavy equipment convoy through the basin in a rally reminiscent of the famous 2001 "bucket brigade" protests in the basin.
Drought in the West
Dry conditions largely associated with La Nina have intensified what the National Oceanic and Atmospheric Administration is calling the most significant U.S. spring drought since 2013, affecting an estimated 74 million people, after much of the West endured its second straight drier-than-normal winter.
The USDA has declared a drought in numerous counties throughout the West, including 50 in California and 63 in Colorado, as farmers grapple with water cutbacks, a struggling wheat crop, deteriorating rangeland quality and increased threat of another devastating wildfire season. Oregon Gov. Kate Brown declared a drought in Klamath County on April 1.
Related: Drought hitting home in California, Arizona
The USDA on April 14 announced the availability of up to $10 million in assistance from its Wildfire and Hurricane Indemnity Program Plus to assist agricultural producers in the Klamath Basin. The move allows the agency to enter into block grants with states to provide payments to producers to offset losses from hurricanes, wildfires, and other qualifying natural disasters such as drought that occurred in 2018 and 2019, a news release explains.
The block-grant process provides an opportunity for the states—including California and Oregon—to deliver the assistance themselves and to tailor the program to specific local conditions and concerns, according to the agency.
The USDA notes that Reclamation's 2021 operations plan was developed in response to consecutive years of drought conditions in the Klamath Basin, including the lowest historical inflows on record into Upper Klamath Lake this year. 
"As ongoing drought conditions in the West continue to worsen, USDA is committed to providing help and assistance to producers, tribes, and communities in the Klamath River Basin impacted by historically low water allocations," Gloria Montano Greene, Deputy Under Secretary for Farm Production and Conservation, said in a statement.
Subscribe to receive top agriculture news
Be informed daily with these free e-newsletters
You May Also Like
---