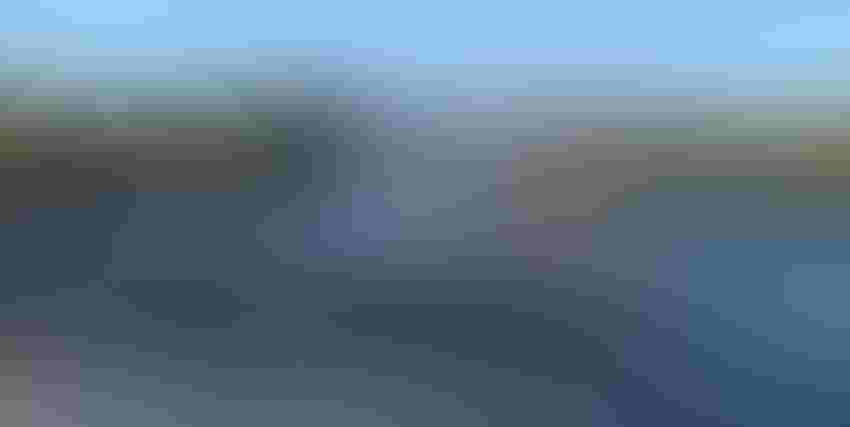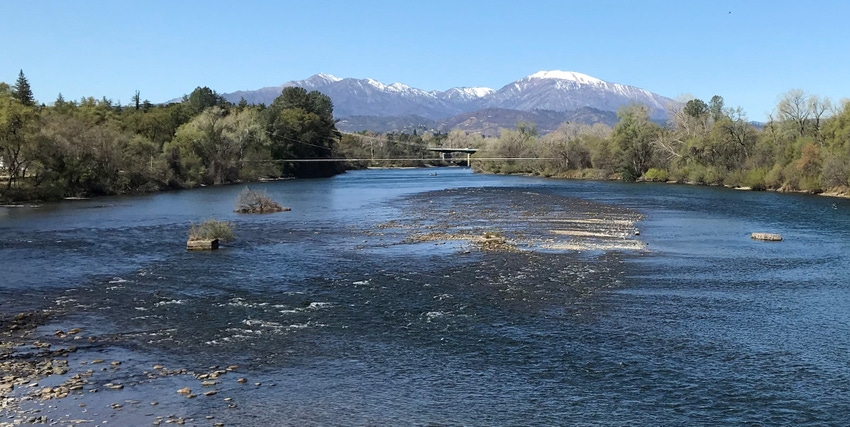 A light dusting of snow can be seen atop the Trinity Alps beyond a section of the Sacramento River through Redding, Calif. California's snowpack statewide was only 62% of normal on the eve of the traditional April 1 peak.
Tim Hearden
Dry conditions in the Southwest largely associated with La Nina have intensified what the National Oceanic and Atmospheric Administration is calling the most significant U.S. spring drought since 2013, affecting an estimated 74 million people.
The U.S. Seasonal Drought Outlook map shows a giant swath of brown – meaning "drought persists" – extending from the Pacific Coast to parts of the Great Plains and Upper Midwest after a second straight drier-than-normal winter in the region.
The USDA has declared a drought in numerous counties throughout the West, including 50 in California and 63 in Colorado, as farmers grapple with water cutbacks, a struggling wheat crop, deteriorating rangeland quality and increased threat of another devastating wildfire season.
Most recently, a USDA primary disaster declaration for counties in Wyoming included producers in five contiguous counties in Montana, according to that state's agriculture department.
The Southwest "will remain the hardest hit region in the U.S., and water supply will continue to be a concern this spring in these drought-affected areas," National Weather Service deputy director Mary Erickson said when NOAA's spring outlook was released March 25. "This is a major change from recent years where millions were impacted by severe flooding."
California's dry winter
In California, the period from Dec. 1 through Feb. 28 – normally the state's rainy season – was among the top 20 driest on record in several locations, reported Craig Shoemaker, a NWS meteorologist in Sacramento. Despite some big storms in January, most locations in the state ranged from 40% to 60% of normal precipitation for the water year at the end of February, he said in an email.
Despite one cold storm in late January that brought snow levels down to 500 feet, the winter featured some of the mildest average temperatures on record for many areas in Northern California, including Stockton, Sacramento, Fairfield and Red Bluff, whose highs averaged 50 degrees or higher, Shoemaker said.
As a result of the dry and warm winter, "snow drought" conditions remain over much of the Sierra Nevada and Rocky Mountains, which have worsened over the last month because of a lack of strong storms, according to the National Integrated Drought Information System.
On the eve of its traditional April 1 peak, California's snowpack was at only 62% of normal statewide as of March 30, and Northern California was at 69% of normal, reported the state Department of Water Resources. The dearth of snow follows a 2019-2020 water year that produced an April 1 snowpack of just 50% of average.
While the Golden State's reservoirs can withstand one dry winter, enduring a second one has taken its toll. Shasta Lake, the centerpiece of the federal Central Valley Project, was at just 52% of capacity and 65% of average as of March 29, the DWR observed. Lake Oroville, the State Water Project's chief reservoir, was at 40% and 53%, respectively, according to the agency.
"With back-to-back dry years, water efficiency and drought preparedness are more important than ever for communities, agriculture and the environment," DWR director Karla Nemeth said in early March.
Water cutbacks loom
As a result of the worsening conditions, the U.S. Bureau of Reclamation, which manages CVP water, on March 23 made targeted cuts to agricultural contractors south of the Sacramento-San Joaquin River Delta, eliminating their supply of surface water for the foreseeable future. The cuts negated a previous allocation of 5% of contracted supplies.
For users of SWP supplies, the state recently reduced allocations to 5% systemwide, down from 10% as announced earlier in the water year. This means that the 29 SWP contractors that serve more than 27 million California residents and 750,000 acres of farmland will have to share 210,000 acre-feet of water.
State and federal officials are telling communities to prepare for an extra-dry summer with potential water shortages and are urging people to use less water, KOVR-TV in Sacramento reports.
The measures inspire memories of California's most recent drought in 2012-2016, during which a stubborn wall of high pressure seemed almost permanently established off the coast. That drought cost California's agricultural economy more than $5.2 billion, fallowed more than 1 million acres and caused the loss of nearly 40,000 agricultural jobs during its peak in 2014-2016, according to the Center for Watershed Sciences at the University of California, Davis.
The latest cutbacks will likely lead to land fallowing and increased agricultural pumping in the Golden State this summer as growers allocate water resources to permanent crops, although pumping will be more restricted under the Sustainable Groundwater Management Act. Annual crops, such as cotton, may see the lowest planted acreage in decades because of the limited water and drought conditions.
Drought throughout the West
Elsewhere in the West, a series of cooler, wet March storms relieved drought concerns over some parts of Oregon and helped recovery in the Colorado Front Range and eastern Wyoming, but provided less benefit to the Colorado headwaters, according to the federal NIDIS system.
But La Nina has pushed cool, moisture-laden storms on a northern track that saw the bulk of precipitation falling to areas north of much of Wyoming. The mountain snowpack there is normal or above normal in some places, but that doesn't help lower-elevation rangelands, cautions the University of Wyoming, which has offered drought-year grazing tips to ranchers.
Drought conditions are likely to improve this spring in the Pacific Northwest, as anticipated hot spells throughout the country are expected to largely miss western Montana, northern Idaho and parts of Oregon and Washington, NOAA predicts.
But below-normal precipitation is forecast in April through June in much of the West, according to the agency.
[Note: This story has been updated with current snowpack readings.]
Subscribe to receive top agriculture news
Be informed daily with these free e-newsletters
You May Also Like
---