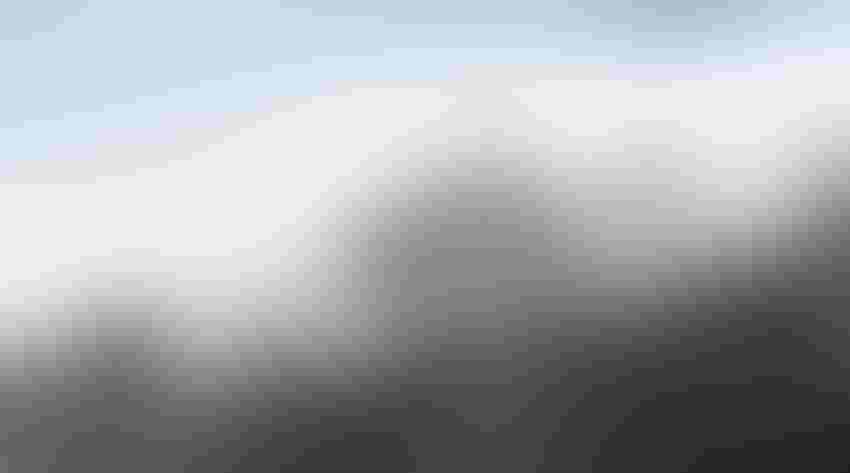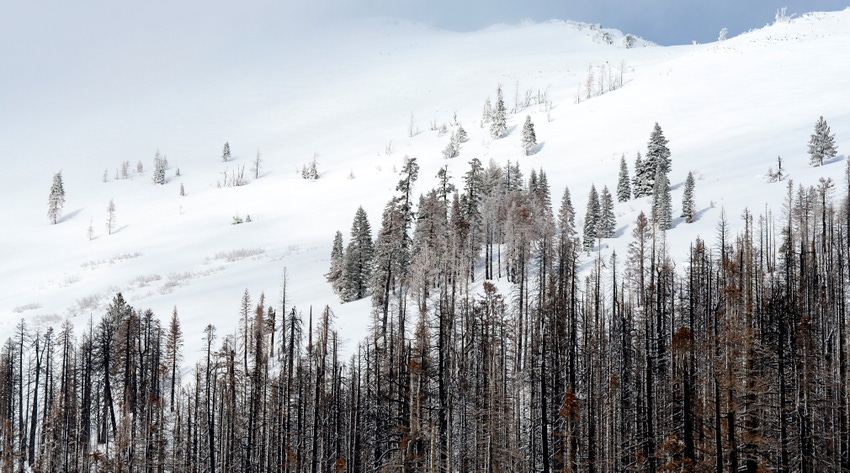 California's first manual snow survey of the 2022-23 water year found 177% of average snow-water equivalent for this time of year. The survey was held Jan. 3 at Phillips Station near Lake Tahoe.
Calif. Department of Water Resources
Storms that have pounded the West Coast through the holidays and into January have bolstered snowpack levels, but the experience of the last few years keeps water officials from getting too excited just yet.
California's first manual snow survey of the season on Jan. 3 near Lake Tahoe recorded 55.5 inches of snow depth and a snow water equivalent of 17.5 inches, which is 177% of average for this location, according to the state Department of Water Resources.
The statewide snowpack was at 174% of normal for the date and rising, as a series of storms are expected to pepper the region through mid-January. The ferocity of the approaching "atmospheric river" systems prompted weather officials to warn residents of potential flooding, as drought-parched ground and burn scars raised the potential of rapid runoff.
But the federal Climate Prediction Center is largely noncommittal on whether the potent early storms portend a wet winter. Much of the West still faces equal chances of wet or dry conditions over the next three months, while the Pacific Northwest figures to wet and the Southwest is more likely to be dry.
"While we can say that we hope we'll continue going forward with good water supply conditions, we can't assume that," said Jeanine Jones, drought manager for California's DWR. "We're a third of the way through our wettest season, and because it's been so dry, we'll need to do better than average precipitation to get average runoff … You lose runoff until things get very wet, and then you get good inflow (to reservoirs)
Related: Storms boost snowpack as first survey nears
"We do have a deficit," she said in an online press conference. "Statewide our water storage … is still well below 100% of average."
State officials say conditions so far this season have proven to be strikingly similar to the 2021-22 water year, when California saw some early rainstorms and strong December snow totals only to have the driest January through March on record. The previous season also got off to a fast start before fizzling.
Fast winter starts were also a feature of the last multiyear drought in 2012-16. In 2013, for example, the first snow survey of the season also provided promising results after a wet December, but the following January and February were exceptionally dry, and the water year ended as the driest on record, the DWR notes.
Groundwater levels are roughly the same as a year ago, Jones said, but over the last decade they've declined significantly.
"We know it will take quite a bit of time and water to recover, which is why we don't say the drought is over when it starts raining," she said.
Throughout the West
The caution among water officials is felt throughout the West. The three-month U.S. Seasonal Drought Outlook projects the drought to remain but improve from the heart of California east to Utah, as parts of Washington, Idaho, Montana and northern Arizona could see relief from drought.
The Intermountain states experienced a cool and wet autumn, shrinking areas of extreme and exceptional drought to their lowest in two years, according to the National Integrated Drought Information System. More rain and snow is needed to improve long-term drought conditions, the agency contends.
Many eyes are on the Colorado River system, as its two centerpieces -- Lake Mead and Lake Powell – have become so depleted that the U.S. Bureau of Reclamation announced Tier 2a restrictions, which will cut allocations from the river to Nevada and Arizona in 2023.
Related: 'The Colo. River system is headed for a crash'
Tier 1 restrictions in 2022 eliminated surface water supplies from the Central Arizona Project for farms. Because of mitigations from previous water savings, some farmers were able to receive a fraction of their normal water district allocations.
"Currently things are looking good in the Upper Colorado watershed" after this season's early storms, Jones said. "However, that reservoir system is looking at unprecedentedly low storage. We have an expectation of a cut to water users in the basin this year. Even though the hydrology is looking good there, we can't expect full supplies from that watershed."
In addition to California, Nevada, Oregon and parts of Washington, Idaho, Montana, Utah, and Arizona are at greater than 150% of normal snow-water equivalent, but snow drought concerns linger in New Mexico, southeastern Arizona, and parts of southern Colorado, according to NIDIS.
Reservoirs
Fast winter starts in California typically prompt calls from agriculture and other sectors for officials to hold back more water in reservoirs rather than letting it run out to the ocean. Last year, then-Assemblyman Adam Gray, D-Merced, went as far as to call for an investigation of DWR for its handling of spring runoff in 2021, arguing the agency miscalculated the snowpack moisture content and let an extra 700,000 acre-feet flow into the ocean.
This year, the State Water Project is "actively capturing runoff" from the recent storms to the extent that regulatory requirements allow, DWR spokeswoman Mary Fahey told Farm Press. "For example, Lake Oroville continues to increase storage while releasing minimum flow requirements to the Feather River," she said in an email.
Lake Oroville – the chief reservoir storing water for the SWP's 29 contractors – has risen by 50 feet, or 350 acre-feet, since the recent string of storms began in December, she said. In the Sacramento-San Joaquin River Delta, Banks Pumping Plant is pumping at significantly higher rates than earlier in the winter to pick up unregulated storm flows and store it in the San Luis Reservoir, she said.
Related: No surface water for Ariz. farmers next year
However, water managers are limited in how much water they can hold back because of flood control concerns, Jones told reporters. They can't change flood control reservations until about March, she added.
The manual snowpack measurements are done monthly through the winter, and California and federal water managers will incorporate snowpack data and runoff forecasts as they determine allocation amounts for the coming season. The DWR in early December announced an initial allocation of 5% of requested supplies for SWP contractors.
About the Author(s)
Subscribe to receive top agriculture news
Be informed daily with these free e-newsletters
You May Also Like
---