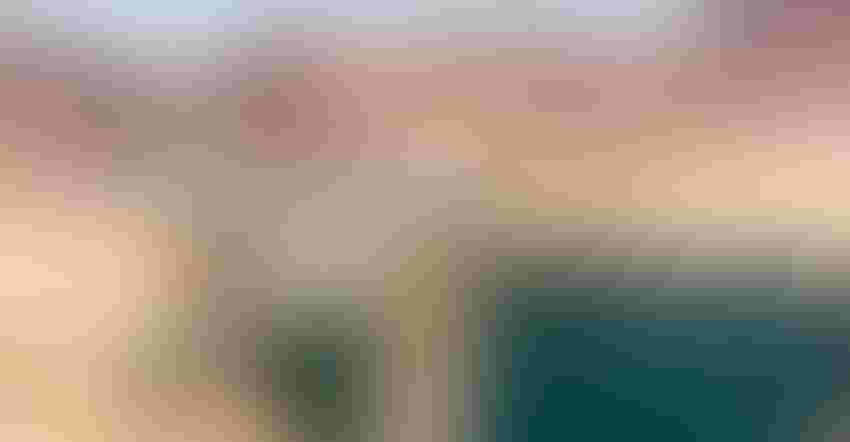 Lake Mead water levels rival those in the last major drought in 2014.
Todd Fitchette
It isn't just farmers who worry about drought.  Anyone who likes to eat knows the equation between adequate water supplies and resultant food crops.  So the current status between available liquid nutrients and "what's for supper?" is a correlation most of us have already acknowledged.
And worried about now that the Bureau of Reclamation has initiated restrictions via a Tier 2a status, effective January 2023 --- the first time in history that the government has pulled that trigger in response to a continually declining Lake Mead.
A recent Associated Press story on the subject began like this: "The 40 million people who depend on the Colorado River to fill up a glass of water at the dinner table or wash their clothes or grow food across millions of acres use significantly more water each year than actually flows through the banks of the Colorado."
Related: No surface water for Ariz. farmers next year
While the river provides liquid sustenance for humans in seven Lower Basin states and Mexico, thousands of food producers also reliant on that supply and Tier 2a cuts will represent a shortfall of some 592,000 acre-feet or 21% of the annual river allotment for Arizona.
Arizona Department of Water Resources Director Tom Buschatzke is on record as anticipating deeper reductions than previously anticipated under a Tier 2 --- or possible Tier 3 --- reduction in 2023.  "Real action is needed in a plan that must result in wet water reductions," he believes.
Asked by Western Farm Press as to what Arizona food growers should brace for when Tier 2a kicks in, Buschatzke replied: "The reduction will result in CAP farmers losing access to a pool of Colorado River water designated for their use.  Agriculture has access to state funds for efficiency and infrastructure improvements for use of ground water and some higher priority water users will send some of their water for use by CAP agriculture for groundwater savings facilities.  On-river farmers --- like those that grow vegetables in Yuma --- with higher priority water rights will not have their use reduced in Tier 2a."
Cuts 'near total'
Ted Cooke, general manager of the Central Arizona Project, puts it this way: "Cuts to the CAP allocation could be near total within just a few years if steps are not taken collectively by Colorado River water users throughout the basin."
Speaking specifically about Central Arizona agriculture, DeEtte Person, CAP's Public Information Officer, said: "Central Arizona farmers will not be receiving any direct CAP surface water delivery in 2023 and many have already made business decisions to return to the use of groundwater."
Related: Declining water supply dims Western power production
Sharon Megdal, Director of the University of Arizona College of Agriculture Water Resources Research Center for two decades, remains optimistic despite the declining supply. 
"If there were an apparent universal answer, we'd be following that path," she says. "If agriculture could reduce some of its use and get people talking with and hearing each other, that would go a long way toward addressing some problems because the clock is ticking and the river is not going to wait.  Shame on us if we don't figure out something to do about this.  We've got the money.  We've got the brains.  We've got the technology, but we can't get our act together.
"That said, I think we'll figure out something --- at least how to deal with less water in the short run --- because we have no choice.  We can't let this system crash."
California suffering
Water woes don't get much better west of the state line as the Public Policy Institute of California reports its agriculture sector --- the nation's largest that generates $50 billion in annual revenue and employs 420,000 workers --- is also suffering from lingering drought and diminished supplies.
The organization says the megadrought, with chronic low precipitation and higher temperatures, continues to replace records set back in the late 1800s.  Cutbacks in surface water deliveries of over five million acre-feet have resulted in increased groundwater pumping.
Related: 'We're almost at the breaking point' on river
Although the West is a specific geographic area of concern, these environmental concerns are global in dimension.  Climatologists in China are of the belief that this is the world's most extreme heat wave on record, saying it is the most intense, most extreme in length, and over an incredibly huge area --- all at the same time.
One scientist noted: "There is nothing in world climatic history which is even minimally comparable to what is happening."
There is no area that isn't being impacted.  And that impact is universally negative.  If you farm in the West, you need no iteration of the past several months and the daily high temperatures, nor an indication that drought conditions will continue, and Paul Brierley, Executive Director of the Yuma Center of Excellence for Desert Agriculture says plans are in the works to quickly respond when the next shoe ultimately falls.
"Agriculture uses about 70% of Colorado River water and agriculture is going to have to play a part in the plan to save the river because indications are that we might just skip a Tier 2b and go directly to Tier 3 which would represent a 720,000-acre-feet reduction for Arizona.
"The Colorado River system is headed for a crash and even as these tiered shortages and reductions are declared, they're clearly not enough.  The agricultural industry is working on a plan to voluntarily give up one acre foot per acre of production, representing about a 20% cut, in return for compensation.
Related: States shirked 'meaningful' action on Colo. River
"It's designed not to be a fallowing program or a water transfer program, not something where you give up your water rights, just Lower Basin agriculture trying to figure out ways to be as productive as they can, even with less water.
"This would be a giant bucket of wet water that could be saved in one fell swoop."
Well, maybe not a 'giant' bucket, but a drop-in-the-bucket as the proposal would save less than 200,000-acre feet while the Interior Department and the Bureau of Reclamation wants upwards of 4 million acre-feet to be conserved to prevent a catastrophic collapse of the river system itself.
Compensation sought
The coalition of farmers and local water agency leaders are proposing the reduction in their river allocation in exchange for federal financial compensation of $1,500 per acre-foot saved.  An earlier Western Farm Press story called the proposal, "a step in the right direction and a show of willingness to help."
That 'everybody-in' mentality will be needed.  Speaking at the Agribusiness and Water Council of Arizona annual meeting, Cooke, the CAP general manager, predicted that cuts to the CAP allocation could be near total within a few years if major changes in mindset don't occur and steps are not taken collectively.
Related: There's a crisis on the Colorado River
"Each water user needs to be willing to take the necessary steps to save the system as if it was their sole responsibility," he said.
How bad could it get?  Two thirds of Europe's vegetation is already either under 'stress' or 'warning' status due to moisture deficit as part of the worst drought in 500 years.
With crop production negatively impacted, hunger stones from previous droughts are being uncovered as lake levels diminish.  Carved rocks are being found bearing messages such as, "If you see me, then weep."
About the Author(s)
Subscribe to receive top agriculture news
Be informed daily with these free e-newsletters
You May Also Like
---