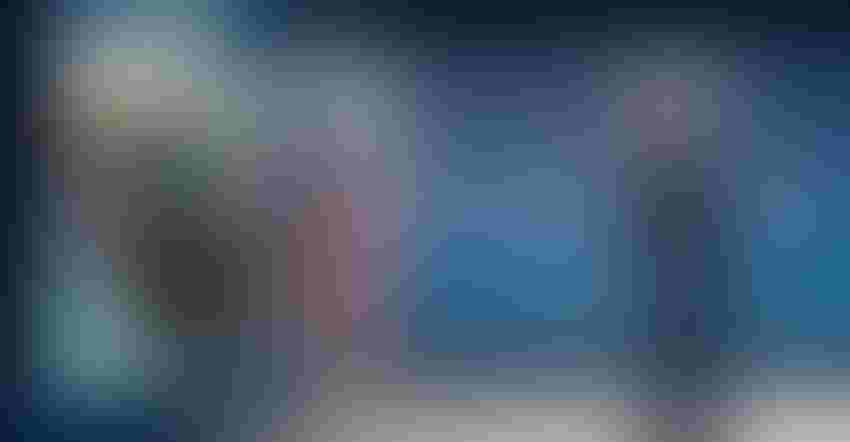 Secretary of Agriculture Tom Vilsack was sworn in Wednesday, Feb. 24 by Vice President Kamala Harris at his home in Iowa.
USDA
This isn't the first rodeo for Secretary of Agriculture Tom Vilsack at USDA, but he certainly sees this as different than his previous eight-year tenure during the Obama administration.
Vilsack was sworn in Wednesday by Vice President Kamala Harris at his home in Iowa as he takes over the reigns of the department with a new perspective after spending four years in the private sector, an elevation of climate discussions, as well as a pandemic which revealed challenges in the food supply chain.
Related: Vilsack's ag secretary nomination clears Senate
Importance of trade
For the last four years, Vilsack served as the president and CEO of the U.S. Dairy Export Council. He likely was hired to the position because of his championing of trade, but his tenure at USDEC deepened his understanding of the importance of trade for the U.S. ag industry, he says. He looks forward to working with the U.S. Trade Representative as well as the undersecretary for trade at USDA, something established under the Perdue tenure at USDA, to deepen relationships with world partners and conduct more promotions to expand markets around the world.
In discussing China, Vilsack says the country has made significant purchases in recent months to live up to its phase one commitments, but also recognizes that at any point of time that can change. This requires looking at other markets outside of China to increase agricultural trade, including growth in Asia as well as looking to the United Kingdom and making sure the U.S. Mexico Canada Agreement is properly enforced.
Reaffirming role of science
Vilsack also says as he returns to the agency, he hopes to reaffirm the role of science at USDA which serves as the foundation in the data reported on the industry and serves as the gold standard domestically and around the world.
He says in the last four years there was become a "much deeper recognition of the importance of climate" in the environment and importantly the ability of American agriculture to be a leader in this effort to reduce emissions. At USDEC he saw the dairy industry embrace the challenge and move towards net zero emissions.
Vilsack also says there are a concerning number of vacancies at the National Institute of Food and Agriculture and Economic Research Service, the two agencies which were directed to move nearly all staff to Kansas City during the last administration. He plans to look to bolster the fiscal 2022 budget to fill those vacancies.
Initial focus
Vilsack says he just received his second COVID vaccination and plans to return to Washington, D.C. in March. Currently, only 350 USDA employees are coming into the office, but many are teleworking. He plans to look at those plans for the future and evaluate the potential to reopen facilities.
He says the agency faces great challenges . In 2009 when he came into office last there was a financial crisis. The pandemic has brought not only a financial crisis, but also a challenging healthcare situation he says impacts rural Americans greater than its urban counterparts. Rural residents are more vulnerable to COVID experiencing 13% higher infection rates than urban counterparts, says Vilsack.
Vilsack also says COVID revealed many lessons about the food system and especially the need for resiliency on the processing side. He says this lends itself to extended conversations about a competitive market, issues of consolidation and USDA's role in making the food chain more resilient.
Vilsack says Coronavirus Food Assistance Program-Additional Assistance was one of the top concerns in his recent discussions with members on Capitol Hill prior to his Senate confirmation on Tuesday. Concerns include a focus on equity of distribution as well as an inspector general report presented before the House agricultural appropriations subcommittee revealing concerns about payments made under previous CFAP signups that didn't meet the standards required.
Related: Vilsack promises timely review of CFAP
One of his first items of business includes a focus on climate change, and Vilsack says he plans to meet with his climate team at USDA Friday to discuss their role and steps going forward. He says the challenge for the agency is to be as helpful as possible in providing resources and technical expertise to help standardize, measure and quantify the results of conservation practices and carbon sequestration practices.
Vilsack says he's been telling his team that there's quite a bit to do, with very little time to do it. "We're going to be aggressive. And work hard to move a number of these agenda items forward," adding he's confident with the right kind of persistence and resources, great work can be done.
Subscribe to receive top agriculture news
Be informed daily with these free e-newsletters
You May Also Like
---