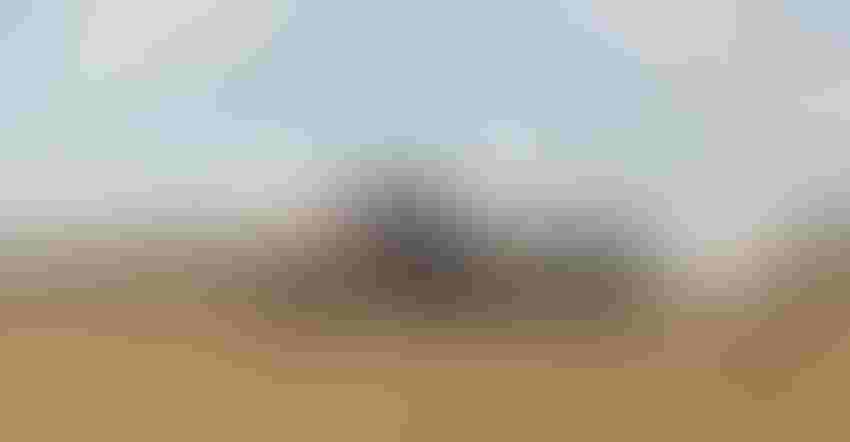 USDA's trifecta of January reports are notorious for big, market-moving surprises. But the first days of 2022 have already produced some shocking – and friendly – news for growers on both sides of their income statements even before Wednesday's update on production, grain stocks, winter wheat seedings and world supply and demand
While it may be premature to call 'game over' for the huge run-up in fertilizer prices, that market showed signs of a long-awaited break in a burst of volatility last week. And hot, dry conditions from southern Brazil through much of Argentina could rewrite markets, especially soybeans, as farmers in the U.S. try to finalize planting plans for spring.
Fertilizer relief
At least some weakness in nitrogen costs wasn't unexpected following results of India's latest tender for urea. The big importer booked less than expected, leaving sellers with inventory to unload. Rather than gamble on gains, producers willingly accepted lower prices. That took Middle Eastern and Egyptian prices $100 off mid-November highs.
But the real damage came at the U.S. Gulf, where urea tumbled $140 just from Monday to Wednesday, trading at $622.50 a short ton before recovering to $680 by the end of the week, nearly $220 lower than the all-time high before Thanksgiving.
The rest of the publicly-traded U.S. nutrient market -- DAP and UAN -- saw only small losses in the wake of the urea meltdown. Other products remain uncertain, thanks to sanctions on Belarus that threaten potash supplies and the Russia-Ukraine border standoff clouding ammonia exports out of the Black Sea. Yara International, the third largest fertilizer company worldwide, Monday announced it would phase out potash purchases from Belarus by April, helping keep prices here firm.
Soybean surge
Cheaper nitrogen could make it easier for U.S. farmers to boost corn seedings, but soybeans are providing plenty of competition in the battle for acres. July soybean futures rallied $1.43 from mid-December through the first week of January, the second largest old crop surge over the holidays in history. Only the $1.48 move a year ago was better.
July corn futures posted above average holiday gains of 18 cents. That rally paled because most of the market's focus is on deteriorating soybean conditions in South America that could overshadow the U.S. portion of this week's USDA reports.
Indeed, traders aren't looking for big changes in the government's forecast for domestic ending stocks of either corn or soybeans, though that calm could be disrupted quickly if 2021 crop numbers are significantly different from the last monthly forecast in November.
USDA's production updates for Brazil and Argentina likely won't come anywhere close to the reductions bulls are touting. But that talk isn't just hot air hopes. Vegetation health indexes for Argentine corn and soybeans are running 25% below average. It's still far too early in the growing season for Brazilian corn conditions to be meaningful, but the VHI for the soybean crop farmers are just starting to harvest there is 4% below average.
The potential impact on production is significant, especially for soybeans. Brazil's output could fall 300 million bushels below the 5.3 billion USDA predicted in December, while Argentina's output could be 265 million bushels less, eventually.
If those numbers hold, global ending stocks of soybeans might fall nearly 20%, giving a big boost to U.S. export hopes. USDA may make a small reduction to its forecast for 2021 crop U.S. carryout this week, waiting for proof of losses in South America before making a major adjustment.
Corn questions
Problems caused by another La Nina growing season in the southern hemisphere could also affect corn, though it's still too early to confirm losses. Most of Brazil's crop is planted behind soybeans and won't hit the world market until summer in the northern hemisphere.
Argentine farmers also have some flexibility with corn. Dry conditions toward the end of 2021 caused some to defer planting, hoping rains return in time for good yields from late-seeded fields. If that strategy doesn't work, Argentine's corn crop could be 280 million bushels lower than USDA last forecast. That would help support U.S. corn exports, though it wouldn't be a turning point by itself.
USDA could cut a little off its estimate of U.S. corn ending stocks this week thanks to strong usage at ethanol plants and promising export sales. Attractive margins convinced biofuel managers to maintain production in November, even though they weren't as efficient. But the real question mark is likely to be feed usage during the first quarter of the marketing year. Livestock operations jacked up September-November corn rations the past few years. If that trend didn't hold in 2021, the corn stocks number could be a bearish surprise lurking for traders.
Dec. 1 soybean stocks are easier to predict, but can still raise eyebrows, suggesting 2021 production might be significantly different than the agency's own estimate. But confirmation of that usually doesn't come until after the last stocks report for the marketing year is issued at the end of September.
South American outlook
Cooler temperatures are forecast for Argentina in the next week, with rains returning in the second week of the outlook. Those storms could reach southern Brazil and dryer weather elsewhere could help harvest progress in the center-west. The latest VHI reports from South America show a small improvement last week that suggests damage may not be as widespread as some bulls believe.
Knorr writes from Chicago, Ill. Email him at [email protected].
The opinions of the author are not necessarily those of Farm Futures or Farm Progress. 
Subscribe to receive top agriculture news
Be informed daily with these free e-newsletters
You May Also Like
---