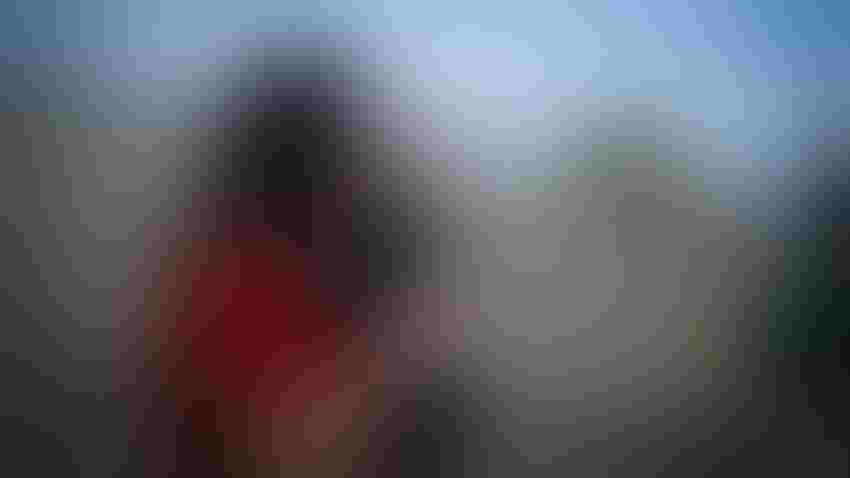 HARVEST LIFE: The farm wife days with babies are far behind me now, but harvest days are still long and hard. Like others, I'm working a full-time job and running the house — and being the unpaid Uber for the last kid at home who can't drive.
Betty Haynes
I stood at the edge of the bean field in a dirty sweatshirt. I had a supper in one hand and my last raw nerve in the other. It was the middle of harvest, about the first week of October. If you had driven down the gravel road, you'd have seen me arguing with my husband next to the combine. Some gesturing.
Were we yelling? Possibly. The combine was running so it's hard to say. But you can bet the last word was "FINE."
John and I don't argue much. But I'm here to tell you that every year, halfway through harvest, we're tired and hanging on by our last ragged fingernails. Then something really ridiculous happens and we snap in a soybean field over who told who what and when and why not and why didn't you just call for heaven's sake you have a phone in your pocket?!
So here's what I propose after 25 years as a farm wife: Let's stop romanticizing harvest. Yes, it's beautiful. My word, the sunsets. Yes, we're seeing the culmination of a year's work. So many good things.
But it's also really, really hard. And lonely. And especially so for the young farm wife.
Baby days
As a young mom, I braced up for the harvest months. Those were long days of single parenting, when I had a preschooler, a toddler and a baby, and very few brain cells that didn't know the "Dora the Explorer" theme song. That was back when we were covered in applesauce and macaroni and cheese, and when spaghetti night meant straight to the bathtub.
Back then, I took supper to the field for all of us because it was the only time the kids would see their dad in the daylight. That means I cooked a meal for eight or 10 people with three small kids underfoot, then loaded them up in car seats and hauled it all to the field. Small countries have been invaded with less planning than it took to pull that off.
Young farm wives, please know that if you feel alone, you're not alone. I promise, nearly all of us feel that way at some point during harvest. Tired, lonely and maybe a little depressed. It happens no matter what your harvest role is. Some of us are in tractors and some are at home. Some with parts, some with meals.
Prairie Farmer field editor Betty Haynes and I were talking about this recently and about our harvest support groups — i.e., other farm wives our age. We text and commiserate. And we feel less alone.
Betty's little girl just turned 2 years old, so she's in the thick of harvest with a toddler. I wish I could tell her it gets easier over time. Some of it does because those babies grow and become less physically dependent. But their other needs grow, too, along with our responsibilities.
New ways
What I really love is how Betty's generation approaches expectations in farming and marriage. They absolutely embrace the work that goes into harvest and the reality of "go time." But they wholeheartedly reject the idea that a farmer should treat his wife like a servant during harvest. They reject the idea that wives can't plan anything for three months out of the year, or that they can't ask when he thinks he'll be home. (Pro tip: Add an hour to that.)
Like my generation, they're more likely to see a farm marriage as a partnership where there's give and take, back and forth. Betty's husband knows when she's on deadline, and then the kids go ride in the combine for a while. She helps him in his busy time, and he helps during hers.
It's easy to feel frustrated during harvest, and maybe even ashamed of feeling isolated. Over time, I've also learned not to isolate myself further. And to pray for my husband. I have to be intentional about calling John during the day, sending him a text, going to ride in the combine. If you live off the farm, it takes even more intentionality. Betty and her husband live in town, so she makes a point to take Dan lunches and ride with him.
"If I stay isolated from it, it makes me hate it more," she says. So much honesty.
And we have to quit thinking of social media as reality. It's not. We're all sharing the beautiful sunsets and smiling moments and that's fine. But don't think the hard moments aren't happening, too.
What I've learned in 25 years is that living the good farm life means making the right sacrifices. The hours are ridiculously long. You'll spend time alone. The rain won't fall even though you desperately need a break. Then the cows will get out. The small child will get the flu.
That stuff happens.
But here's what I know: You can make sacrifices for the farm without sacrificing your marriage — or your sanity.
Comments? Email [email protected].
Subscribe to receive top agriculture news
Be informed daily with these free e-newsletters
You May Also Like
---