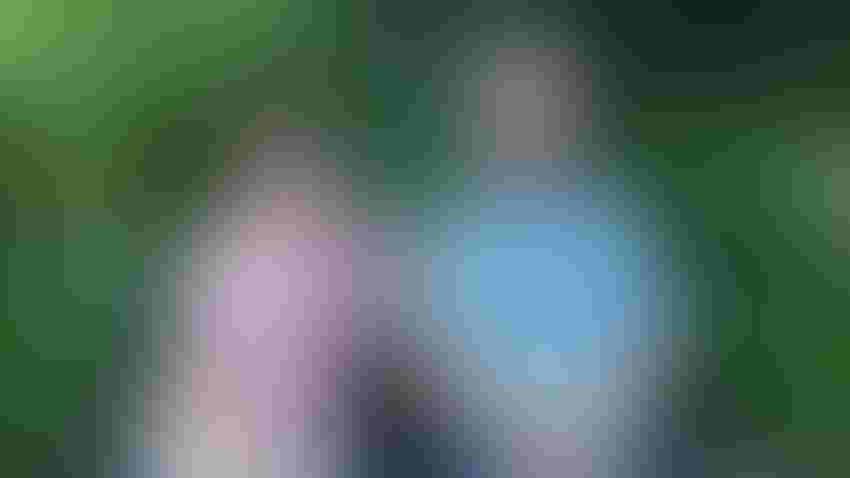 Pat and Ron Smith. Returning to the 55th annual APRES meeting was like coming home.
Ron Smith
Thoms Wolfe was wrong. You can, indeed, go home again.
At least that's how I felt when I attended the 55th Annual  American Peanut Research and Education Society meeting recently in Savannah.
I celebrated my birthday with a few APRES friends and helped another celebrate his, along with another friend's daughter's birthday. If that's not a welcome home, I can't imagine what would be.
This was the first APRES meeting, actually any professional agricultural organization meeting, I've attended since I sorta retired. That last year was also short-changed a bit by COVID, so I missed several in-person events I typically would have attended.
Honestly, I don't miss the cross-country travel much, but I have missed the people I routinely worked with, interviewed, and enjoyed some downtime with after hours.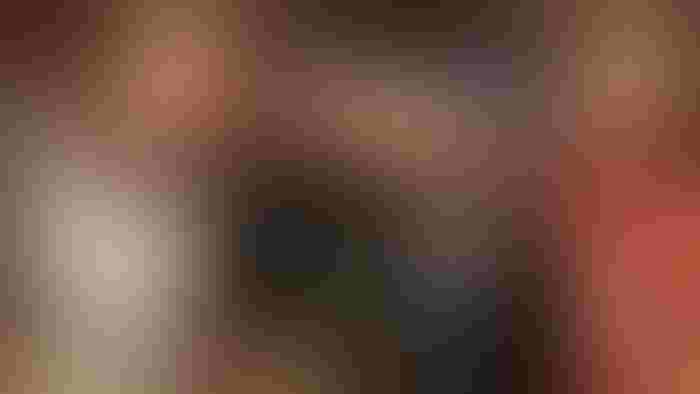 Among friends: from left, Phillip Crosby, UGA Extension; Don Koehler, Georgia Peanut Commission; Georgia Ag Commissioner Tyler Harper; and Ron Smith, Farm Progress (retired, freelancer). (Photo by Phillip Crosby)
APRES brings me just about full circle to early days at Farm Press (1978), and some of the peanut industry folk who taught me a lot about the industry. Some have moved on, the Late Frank McGill, for instance.  I kept in touch with Ron Henning occasionally while I was in Texas.
In Savannah, I caught up with Albert Culbreath, University of Georgia. I can't recall exactly when I met Albert, but it was way back when I was working on Southeast Farm Press, so I suspect early 1980s. Same with Tim Brenneman, also at UGA.
I met Don Koehler when he was an assistant county agent in Alabama, before he moved over to the Georgia Peanut Commission.
I met Gary Schwarzlose shortly after I moved to Texas, 1999 or 2000. I think my first encounter with Gary was in a wheat field in Northeast Tennessee. He was always a valued industry source who became a good friend. We always enjoy an opportunity to get together. His birthday is the day before mine.
Among friends: Enjoying the sunset aboard the APRES riverboat cruise and dinner, from left, Gary Schwarzlose, Pat Smith, and Peggy and Pet Dotray. (Photo by Ron Smith)
Pete Dotray, weed scientist in Lubbock, was always a top priority when I needed information on weed management. Still is. And I also consider him and his wife Peggy good friends. And his daughter Jesse has a birthday a day or two later than mine.  APRES offers an excellent opportunity to celebrate those milestones.
Many others—Kelly Chamberlin, USDA peanut breeder in Stillwater, an incredible scientist who can talk to non-scientists like me so I can understand. She's also just good company. I met her at a peanut field day about 25 years ago.
I've known Todd Baughman, Oklahoma State, for more than 20 years. Jason Woodward always makes me laugh.
I met Steve Brown during my early days at Southeast Farm Press.
I can't name them all. I apologize for the many I leave out, but I learned much from folks I worked with in the peanut industry—research, Extension, industry, and countless farmers who agreed to let me tell their stories.
Savannah is an easy drive from Johnson City, Tenn., so Pat and I decided spending a few days with my APRES family was well worth the trip. APRES prides itself on being a family organization, so attending an APRES meeting is like going home.
Robert Frost wrote that "Home is the place where, when you have to go there, they have to take you in."
At APRES, they don't have to, but they do anyway.
Subscribe to receive top agriculture news
Be informed daily with these free e-newsletters
You May Also Like
---