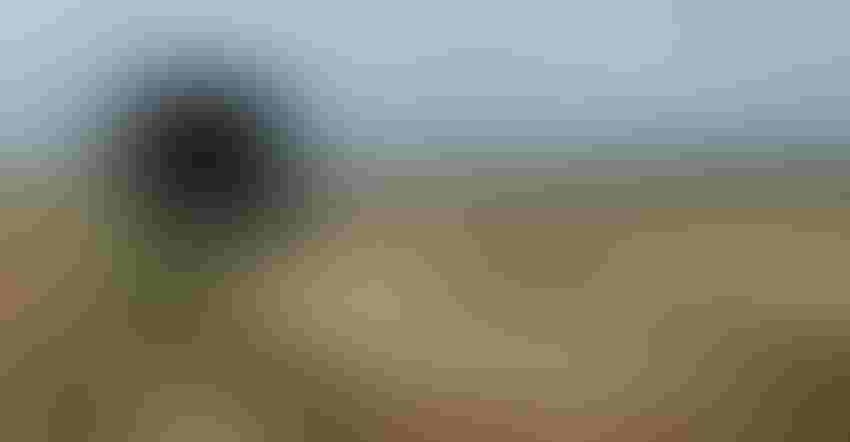 Harvesting Oklahoma State University Extension test plots.
Amanda de Oliveira Silva, OSU
Wheat harvest is sporadically underway across the Southwest as persistent rain delays harvest across the region. Also mixed, are yield and quality expectations across the region.
Texas A&M AgriLife Extension Small Grains Specialist Fernando Guillen Portal, College Station, says the 2020/2021 wheat season started "under the umbrella of La Nina, in early November 2020.
"La Nina typically brings warmer temperatures and drier conditions to the Texas region," Portal says. "Also, in parts of the state, winter wheat planting was delayed due to lack of soil moisture. In some areas, farmers planted in the dust."
He says variable conditions persisted early – relatively dry in the High Plains and Rolling Plains and relatively wet in most parts of the Blacklands and South Texas.
Hard Freezes
"One unique climatic event this season was the unprecedented freezing front that hit the whole state early in February, with single-digit temperatures for days across most of Texas," he says. "Even though this cold front slowed crop growth, it did not cause significant damage because most of the wheat was still at the tillering stage when the freeze occurred."
Persistent Rain
And then the rain came down, except for the southwest High Plains, which faced severe drought conditions.
See, Drought, rain, freeze affect SW wheat
An April freeze sent temperatures into the low 20s for a few hours. "With few exceptions in isolated pockets across the state, this freeze did not cause significant crop damage," Portal says.
More rain came in May, except for the southwest High Plains and parts of the Blacklands.
Disease pressure
Rainfall precipitated disease pressure, Portal says. "Stripe rust — and to a minor extent leaf rust — pressure was high during this time in most of the Rolling Plains, Blacklands, and South Texas. Producers had to spray, in some instances more than once, to ameliorate the impact of these diseases on yield."
Excessive rains continued into late May and early June in Central and South Texas. Harvest delays in some Blacklands' fields caused sprouting. "It is likely that excessive moisture will affect test weight as well," Portal says.
Yield Expectations
Despite a lot of adversity, Portal expects decent yields. "High Plains' irrigated wheat looks good; dryland wheat looks fair. Good yields are expected in the Northeast and diminished yields in the Southwest parts of this region." The crop is expected to be ready for harvest within one to two weeks.
"Rolling Plains' wheat looks good, harvest has started, and above average yields are expected. Blacklands' wheat looks fair to good; harvest is in progress with average to above average yields expected. The South Texas crop looks fair, harvest is in progress, and average yields are expected in the region."
Across the state, at the end of May about 23% of the wheat looked good/excellent, 40% looked fair, and 37% looked poor/very poor. By the first week of June 18% of the crop had already been harvested according to the USDA, NASS Crop Progress, 2021.
High Plains Update
Texas A&M AgriLife Extension Agronomist Jourdan Bell, Amarillo, reports mixed conditions as harvest gets underway in the Texas High Plains.
"Wheat conditions across the Texas Panhandle are extremely variable, primarily in response to the winter drought," Bell says. "Many dryland acres in the southwestern Panhandle were failed. Rain came late, and in many cases, created many supplemental green tillers.
"In dryland fields, late rains are affecting harvest. We are just now starting to see harvest crews in the southeastern Panhandle. Fields in the central to northern Panhandle vary from milky to hard dough, depending on irrigation and planting date."
Bell says cool conditions slowed maturation and dry-down. 
Forage Market
"From my travels, it appeared that almost all the wheat in the southwestern Panhandle was either chopped for silage or cut for hay. The winter drought created a severe forage shortage. I know extremely good contracts were available for both hay and silage, so producers could not pass up those opportunities even though grain prices were strong."
She says forage contracts were better than grain prices in many cases because of dairy demand.
Decent Yields
Bell expects decent yields. "Rain provided an extended grain fill period. So, we will see yield slightly boosted. Unfortunately, rains came too late for the primary growth stage, when grain number is determined — first hollow stem, and around late February to mid-March in the Texas High Plains. But we have seen this rain spur later tillers, which will contribute to yield, although they may also create some harvest issues." 
Oklahoma
Oklahoma State University Extension Small Grains Specialist Amanda de Oliveira Silva, Stillwater, says wheat harvest has been delayed a bit by spring rains but is well underway.
In spite of weather delays and a late freeze, Silva says early yields look promising. "We're seeing yields from 30 to 65 bushels per acre," she says. "Test weights are also very good, in the 64 range. Some areas got a late start on harvest because of heavy rains, and test weight might be off a little but still are running above average. We don't have much data on protein yet."
Freeze Damage
She says some fields appear to have a little freeze damage. "Heads that are dark and look baked or toasted probable have freeze damage. Dark heads also could be sooty mold. But I expect dark heads, especially in varieties with dark chaff, result from freeze damage."
She says freeze injury does not seem to be widespread across the state.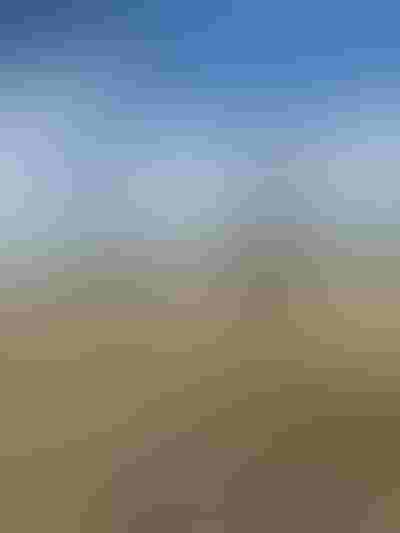 Freeze damaged wheat shows black heads. (Amanda de Oliveira Silva, OSU)
"So far the crop looks good," she says. "Rain over the weekend may have delayed some producers in some locations, but we expect some to be in the field today (June14).
"It's a good start, but we still have a lot of ground to cover," Silva says.
Subscribe to receive top agriculture news
Be informed daily with these free e-newsletters
You May Also Like
---