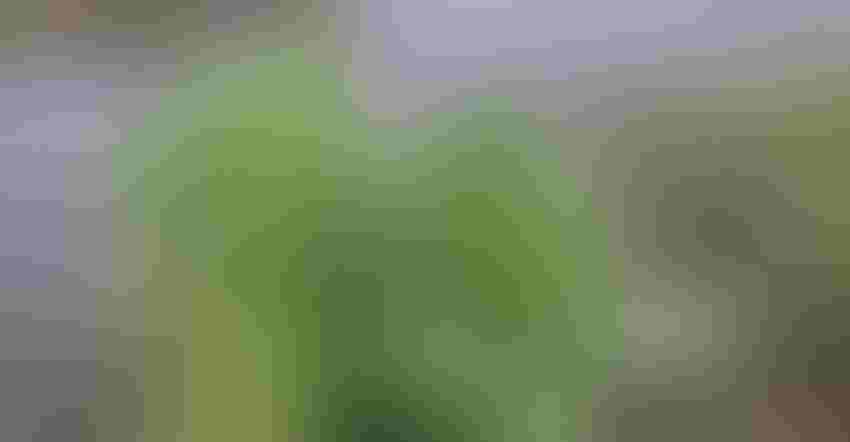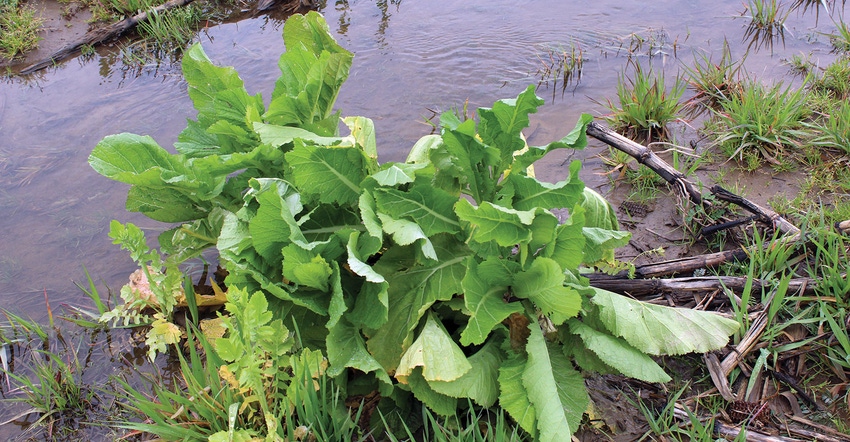 The clarity of runoff water from cover-cropped fields on Big River Farms is evident but nutrient and sediment losses are being quantified by a multi-disciplinary team of scientists through a study funded by the Environmental Protection Agency.
Brad Robb
Scientists from five land-grant universities are collaborating and working with farmers across the Mississippi River Basin in an EPA-funded conservation project. The project's goal is to increase farmer participation supporting land stewardship to improve water quality across the Mississippi River Basin and reduce the dead zone in the Gulf of Mexico. "The science around conservation and changes in production systems is merging agronomy and ecology," says Beth Baker, assistant Extension professor, Wildlife, Fisheries, and Aquaculture, Mississippi State University. Baker was part of a recent field day showcasing two Mid-South family farms, including Mississippi producer Andy Schmidt's corn and soybean operation. "Andy is making changes in tillage practices to minimize risks, lower specific farming production input costs through the use of cover crops and improve environmental stewardship."
Farmers and farmer representatives from Kentucky, Illinois, and Wisconsin participated in the field tour and discussions. "There is so much stewardship and innovation in family farms," Baker says. "Andy and other Mid-South farmers are finding success with these production system changes. Through our on-farm assessments, we hope to quantify those nutrient/sediment runoff improvements and reduce regulatory pressures. We also want to educate the general public who often misunderstands farming and the complexities of managing non-point source runoff."
Related:Tennessee farmer believes in cover crops and conservation
Soil health can be improved several ways. In this project, a main focus is cover crops.
Big River Farms
Andy Schmidt operates Big River Farms near Clarksdale, Miss., and has been planting cover crops on a limited scale since 2010. "After doing some research and talking to others, I got serious about it in 2017," Schmidt says. "I was sub-soiling my mixed to lighter ground and wasn't seeing a benefit. I didn't like the fact I was burning so much diesel by spending so much time deep tilling my ground."
Schmidt focuses on net profits, not just production, and cover crops allow him to reduce expenses while maintaining yields. "Less tillage means fewer trips across my fields, less wear and tear on my equipment, and fewer repairs," Schmidt says. "I also don't need tractors with as much horsepower because I'm not pulling heavy plows."
He uses a no-till drill to plant a cover crop mix that includes 25 pounds of black oats, 2 pounds of tillage radish, and 1 pound of vetch. "I plant straight into the cover but burn it down within 24 hours of planting," Schmidt says. "I added a set of row cleaner/trash wheels on my planter and also put on a set of no-till closing wheels. It's a setup that works for me in this trial and another trial where I'm evaluating cover cropped fields next to fields under conventional tillage production."
A research project on Big River Farms with Delta F.A.R.M. is evaluating a 20-acre cover cropped field next to a 20-acre field under conventional tillage. "We have 12 total sites across the Delta," says Trey Cooke, executive director, Delta F.A.R.M. "We've been working with Andy for two years on this project. We know the comparative data will confirm the many production and environmental advantages cover crops bring."
One of those advantages is improved irrigation efficiency.
Schmidt once turned on his irrigation pumps every Monday morning. "I used to irrigate some of my lighter soils every seven to eight days," Schmidt says. " I'm seeing crop stress less frequently because more moisture is being retained in the soil as a result of the cover crops allowing better water infiltration. I can now stretch my irrigation frequency to 12 days."
Schmidt knows it all begins with the soil. He uses a Phillips Rotary Harrow to manage field residue and prepare his ground for planting cover crops. "It's a light piece of equipment so I can run it in almost any field condition," Schmidt says. "I'm disturbing less topsoil when I'm repairing ruts from the previous year's harvest before I begin preparing my soil profile with any needed nutrients."
Schmidt has reduced the amount of phosphate and potash he puts on his crop. "A lot of people ask me if what I'm doing is improving my yields. I'm maintaining my yield levels but I'm more profitable because I'm spending less on inputs," Schmidt said.
About the Author(s)
Subscribe to receive top agriculture news
Be informed daily with these free e-newsletters
You May Also Like
---