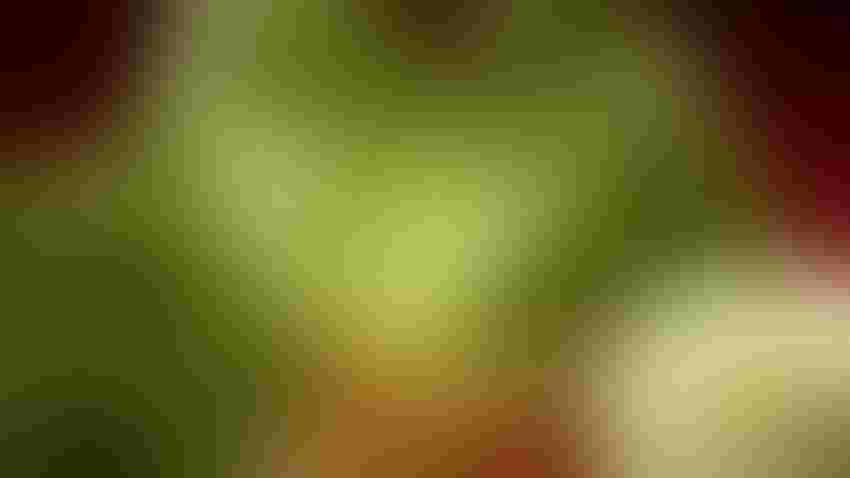 Southwestern Arizona is often referred to as "America's winter salad bowl."
USDA ARS
While the color of gold has always had that special allure that drew people in, it's the color green that makes Arizona happiest as the month of November gets things underway as "Arizona Leafy Greens Month."
This is the kickoff celebration of the state's leafy greens season that brought the growers in question the sobriquet of "America's Winter Salad Bowl" -- producers of 90% of this country's seasonal leafy greens.
And, boy howdy, do they do it right as close to 20% of the state's $23.3 billion agriculture industry is represented in lettuce fields with harvest running from around Thanksgiving time to well into April of 2024.
"We are the nutrition state and our crops prove it," according to the Arizona Farm Bureau that reports annual vegetable production amounting to upwards of $4 billion.
"The Desert Southwest is the only place in the U.S.A. that can grow these tender crops in the wintertime, providing a fresh, wholesome, home-grown source of vegetables all over the country and into Canada. In fact, Yuma County ranks in the top tenth of one percent of American counties in vegetable production," reports AFB.
Current statistics from the Yuma Fresh Vegetable Association show that farmers, big and small, on both the Arizona and the California sides of the Colorado River, are responsible for 57 different winter season crops ranging from artichokes to zucchini squash.
In Yuma County alone, there are some 180,000 acres planted --- often with two or more short-season crops a year in the laser-leveled pool-table-flat fields, laid out using Global Positioning Systems to guide tractors and thereby representing probably the most efficient surface-irrigated cropland in the world.
Dependent on the whims of Mother Nature, the season traditionally runs from post-Halloween deep into the following spring (although climate change is pushing some changes in that time frame, earlier starts, later finishes).  
With rows of produce growing rapidly under more than 300 days of sunshine and semi-trucks lining up to begin delivery of thousands of truckloads of greens, Western Farm Press sought out the expertise of some industry players who have been through the process many times before.
Straddling the border
Matt McGuire of JV Farms in Yuma (and El Toro Farms across the border in Mexico) oversees 16,000 acres of soil that has been formed by the overflow of the Colorado and Gila Rivers over thousands of years.
"We grow all the typical leafy greens --- everything from romaine head lettuce, broccoli, celery, even green onions on the Mexican side," McGuire said. "If you multiply the production acreage by 800 cartons of lettuce for each acre, that would give you an idea of the numbers of cartons we send out each year."
This year is expected to be a bit different from the last. "We started the 2022 season battling a necrotic spot virus in Salinas --- which is gone this year," he said. "We struggled with a lack of water in Santa Maria, Oxnard, and other sites that now have better water supplies this year.  Most supplies are in ample quantity.  At this point, it looks like a repeat of last year as far as acreage and volume go.  The weather's been right on schedule, within a 30-year average.  Lots of sunny skies and no hiccups in the desert so far."
Long-range, all the growers are factoring in changing environmental impacts.  "Climate change will have a serious impact on the industry," McGuire says, "But farmers and growers in general have been adaptable over the years.  We may have to push seasonal starts back some if its hotter and drier."
The equilibrium between supply and demand is also important. "That's the two ends of the story," he says. "We grow great crops here and it's a delicate balance between how much we've produced and how much the consumer will buy.  When those things are equal, life is generally OK for all concerned."
McGuire describes the current growing season as "generally right on pace with no big disruptions, no major disease outbreaks, and normal bug populations. We've got a ways to go yet, so things can always happen, but currently we're right on schedule."
'Our winter game'
Fellow farmer (and First Vice President of the Arizona Farm Bureau) John Boelts, a two-decade veteran of growing winter vegetables on 2,500 acres scattered around Yuma County, shares that optimism, calling the leafy greens season "our winter game."
Under the marque of Desert Premium Farms, Boelts grows row and forage crops and cereal grains and admits his favorite crop is "the one that yields the most."
"I like working in the dirt," he says, "and the diversity of crops keeps things interesting, like growing head, romaine, and green leaf lettuce where you match your soil with your weather and the terms of your contract.
"I think this may be a somewhat different year where we may see less favorable markets at times with certain crops (like lettuce) that have had really good markets the last couple of years.  Usually there's been a shortage of lettuce in November and December and I'm not sure that will be the case this year.
"There's optimism for consumers that they won't see a spike in prices, although producers and marketers are probably going to have some challenges. But that's what farming is all about."
Boelts is concerned about a shortage of workers, though. "We're seeing increased mechanization of certain tasks, like lettuce thinning, because we don't have enough folks even with the H2A worker program.
"We are relying more on technology and in the foreseeable future as climate changes, we'll have to find new and improved ways to grow in the dry climate of the Southwest. We've had a good track record in producing more crop with every drop of water, but without new technology, we'll hit a point of diminishing returns.
"That said, humans are a pretty impressive species at finding innovative ways to grow things."
They need to be as already upwards of 1,500 semi-truckloads of leafy greens leave Yuma daily to be delivered all over America and Canada where an estimated 130 million salads are served --- every day. Close to 81 million cartons of leafy greens were delivered during Fall 2022-Spring 2023.
And as there are more hungry people in the world, demand for greens is expected to rise continually, one reason for the existence of the Yuma Center of Excellence for Desert Agriculture.
"We're looking ahead, working on an irrigation and salinity project, a desert agriculture soil initiative involving soil health and grower needs, and some monitoring technologies," says YCEDA Interim Executive Director Stephaie Slinski. "We need to identify things we can bring to the desert."
Subscribe to receive top agriculture news
Be informed daily with these free e-newsletters
You May Also Like
---