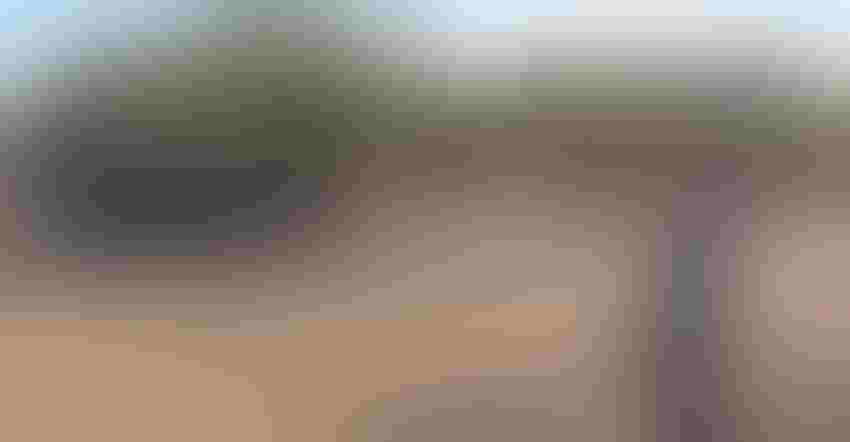 Devin Clarke explains Yara's incubator farm program at one of two such locations. This Modesto, Calif. orchard grows almonds and walnuts, and is part of a five-year program to study fertility programs and their effects on soil and trees.
Todd Fitchette
Two research farms, one in California, the other in Alabama, are part of a Yara initiative to study permanent and row crops for practical solutions in the various systems with an eye on improving yield and quality.
The crop nutrition company's California incubator farm near Modesto features 40 acres of almonds and 40 acres of walnuts, planted in conventional configurations with industry-standard irrigation systems that include drip and solid set sprinklers.
Devin Clarke is the crop manager at the Modesto location. He says research into soil and tree health are the primary focus of the studies. While insect damage and disease will be watched, insecticide applications and chemical recommendations will be made by the pest control advisor already working with the farmer who owns the orchards and is working in partnership with Yara.
Bill Brush farms the almonds and chose to partner with Yara for much the same reasons as they were looking for permanent crops to study. Brush seeks practical solutions to various challenges in his specific location. The company's focus here is on crop nutrition, which Clarke says can play a positive role in pest and disease issues, as well as affecting yields.
Brush planted Nonpareil and Supareil almond varieties on alternate rows. He likes the mix because both yield a sizeable nut that does well in the marketplace, though he'd like to see the Supareil variety yield more nuts. Nut set is one of those challenges Brush seeks to address; he suspects the two varieties are so genetically close in their pollen that nut set in the Supareil may be impacted during cross pollination by the bees.
MyAlmonds
Yara's MyAlmonds initiative is an effort to support California almond farmer efforts to produce high quality nuts with high yields.
The California research trial features a five-year-old almond orchard, on 16 by 24 spacing in Delhi sandy loam soil. Through the five-year study by Yara, Clarke says the company will evaluate performance and complexities of various fertility programs by gauging tree development, yield, irrigation use and overall fertility.
Four treatment levels and six replications will take place during the research project.
Yara also has an incubator farm in Auburn, Ala., That project is looking at row crops in cooperation with Auburn University and is currently growing corn, cotton and soybeans on 80 acres, of which 60 acres are irrigated.
Subscribe to receive top agriculture news
Be informed daily with these free e-newsletters
You May Also Like
---