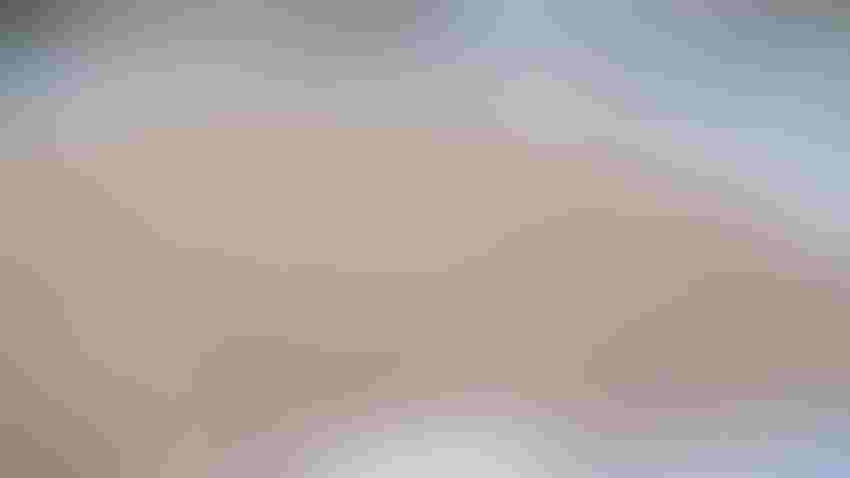 U.S. pistachio farmers are on track to produce a record 1.5 billion pounds of nuts this year amidst a series of issues that combined to make the large crop. Final production numbers could be available in December.
Todd Fitchette
America's healthy nut is on track to have a healthy harvest as this year's U.S. pistachio crop is already 15% larger than first expected.
What was estimated to be a 1.3 billion pound crop could surpass 1.5 billion pounds as receipts by early November totaled more than 1.48 billion pounds on reports of excellent quality and size. The largest crop on record was harvested two years ago. U.S. growers that year produced 1.16 billion pounds of pistachios.
California produces about 99% of the U.S. crop. The rest are produced in Arizona, New Mexico, and Texas.
This year's crop success can be attributed to several factors where the stars seemed to align for U.S. growers. Ample winter chill hours, good spring weather, a lack of damaging summer heat, and an on-year for the alternate bearing crop combined to give U.S. pistachio farmers something to crack a smile about.
Richard Matoian, president of the American Pistachio Growers Association, a voluntary trade group based in Fresno, California, appears confident that the industry can sell the record-size crop amidst reports of a larger crop out of Iran, which is the U.S. industry's chief competitor.
Nut size for the large U.S. crop was pleasantly surprising, according to Matoian.
"Every time we have a large crop you normally expect smaller size nuts," he said. "That was not the case this year."
Another surprising turn for California pistachio growers was the lack of insect damage from what was considered an epic year for Navel orangeworms (NOW) in Central California. While almond farmers are facing significant losses from insect damage, Matoian says such does not appear to be the case for pistachio farmers.
"With the exception of maybe a grower here or there, Navel orangeworm damage in pistachios was incredibly low this year," he said.
"It makes no sense, especially when you consider that pistachios are planted around and alongside almonds," he continued.
Matoian pointed to what he called a "carrot and stick" relationship between pistachio processors and their growers to protect their crop from pests and disease.
American pistachio farmers are under tight controls for high quality nuts when it comes to insect damage and food safety. Toxic strains of aflatoxin, a fungal disease that occurs naturally in the soil, are combatted with natural products. In some cases, pistachio processors supply their growers with commercial products to control the toxic fungal spores that can wreak havoc on a crop and cause it to become unmarketable.
These financial incentives extend into the use of insect mating disruption and winter sanitation practices that can further aid in controlling troublesome pests like the NOW moth, and a new invasive pest that researchers just found called the Carpophilus truncatus (Nitidulidae). This is a small beetle that bores holes in nuts. These insects overwinter in unharvested nuts left behind by poor winter orchard sanitation practices. Their populations can explode in wet years like growers experienced last winter.
Pistachio processors have a low tolerance for insect damage. Farmers with insect damage under 3% in their crop can qualify for payment incentives.
Marketing
This year's record crop should not be affected much by the 163 million pound carry-in of unsold products from last season, Matoian said. This is about 18% of what growers harvested last year, a "comfortable number" for U.S. marketing efforts, he said.
While the U.S. pistachio industry has focused on the healthy benefits that pistachios provide in the human diet, the organization continues to face competition from world pistachio players like Iran and Turkey. The United States produces about half of the world's pistachio crop. Iran grows about 26% of the world's crop, followed by Turkey at about 19% of global production.
APG just hired Scott Fryer to be the organization's new vice president of global marketing. Fryer comes to the pistachio industry from Sun-Maid Growers in Fresno, where he served five years as the marketing innovation director. Fryer's arrival at American Pistachio Growers comes as the industry will have an available supply of more than 1.6 billion pounds of pistachios to sell, when adding the carry-in.
In one their latest newsletters, Meridian Growers, a Fresno-based nut marketing firm, said the U.S. inshell pistachio crop is largely sold out. Anything remaining will likely be cracked out. Moreover, kernel size is larger than last year, according to Meridian. Buyers seeking smaller kernels are reportedly having a tough time finding what they need.
American Pistachio Growers is a non-profit trade association representing more than 865 growers and member processors in California, Arizona, New Mexico. and Texas.
Subscribe to receive top agriculture news
Be informed daily with these free e-newsletters
You May Also Like
---