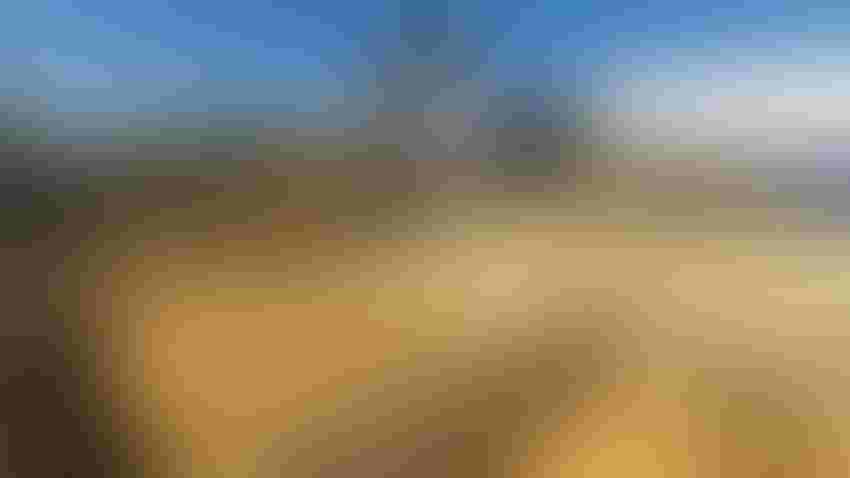 U.S. pistachio production is expected to hit two billion pounds in the next eight years as acreage increases and new plantings become bearing. The grower organization tasked with increasing global demand says it is working to expand existing markets and build new ones.
Todd Fitchette
The U.S. pistachio industry predicts its days of sub-billion pound crops may be over as increased acreage boosts production.
American Pistachio Growers, the California-based trade association with members from California to New Mexico, is saying that the U.S. crop could reach 2 billion pounds by 2031 as acreage grows to over 800,000. Most of that acreage will continue to be in California, though additional acreage is being reported in Arizona.
This year's production is expected to hit a record 1.36 billion pounds from over 453,000 bearing acres, according to a report commissioned by APG.
The report, written by the Tootelian Company in Sacramento, Calif., projects pistachio acreage to grow by an estimated 28,000 per year through 2031. Richard Matoian, president, American Pistachio Growers, said much of that growth will likely take place as less-profitable crops are replaced.
The Tootelian report said projected acreage growth is based on average new plantings over the past 10 years. The current pistachio acreage of over 583,000 (bearing and non-bearing) would climb to over 811,000 by 2031. Much of that growth remains in California, though growers are planting more trees in the southeastern and northwester corners of Arizona.
While it takes pistachios longer from planting to become bearing than popular tree nuts like almonds, pistachios trees tend not to need replacing after planting, and theoretically would have much lower replacement costs than other permanent crops like almonds, vines, and stone fruit.
U.S. pistachio yields could remain at or slightly above 3,000 pounds per acre during on-year production, and slightly above 2,000 pounds per acre in off-year production. Pistachios are an alternate bearing crop, meaning one year they produce more nuts than the previous. The average difference in yields per acre from 2013 to 2022 between on and off years was about 50%, according to the Tootelian report. Some in the industry say that gap is closing as newer varieties are planted and improved agronomic practices are employed.
This year is expected to be an "on" year for pistachio production. Though these on/off years alternate, Tootelian's report said that the 2020 and 2021 seasons were oddly "on" years for pistachio production at 1.04 billion and 1.15 billion pounds respectively.
What's grown must be sold
The popularity of pistachios among farmers needs to be matched by marketing if it's to avoid what happened with other U.S. tree nuts. Matoian says those efforts are already under way as APG works to enhance efforts with existing export customers and build new global markets. The association is hoping to bring on a new vice president of global marketing after an intensive search to fill a vacancy in that role. An offer was expected to be made to a candidate by the end of September, with the hopes of filling that role in October.
Mexico is one of those emerging markets that APG is hoping to build upon that could become a gateway for U.S. pistachios moving into South America, he said.
The U.S. competes chiefly with Turkey and Iran. While the U.S. accounts for about 54% of world pistachio production, Turkey grows about 27% of the world's crop. Iran produces about 14% of the world's crop, with the balance coming out of Syria, Greece, and South America. according to Statistia, a global data and business intelligence platform.
This year's Iranian pistachio crop is said to be larger, after several years of struggles centering on drought and water quality issues.
"While Iran has new plantings, we haven't necessarily seen an increase in their production yet," Matoian said.
Turkey is apparently increasing its production of pistachios, which a few years ago were largely being consumed internally. As Turkey's production increases, Matoian said the U.S. will watch to see if those additional nuts are exported.
Additionally, Turkey is apparently doing further processing of imported pistachios, which could be concerning to U.S. pistachio growers if those nuts are then being moved into the European Union and other countries where the U.S. is competing.
Once the largest buyer of U.S, pistachios, China fell to No. 2 in 2019 after adding tariffs to various U.S. products.
Matoian remains optimistic that the industry can boost global demand as supply increases. About 70% of the U.S. crop is exported. While domestic sales from Sept. 1, 2022, to the end of August this year were down about 5.5%, Matoian said export shipments were up 13.7% with total U.S. shipments up 7.8%.
"That's a positive story," he said.
Additionally, the volume of pistachios remaining unsold at the end of the marketing year remains manageable, he said. As the crop size grows, so does the carry-out volume, which this year is expected to be about 160 million pounds. As a percentage of annual production, this is about 18% of what the industry produced last year.
"This is a very manageable number and probably the lowest number we've had in three years," he said.
Still, he knows that with larger crops, must come increased demand.
"If we're going to produce these larger crops, we're going to need to find a home for them," Matoian said.
Subscribe to receive top agriculture news
Be informed daily with these free e-newsletters
You May Also Like
---