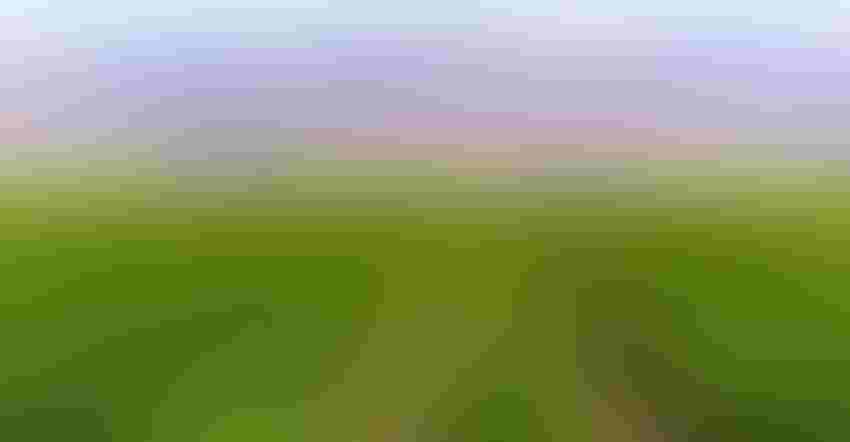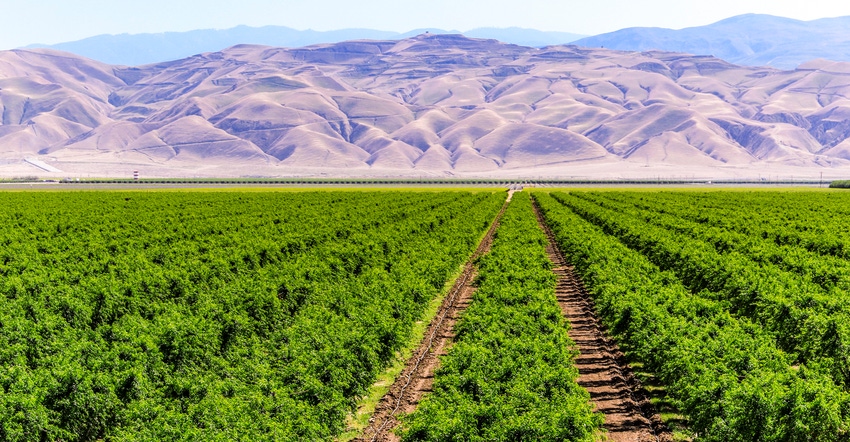 Kern County, Calif. almond acreage grew by 3,000 in 2019. The nut crop led all commodities in gross receipts at over $1.64 billion as prices and yields were each up 15 percent, year-over-year.
Todd Fitchette
California's springtime cherry harvest typically coincides with yield-damaging rains, but such was not the case in 2019 for Kern County growers, who yielded a crop twice the size of the previous year. The positive news on cherries comes as Kern County reports a record agricultural value of over $7.62 billion for 2019.
Kern County's annual crop report showed a modest 2 percent increase in gross value across the county in 2019, but that was enough to push it past its previous record recorded in 2014. Of those gross receipts, nearly 70 percent of that value came from the production of fruits and nuts.
Almonds topped the list of most-valuable crops with gross sales of over $1.64 billion. This came as growers there harvested more almonds on 3,000 more acres of land. It also came at a time when almond prices were continuing to climb. Grower prices reported to the Kern County Agriculture Department revealed a 15.5 percent increase in the average price for their crop.
No surprises
Other than the notable report on cherries, Kern County Deputy Agricultural Commissioner Cerise Montanio said 2019 offered no big surprises for growers or county agriculture department staff. Outside of the addition of industrial hemp to the annual report for the first time, the typical fluctuations in commodity prices and acreage trends were largely to be expected.
Industrial hemp, a new crop to California farmers, made its first-ever appearance on the annual report for 2019. Hemp growers reported gross receipts of over $80 million on the crop. No other information on the crop, including its acreage or yields, were reported.
Top crops
Rounding out the top-5 crops with almonds in the lead in gross receipts were grapes at $1.43 billion, citrus at $997.8 million, pistachios at $886.7 million and milk at $570.4 million.
Within that top-5 were some trading of places as almonds surpassed grapes and citrus values fell a place behind pistachios, which had an "off year" in 2019 in terms of production.
Kern is one of the few grape-growing regions that grow the berries for multiple uses. While fresh-market table varieties command almost 60 percent of total acreage, raisins and wine grapes are produced there as well. Overall, vineyard acreage fell 3.3 percent, which was reflected across all varieties and types.
Citrus remains a popular crop for growers in the county as the region closely follows neighboring Tulare County in acreage and production. While acreage, yields and total production across a host of citrus varieties were up, across the board, prices were not. Navel and Valencia oranges saw the biggest drop in prices at 23 percent and 33 percent, respectively.
Tangerine prices were down about 12.7 percent.
Pistachios, another popular tree nut with growers in the county, likewise saw positive returns and numbers. Harvested acres increased over 6 percent to a high of 136,000. Nearly 12,000 acres of non-bearing pistachios will be added to that crop in the next few years.
Though overall cotton acreage continues to be in decline in Kern County, 2019 saw a significant uptick in Upland and Acala varieties planted – a 200 percent increase – while Pima variety plantings fell 37 percent, according to the report. In both cases, yields were down slightly to an average of 3.08 bales per acre for Upland/Acala varieties and 3.1 bales per acre for the Pima varieties.
Exports
China, Mexico, and Hong Kong, in that order, were the top destination countries for commodities produced by Kern County farmers in 2019, according to the report. Major commodities exported include grapes, almonds, pistachios, oranges, potatoes, carrots, cotton, lemons, tangelos and other citrus.
Subscribe to receive top agriculture news
Be informed daily with these free e-newsletters
You May Also Like
---