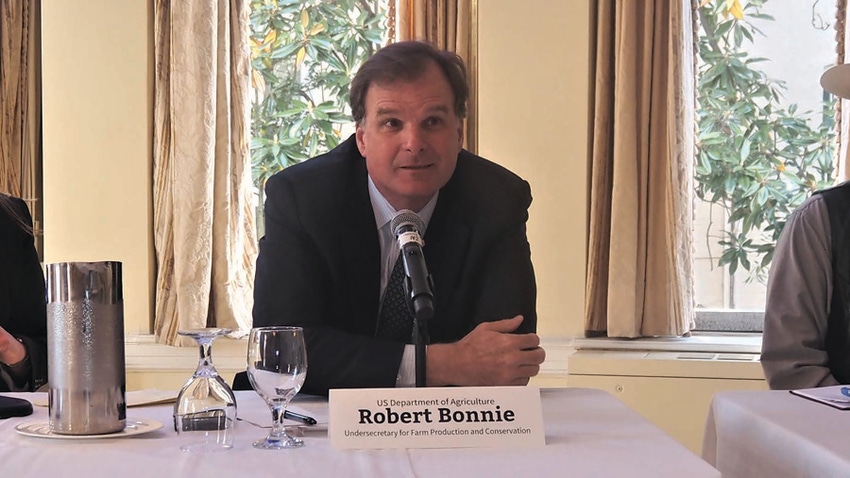 Robert Bonnie, the USDA's under secretary for farm production and conservation, speaks during a panel discussion at North American Agricultural Journalists' annual meeting April 25 in Washington, D.C.
Tim Hearden
As growers of tree nuts and other crops in California learn the extent of damage from this year's massive flooding, they can expect a "surge" of help from those who administer federal aid programs, a top USDA official said.
Many farms are having to wait for waters to recede or crops to develop to see the extent of damage, noted Robert Bonnie, the USDA's under secretary for farm production and conservation. He said the Farm Service Agency is seeing an increase in demand.
"When the demand comes as flood waters recede, you'll see a surge of workers on the ground," Bonnie said in response to a question from Farm Press during an April 25 panel discussion in Washington, D.C., hosted by North American Agricultural Journalists.
Bonnie said during a trip to California last fall, he heard from rice farmers who were concerned that reduced plantings because of drought could cause secondary harm to businesses that cater to the industry. Now some may draw on prevented planting insurance because of flooding, he said.
His comments come as the Almond Board of California and Almond Alliance of California have urged growers to report their actual and potential losses quickly if they want to have the greatest success with insurance and disaster claims.
Take three steps
Aubrey Bettencourt, CEO of the Almond Alliance of California, is advising her members to immediately do three things:
Call your local FSA office and file a notice of loss. Bettencourt says this is crucial to starting a file for claims and government assistance.

Report losses to the local county agricultural commissioner's office. This information will be collected and passed up to the California Department of Food and Agriculture and the USDA for potential state and disaster designations.

Contact your local insurance agent. It will be important for all three to have photo and video documentation of the damage and losses.
Bettencourt, who was California's state FSA director from 2017 to 2019, said that once a disaster file is opened on a farm, additional information can be added to it. Keep the local FSA office appraised of additional losses.
"If you experience more damage, you can add this to your file," she recently said.
The Almond Board of California urged growers to document damage to their orchards or buildings with pictures, receipts and farm records. Any of those details will help expedite assistance, noted Blong Xiong, the Farm Service Agency's California executive director.
Subscribe to receive top agriculture news
Be informed daily with these free e-newsletters
You May Also Like
---