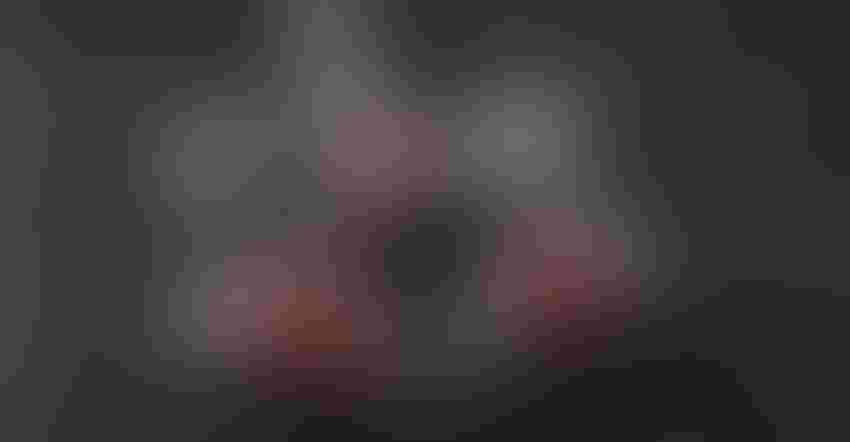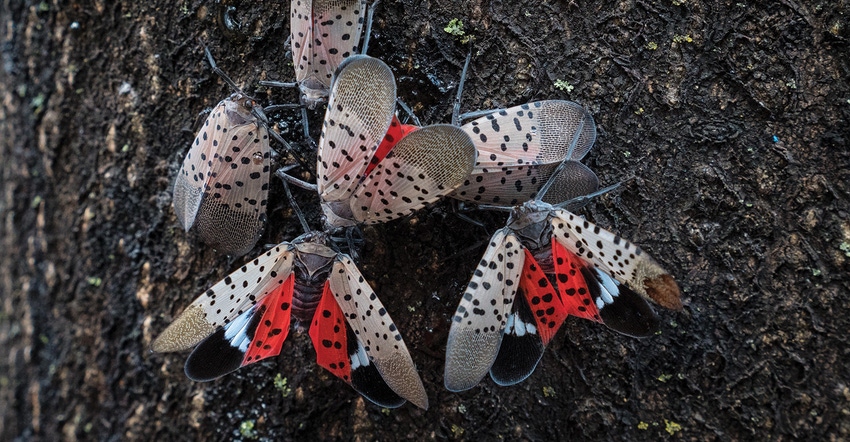 The spotted lanternfly is a threat to tree nuts as well as grapes.
USDA
Spotted lanternfly have been the bane of grape growers in this country since they were first detected in North America almost a decade ago. They have now spread to a dozen states --- California is not yet included in that list, although one computer simulation predicts the spread of SLF into the Golden State's wine region by 2027.
State entomologist Kyle Beucke told Western Farm Press not long ago: "While a good part of the state, including the coast, appears suitable to its establishment, we really can't be sure it is able to establish here or how well it would do here because there are a lot of unknowns. We can't assume it's not going to establish here, but I wouldn't say its arrival is inevitable or that it would make a significant impact."
The federal Department of Agriculture, APHIS unit (Animal and Plant Health Inspection Service) lists a variety of sites that lanternflies might congregate, everything from almonds and apples to willow trees and walnuts.
So it now appears that vineyards might not be the first or only target of a climate that grows lots of crops. "While lanternfly devastation on grapevines and in orchards has been widely observed, their impact on native hardwoods is currently being studied," reports the non-profit Natural Lands group, referring specifically to tree nut orchards, to wit, almonds and black walnuts in particular.
'Flagging' of leaves
"Yellow 'flagging' of leaves at the tips of branches on black walnut trees are indicative of spotted lanternfly early instars in high numbers," reports Daniel Barringer, Preserve Manager, in the Pennsylvania group's Field Notes publication.
"We have a lot of walnuts growing along the edge of the woods and farm fields and when we mow along these borders, if the mower roll hoop bumps a low branch, the lanternflies shower down," he reported.
Here's the latest information from USDA APHIS: "There has been some observed feeding on 'wild' black walnuts, but we don't have studies on it," reported Public Affairs Department specialists. "Observed feeding is cause for concern and these observations are what led APHIS to list walnut trees on the potential target list for SLF. However, this observation --- without additional research --- does not create the basis for expertise on their impact on nut-producing trees."
The plant-hopping insects have piercing mouth parts that penetrate the stems and branches of their hosts. As sap moves through the tree, it is ingested by the lanternflies whose feeding denies downstream leaves of sugars and water and causes leave clusters to decline. Lanternflies need to take in a large volume of nutrient to produce the energy they need and in the process, they exude a relatively large volume of waste, a sticky residue that produces a sooty mold that blocks sunlight needed for tree photosynthesis.
Tree nuts included
Tracy Leskey, research entomologist and Director of USDA's Appalachian Fruit Research Section acknowledges Tree of Heaven and grape crops --- vitis vinifera both red and white cultivars --- are high on the vulnerability list, but tree nuts may be included.
"Lanternfly have been observed feeding intensely on black walnuts in the Eastern U.S., both as nymphs and adults, so cultivated English walnuts could be vulnerable to this invasive pest as well," she says, noting they have already been observed feeding on English walnut trees in South Korea.
"Spotted lanternfly, a pholoem feeder, appear to disperse away from areas where they may have weakened trees due to their heavy feeding.
"Currently we do not know if SLF will feed on almond trees, but we do know they will feed on species in the same genus (Prunus) --- including cultivated peach --- so it is possible they will."
About the Author(s)
Subscribe to receive top agriculture news
Be informed daily with these free e-newsletters
You May Also Like
---