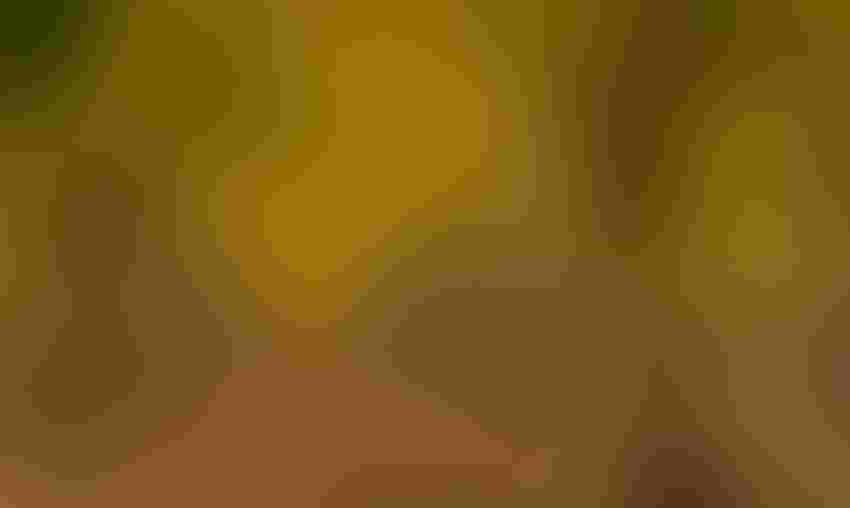 Unlike most of the year, tree nut growers are happy when the rains take a break during the harvest season. While walnut harvest is quickly wrapping up if not complete in many areas, growers are celebrating the lack of rain, which could have increased the difficulty of harvest operations.
There are mixed reports, as expected, about the yield and quality of walnuts now that more information is filtering in. Joe Ferrari in San Joaquin County reported last week that he is actively wrapping up harvest of his Chandler variety, the last trees to be harvested in his orchard. He says Chandler yields are down overall, more so for earlier varieties. On the bright side he notes the smaller harvest should bring higher price adjustments.
Walnut growers in Colusa County say they also avoided rain during most of harvest season but had to deal with brisk north winds. Grower Brian Fedora said harvest has been running ahead of schedule this year at his orchard and reports his Chandler variety yields are near to their average, but nut quality looks very good. He agrees, however, that early variety yields were smaller this year.
Fedora said walnut demand is running high and said he is noticing prices have been increasing. He remains confident the season will prove to be a good one for most growers in his area.
CWB Walnut Sweepstakes returns
Are you a dedicated fan of walnuts? Could you use a little extra swag for the holiday season?
The California Walnut Board's Golden Walnut Sweepstakes has returned and officially kicked off Nov. 11, giving participants another chance at winning a share of $15,000 in prizes by sharing their love for walnuts. Do you like your walnut milk or butter, a special dish or dessert based upon walnuts? Here's your chance to enter and win.
The Grand Prize winner receives $5,000 while 100 runners-ups will each receive $100 each just for sharing their love and passion for walnuts. Here's your chance to win big for the holiday season so watch for more details and an update in the Dec. 5 Tree Nut Newsletter issue. But get started right away by visiting the official Sweepstakes site at https://walnuts.org/goldenwalnut.
Fire Assessment continues
California fire officials say cooler temperatures and calmer winds have allowed fire crews to get the upper hand on several deadly wildfires in both the northern and southern extremes of the Golden State since our last update.
While the break in hot, windy conditions and the control of a number of fires represents progress, officials are quick to warn that the fire season will continue if the weather should change again, and they are advising residents who evacuated and were subsequently allowed back into the homes and businesses to remain vigilant until a final all-clear is sounded.
Now that some of the more deadly fires are under containment, the difficult task of clean up begins, not only for residents and homeowners, but for farmers and ranchers who suffered damages and losses.
As the smoke clears, officials are learning about the role the electrical blackouts may have played on agricultural operations. While the planned Pacific Gas & Electric blackouts were a terrible inconvenience for many California residents, walnut growers in Tehama and surrounding counties have reported they caused hardships to their harvest operations.
At the peak of harvest one grower complained that blackouts forced him to shut down operations and send workers home, not only affecting worker's pocketbooks but the outages caused operators to cease drying operations, opening the door to mold contamination for some nuts in the bin waiting to be dried.
Not only nut, fruit and grape orchards were adversely affected, dairymen across parts of Northern California complained of cold storage outages and holdups in milking and subsequently shipping operations.
Citrus growers in parts of the valley also complained about smoke discoloring fruit. As of this writing it is unknown whether some of those citrus crops will be considered a loss and so far, no dollar figure has been offered in terms of financial setbacks for agriculture across the state as a result of the fires.
Livestock operations reported the roundup and evacuation of some cattle, others reported they were able to move stock to more protected areas on their ranch.
Damage assessments are underway.
Sanitation continues in some orchards
In southern and Central Valley regions of California, some sanitation efforts are underway, mostly in almond orchards. Proper sanitation is, of course, a critical step in controlling Navel orangeworm.
Mummy nuts represent a dire threat to nut orchards and most growers are
aware of the risks and are diligent about sanitation as weather and time allows. It's interesting to note, however, that many University of California Cooperative Extension advisors believe many growers fall short in effective sanitation, and this creates considerable problems for not only their own orchards but for orchards in near proximity.
Now that walnut harvest nears completion, more and more sanitation will be getting underway, and watch for continuing and expanded coverage on sanitation efforts in subsequent issues of the Tree Nut Newsletter and on the Western Farm Press web site.
Upcoming Events
Nov 19
Latino Farmer Conference
International Agri-Center, Tulare
Nov 20
South Valley Nut & Citrus Conference
Tulare Fairgrounds, Tulare
Nov 22
Post-Harvest Almond and Walnut IPM Workshop
Chico Memorial Hall, Chico
Dec 10-12
The 2019 Almond Conference
Cal-Expo, Sacramento
For more news on tree nuts as reported by growers and farm advisors, subscribe to the Tree Nut Farm Press e-newsletter.
About the Author(s)
Subscribe to receive top agriculture news
Be informed daily with these free e-newsletters
You May Also Like
---