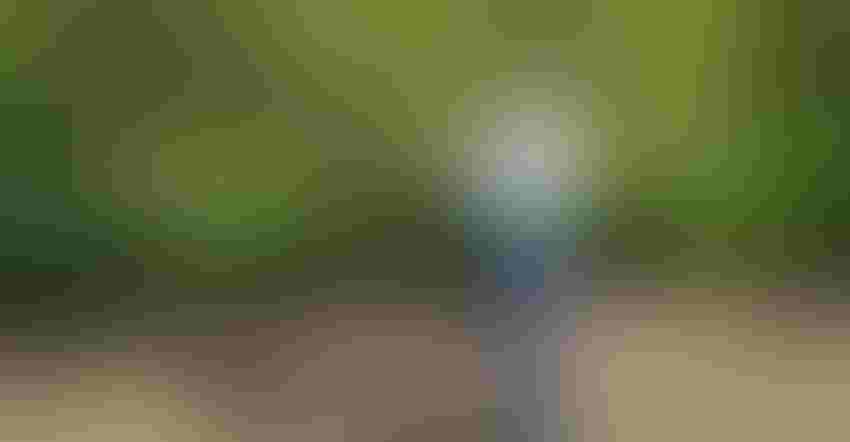 UC Davis researcher Pat Brown is developing a tree nut yield predictor.
Patrick Brown/UC Davis
Paraphrasing somebody's eloquent quotation — "We must first know where we have been in order to know where we are going."
That makes sense as a roadmap of some kind helps keep you from getting lost.
That's the intent of Patrick Brown, plant sciences professor at University of California, Davis, in his current quest to develop a method of predicting tree nut yield in pistachios, almonds, and potentially in all tree nuts.
"The approach we're using would pretty much work in most cases," he says. "The best way to do this is to get as many historic yield data points as possible, then use computer-based modeling, artificial intelligence, to put the data back together again."
Free Report: Tree Nut Management Guide
Brown cites an example of one of the larger tree growers where one farm manager could walk out into a field of trees, stand there looking at buds and listening to the bees, and estimate a 3,000-pound yield. "He did that for five years in a row and was within a couple of hundred pounds every single year. So that got us to thinking about collecting this to predict forward. It's not magic. It's all information.
"If we get enough information from different parts of the state, directly from growers and the environment itself, from climate monitoring stations up and down the state, we put the different pieces of information together and we'll be able to establish maximum potential yield. Each time we get new data on different varieties and root stocks, we can adjust that. We're trying to build an insightful approach to where every single farmer in every single block can have a good solid number of what to expect each year."
Creating a resource
Utilizing historic yield data, free satellite imagery, automated climate analysis, and individual orchard characteristics, Brown is attempting to produce a simple-to-use app or a website for yield prediction which helps in fertilization calculations and other yield-dependent activities.
Beginning with USDA funding for pistachios and expanding to Almond Board funding for almonds, he says the principles would be the same for other tree nuts like walnuts, pecans, and the like. "The details would differ because almond trees respond to winter weather differently than pistachios or hazelnuts, but the process, the approach, is identical. Any sort of crop could use the methodology by changing some of the variables."
Gathering this amount of data is a time-consuming, labor-intensive effort. "Not only do you have to go up and down the state, you've got to involve different orchards and look at a variety of root stock. We've already published some papers on almonds and are refining those while extending into pistachios for the first time by asking growers to fill in a spreadsheet and the more data we have, the more accurate our prediction models."
He emphasizes that sharing specific site data remains confidential with all information highly encrypted and protected. "Nobody can figure out whose field the data came from and we work extremely hard to maintain data privacy."
The finished model should help growers do things like schedule irrigation, allocate nitrogen pesticides, and ultimately construct contracts for product sales. "The other big value would be answers to questions like 'Why do growers in Western Kern County get 500 more pounds per acre than an adjacent county?'. We'll be able to define what the weather characteristics are, what soil choices are available, the choice of options as to how trees are managed to increase local yield. In the long term, it will be a free service that should be invaluable for the industry as a whole."
Brown contemplates a usable model will be available by the end of this year. Interested growers can find further information at https://forms.gle/qyd6D2E3RfVtua3x9.
Subscribe to receive top agriculture news
Be informed daily with these free e-newsletters
You May Also Like
---