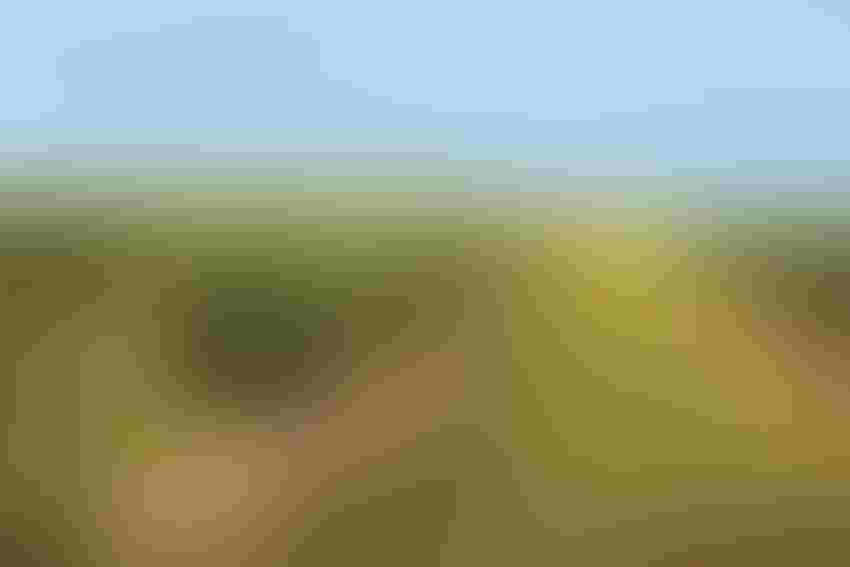 The peach root-knot nematode has the capability of affecting peaches, ornamental crops, basil, corn, crimson clover, cucumber, dill, eggplant, green beans, lima beans, sugar beets, and other crops, including California tree nuts.
PMPhoto/iStock/Getty Images
The exceptionally wet season has already hampered weed and pest applications for many California farmers, bringing increased risks associated with spores and fungi infection in trees and roots. As if that weren't enough, a new invasive nematode has been discovered in the state, first in Merced County and later in Kern County, that could prove to be a problematic invader that could cause serious challenges for a variety of crops including fruit and nut operations.
At a time when U.S. farmers are, or soon will be, embracing the start of a new growing season, concerns over tariffs and trade, water issues, the fallout from a government shutdown, and other challenges continue to cloud the immediate future.
For California's viable nut industry, the past 12-month journey around the sun has brought success for many, and hope for others, that late fall and early winter rains would help restore soil moisture and improve snowpack that could offer additional relief when the dry season arrives.
But as the hope of a new crop season hangs in the balance, other challenges lie ahead. While needed rain has improved soil moisture conditions for some, others have been troubled by persistent wet conditions that hampered sanitation efforts and, in some cases, continue to prevent some growers from moving equipment in and out of their orchards.
The National Oceanic and Aeronautical Administration's (NOAA) Climate Prediction Center, says an El Niṅo advisory has now been officially put into effect after several months of a watch that warned of potentially heavy rains and floods that could affect western U.S. states. This new alert warns of potential flooding in coastal areas and California's Central Valley, and heavy snowpack in the Sierra Nevada mountains.
PEACH ROOT-KNOT NEMATODE
The peach root-knot nematode has been rated by the California Department of Food and Agriculture as a quarantine-actionable pest that can cause uneven and poor tree growth, stunting, and root galls on resistant rootstocks.
"The arrival of this nematode (Meloidogyne floridensis) in California is a little surprising — it has the potential to infect many of California's economically important crops," says UCCE Kern County Advisor Mohammad Yaghmour. "Root samples had been collected from an almond orchard in Merced County last year, and confirmed at the California Department of Food and Agriculture's (CDFA) Nematology Lab as M. floridensis."
Yaghmour facilitated the second discovery of the nematode in a Kern County orchard a month after the first was uncovered in an almond orchard in Merced County.
"It was actually the grower and the consultant who called me to investigate the orchard. The trees in Kern County were suffering from stunting and they looked significantly smaller than what we expect them to be at that age. The rootstock is a peach X almond hybrid, and it is supposed to be resistant to root-knot nematode. However, these roots had significant galling and typical symptoms of root-knot nematode problems."
The first step in a case like this one is to identify the nematode, hes says. If the identification is the same as the species normally known to populate California's fields and orchards, then the symptoms might be a result of the nematode overcoming the genetic resistance of the rootstocks.
"However, in this specific case," Yaghmour says, "we found it to be an invasive species, peach root-know nematode, that can infest the roots and cause symptoms and affect tree growth."
DISCOVERED IN FLORIDA
The nematode was first detected in Florida in 1966, parasitizing root knot nematode-resistant Nemaguard and Okinawa peach rootstocks, and was termed a new variety of nematode. It wasn't until 1982 that molecular and host range studies proved the species was indeed a new invasive nematode and it was given the name of peach root-knot nematode.
According to CDFA's Plant Health and Prevention Services Division, it is one of the most important root knot nematode species because it can overcome resistance in plants by reproducing in high-value crops carrying genes for resistance against the main Meloidogyne species, thereby causing substantial reduction in crop growth and yields.  In 2005, M. floridensis was reported for the first time in field-grown tomatoes in Florida, and eventually spread into peach orchards. The recent 2018 detection marks its first official and limited detection within California and outside the state of Florida.
The nematode has the capability of affecting peaches, ornamental crops, basil, corn, crimson clover, cucumber, dill, eggplant, green beans, lima beans, sugar beets, and other crops, including California tree nuts.
Peach root-knot nematode is capable of infecting most Prunus rootstocks currently used in almond and stone fruit production. Rootstocks resistant to previously detected root-knot nematodes may not be resistant to peach root-knot nematode.
FINDING PROTECTION
UC-IPM Extension reports that since the early 1960s, the rootstock Nemaguard and others such as Marianna 2624 and Myrobalan 29C, have protected Prunus crops (almond and stone fruits) from attack by southern root-knot nematodes, which are common in California. In contrast, peach root-knot nematode is capable of infecting Nemaguard and peach-almond hybrids. Research in Florida has identified some differences in response among Prunus rootstocks, but peach root-knot nematode itself has variability that allows some populations of it to infect peach and peach-almond hybrids rootstocks that are currently used in California.
The microscopic soil-dwelling nematodes live in soil, from where they infect their plant hosts. In susceptible host plants, they undergo an intricate interaction with the physiology of the plant, and ultimately induce the plant to generate the name-giving knots and deformations in the root system. These knots and deformations impair the uptake of nutrients and water by the plant and may increase infection by plant pathogens.
CDFA and UCCE are working with county agricultural commissioners of the affected counties, growers, crop consultants, and the Almond Board of California to mitigate the potential impacts of peach root-knot nematode.
If growers suspect orchard infection from peach root-knot nematode, they should contact their county farm advisor to report the incident and for further instructions.
Subscribe to receive top agriculture news
Be informed daily with these free e-newsletters
You May Also Like
---