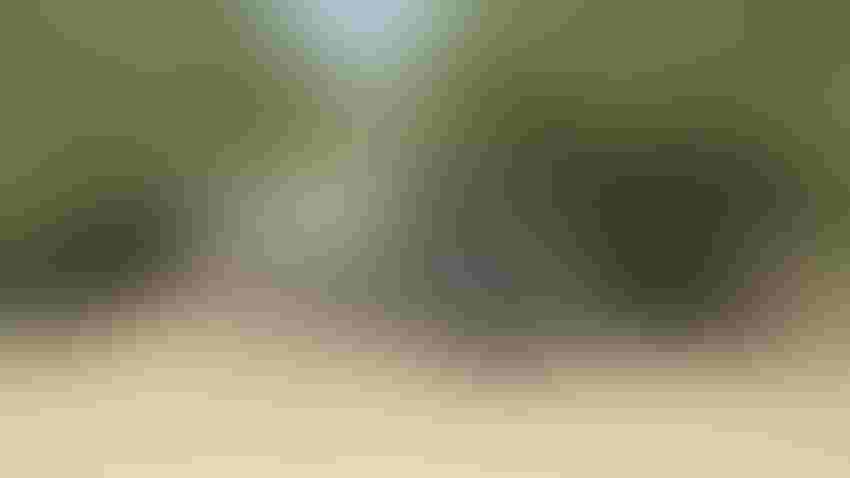 Almonds are harvested near Arbuckle, Calif., in 2018.
Tim Hearden
A pair of surveys released April 22 show that bearing almond acreage in California grew by nearly 6 percent in 2020 and will continue expanding this year.
Land IQ's 2021 Standing Acreage Initial Estimate predicts that productive acreage during the 2021-22 harvest will be 1.32 million acres. This takes into account both young orchards coming into production and old orchards being taken out, the Almond Board of California explains.
The National Agricultural Statistics Service's 2020 California Almond Acreage Report estimated last year's bearing acreage at 1.25 million, up 5.9% from 2019. Total almond acreage, including non-bearing trees, is estimated at 1.6 million, up 5.3% from the previous year.
Nonpareil continued to be the leading variety, followed by Monterey, Butte, Carmel, and Padre, according to NASS.
"California almond bearing and non-bearing acreage continues to increase indicating almond production will also rise in coming years," said Richard Waycott, the Almond Board's president and CEO. "Demand has consistently been very strong during this crop year with global shipments YTD (August 2020 – March 2021) up 17.7%, as production crossed the 3 billion pound threshold for the first time."
All export regions of the world have reported strong numbers, with shipments to China/Hong Kong up 59% year to date (YTD), South Korea up 45% YTD, India up 51% YTD, and Western Europe up 12% YTD, as compared to a year ago, according to the Almond Board.
NASS' acreage report is the first of three annual reports, including the Subjective Estimate released in May and Objective Report in July. The reports are commissioned by the Almond Board.
Subscribe to receive top agriculture news
Be informed daily with these free e-newsletters
You May Also Like
---