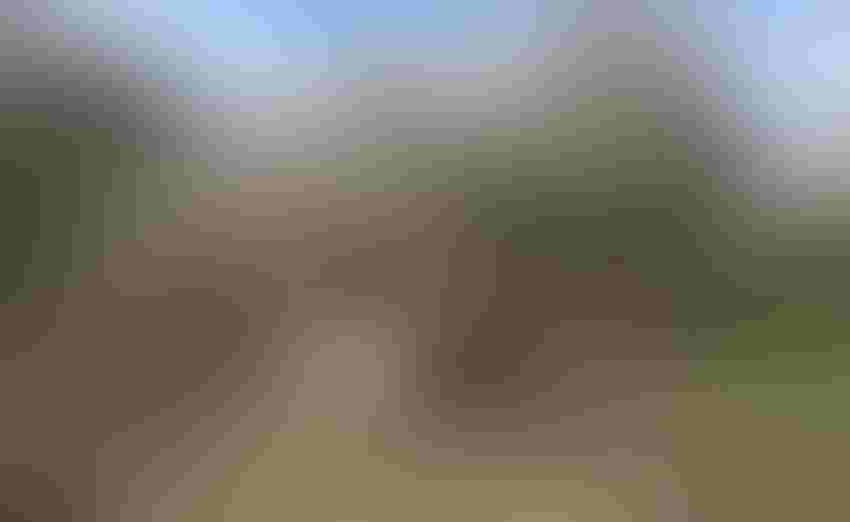 Bee boxes are situated in a California almond orchard.
Brittney Goodrich/UC Davis
The official word is that almond acreage in California continues to increase with bearing acres estimated at 1.18 million acres — an 8% jump from last year — based on information voluntarily provided by almond growers.
The unofficial word is that it costs more to grow those nuts. And at least one forecast for this year shows yield in pounds per acre is projected down for 2019 based on diminished pollination and less than optimal weather conditions which have contributed to those higher costs.
That word comes from University of California, Davis extension specialist Brittney Goodrich, who compared twenty years of costs (1998-2016) with cost figures from 2016-2019 (adjusted for inflation). 
"The earlier time frame showed costs were relatively similar across those years while costs increased substantially between 2016-2019," she wrote.
Speaking to Western Farm Press, the ag economist noted, "The jump in cost came because of increasing land values, higher interest rates, and the increased cost of borrowing to establish almond orchards as well as standard, but rising, operating costs like irrigation, fertilizer, and pollination fees.
"Interest rates in 2016 were about 3.25% while 2019 rates were at 6% which impacted the cost of purchasing equipment or new acreage," she noted.
Her almond cost studies focused on the North San Joaquin Valley, the South San Joaquin Valley, and the Sacramento Valley. 
"Water was more expensive in South San Joaquin, for instance," she notes.
"While almond prices are not great, they're not terrible right now, but with increasing cost trends, what you have is a narrowing of the profit margin," she said. Despite which, "Even with smaller profit margins, farmers are still thinking this is more profitable than some other crops they could be planting."
The three greatest costs
She cited the three greatest costs as normal labor expenditures, harvest costs, and the expenses involved in pollination services. As a percentage of operating costs, pollination expenses have more than tripled over the past two decades.
"Virtually all the managed honeybee colonies in the U.S. are utilized for almond pollination and as long as we keep planting new orchards with nonpareil varieties, we'll need the bees to pollinate them and those costs will only increase going forward — unless some miracle happens and the health and numbers of bees increases and I don't perceive that happening," Goodrich reported.
According to the California State Beekeepers' Association, fees for most colonies last year ranged in the low $200s per colony. Bumble bees represent an integral part of the state's ecosystems, but their populations are declining because of disease, pesticide overuse, and changes in climate and land use patterns.
A recent United Nations report indicated more than 40% of invertebrate pollinators, and that includes bees and butterflies, are at risk of extinction. In the most recent global insect study that included more than 10,000 species, including bees and other pollinators, (published in Journal Science), researchers noted more than 25% of land-dwelling insects have disappeared in the past 30 years. 
OneGreenPlanet reports: "50 million bees died between 2018-2019," more than one third of commercial U.S. bee colonies. They quote a Flagstaff, Arizona beekeeper (Patrick Pynes of Mountain Top Honey) as saying, "Bees in the almond groves are being exploited (and) are in severe decline."
Another publication, The Guardian, reported: "Bees are essential to the functioning of America's almond industry — and billions are dying in the process."
The Goodrich economic trends in almond production study was based on orchards consisting of 100 acres with a density of 130 trees per acre and an orchard life of 25 years.
In her summary, she notes, "Net returns from almond production have likely narrowed over the last decade due to increasing costs of production while almond prices have remained at relatively low levels over the past few years. The fact remains however that acreage is still being planted suggesting that potential net returns remain relatively strong compared with other California crops."
For more news on tree nuts as reported by growers and farm advisors, subscribe to the Tree Nut Farm Press e-newsletter.
Subscribe to receive top agriculture news
Be informed daily with these free e-newsletters
You May Also Like
---