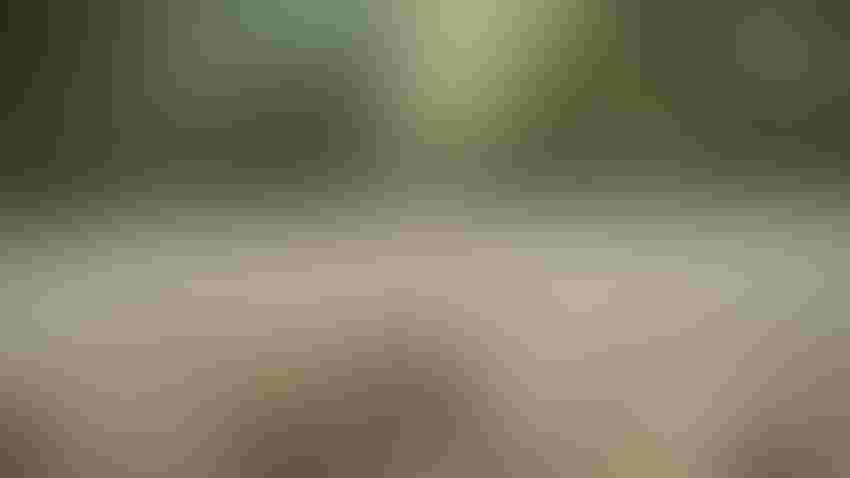 A row of almonds shaken from trees is ready to be swept up and processed.
Almond Board of California
For those who make their living growing, harvesting, transporting, shelling or marketing almonds, three words can be as welcome as "I love you." They are "exceeded industry expectations."
And since July, the monthly Almond Insights Market Report published by Blue Diamond Growers has gladly repeated that phrase with 212 million pounds shipped in August and 217.7 million pounds out-the-door in September (representing a 15% increase over the same month in the year previous).
Blue Diamond President/CEO Kai Bockmann announced the advent of the 2023 harvest in mid-September when growers started shifting gears: "Shakers are cruising up and down the rows, followed by sweepers and harvesters gathering this year's crop as we start to welcome truckloads of almonds," he wrote.
Acknowledging that this year "has been extraordinarily challenging for our growers," Bockmann cited extreme weather conditions during bloom stage along with financial hardships like inflation and cost of farming operations that jumped as high as 30%. Add the unanticipated, significant rainfall that delayed an already later-than-usual harvest and a few new grey hairs sprouted on the heads of Blue Diamond's growers.
When this year's National Agricultural Statistics Service Preliminary Estimate in the California Objective Measurement Report was revised to read 2.57 billion meat pounds --- a mere 1% higher than the previous year --- any anticipated delight diminished to disappointment (with a further option of despair if conditions worsened).  One industry veteran noted in a candid off-the-record appraisal: "Times are on the tough side in the nut world."
Record rainfall, storms
USDA NASS Pacific Region researchers said, after sampling nearly 2,000 trees in more than 900 orchards, "The forecast, based on 1.38 million bearing acres and an average nut set per tree of 3,950, is calculated from a bloom that began in mid-February (with) record rainfall and unprecedented stormy conditions that hindered bee pollination, followed by cooler-than-normal temperatures that delayed crop maturity."
Blue Diamond and USDA are two sources of data and analysis. So, too, is the Cardassilaris Family, food brokers since 1862 who maintain websites in seven languages and keep watch on foodstuffs all over the world.
In analyzing "Challenges and Opportunities in the Almond Industry (2023 Harvest Season)," they call it "a complex puzzle" requiring "a challenging navigation." Their analysis cites market uncertainties --- "a cautious state with growers and buyers both adopting a wait-and-see approach.
"With a large carry-out from last year still looming over the industry, buyers have adopted a cautious approach and are only booking short-term needs."
They also cite environmental factors (weather anomalies) and pest management (a growing concern) as influential factors noting that because of the economics involved, reject levels are higher because of "inconsistent orchard maintenance resulting in varying stages of hull split that complicates the situation."
Their conclusion is that, "The almond industry faces numerous challenges this year resulting in an opportunity for resilience and innovation. Moving forward, the focus should be on sustainable practices, stringent quality assurance, and market adaptability."
They recommend keeping an eye on upcoming industry reports, "which will provide valuable insights into changing market trends and conditions."
Subscribe to receive top agriculture news
Be informed daily with these free e-newsletters
You May Also Like
---