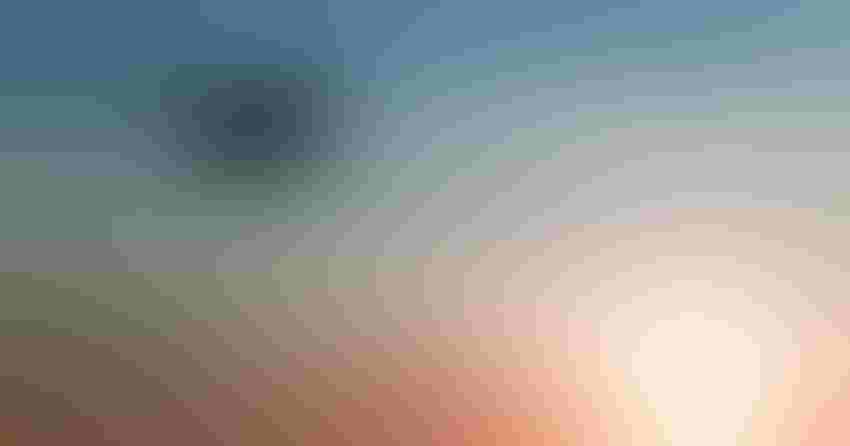 Basic imaging drones can be used to inspect fence lines or see pests/diseases to get a picture of how the crop has been affected.
Getty Images/iStockphoto
The Louisiana State University Digital AgCenter is helping growers increase yield and troubleshoot issues using images and data gathered with drones. Technology has advanced on the farm and real-time data is allowing growers to identify and resolve issues, increase yield, and reduce the cost of chemicals and fertilizers required.
The latest wave of on-farm drone technology focuses on digital agriculture practices, precisely targeting only those areas that need attention.
Randy Price, assistant professor with the LSU AgCenter, explained the difference between current imaging drones, remote sensing drones, and sprayer drones in a recent presentation in Alexandria, La.
"Basic imaging drones can be used to inspect fence lines or see pests/diseases to get a picture of how the crop has been affected," Price said. "Sprayer drones are more expensive and require additional licensing due to weight restrictions."
Sprayer drones are newer to the industry and not commonly used due to the current price and weight restrictions.
"Sprayer drones are good for research such as ripener studies in sugarcane," Price said. "Spreading ripeners with sprayer arms on tractors or by airplane would lead to too much overspray for testing."
Sprayer drones can be equipped with nozzles to reduce drift and allow growers to precisely apply ripeners when the cane is about ten feet tall and hard to access.
Images taken by the drone can be transferred into Visible Atmospherically Resistant Index (VARI) maps and used to see the variation in vegetative growth throughout the field. It can also be used to find potential crop diseases.
"We use drones for general checking, topography mapping, population counting, and looking for stress areas," said Clayton Lamar of 1 Dog Ventures, Sale City, Ga.
Measuring canopy
Researchers at Texas A&M University use drones to track and measure canopy height, growth and volume, as well as the vegetative index," according to Juan Landivar-Bowles, center director at Texas A&M AgriLife Research and Extension Center in Weslaco, Texas.
"When using a drone, it's important to get a baseline before planting," Landivar-Bowles said.
Collecting data throughout the season can help growers estimate potential yields and help determine the right time to harvest. The data collected by drones can be used to create a model of the crop. Crop modeling can help resolve issues from extreme weather conditions, soil profile, genetic makeups/varieties, and aid in the management of fertilizers and irrigation.
Images from drones and data from crop monitors can be merged into yield maps that can help the farmer see multiple issues including improper irrigation, poor soil quality and poor drainage.
LSU AgCenter extension agent Dennis Burns noted yield mapping can be used to identify and evaluate when yield reduction has been caused by overwatering or herbicide overspray.
"The goal is to evaluate the field performance without using bushels per acre, compare yields across multiple years and crops, and remove the environmental factors," Burns said.
Other resources
While yield maps can be generated by data collected from harvesters, for the grower with smaller acreage it may make more sense to work with the local ag extension office.
"Working with the local ag extension office was useful when enrolling a part of our land into the CRP Wildflower Program," said Amy Pickering, a crop and livestock farmer in the Midwest. "We were able to look at the soil profile and select the best seed variety for each location. Using topography maps, we were even able to resolve erosion issues."
LSU Digital AgCenter supports farmers by providing on-farm precision experimentation to support variety selection.
Researcher Franciele Carneiro said that data collected to generate topography maps can aid in detecting and correcting drainage issues, as well. Carneiro uses topography maps to help determine which varieties to plant and where to place in the field.
She said it is important to target specific varieties that will perform better in poor locations, improving overall yield.  Issues from poor soil makeup, soil drainage, and even weather conditions can be reduced with a crop variety that has historical data showing it performs better.   
The practical use of drones is now available in real time. Resources for inspecting potential issues, gathering images for crop modeling and yield mapping, creating topography maps for farmers, and treating specific areas of the crop for pests or diseases are readably available through Extension services, University research farms and many consultants.
Subscribe to receive top agriculture news
Be informed daily with these free e-newsletters
You May Also Like
---