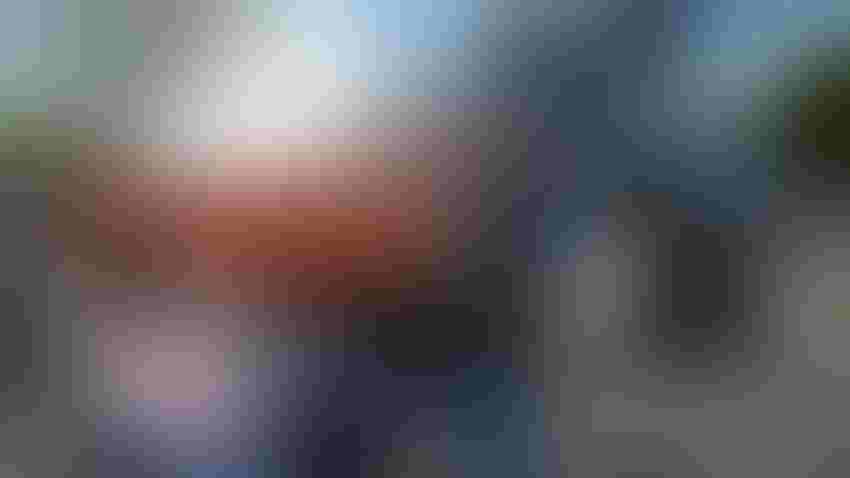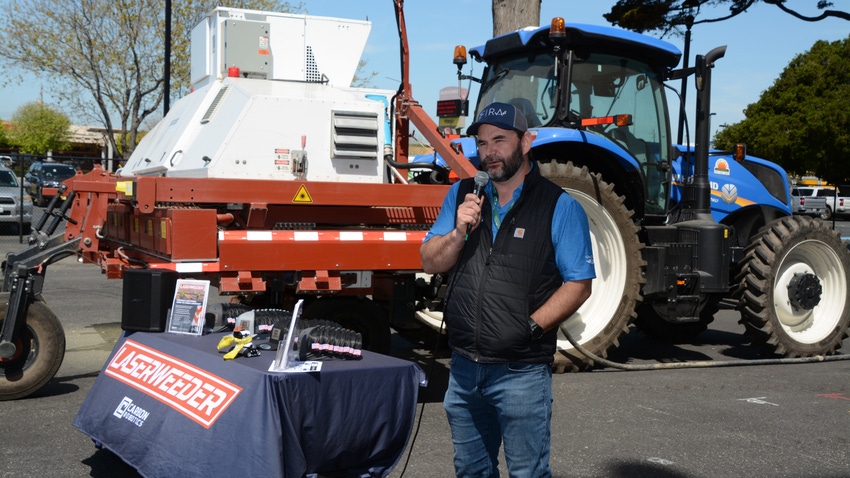 Ben Palone, product manager at Carbon Robotics, explains how the company's high-precision laser weeder leverages sophisticated AI deep learning technology, computer vision, robotics, and lasers to reduce weed control costs by 80%.
Mike Wilson
The second annual FIRA-USA, a robotic and autonomous farming solutions conference, is set to take place Sept. 19-21 at the Salinas, CA sports Complex.
At a press conference in Salinas, organizers said the event will include entertainment, panel discussions, and live equipment demonstrations that showcase the latest in ag innovation and autonomy. The main focus is to bring startups and growers together and show how robotic farming companies are working to solve ag labor shortages, said Western Growers vice president for Innovation Walt Duflock.
"Let's get all the agtech and automation folks in one place for three days and start the conversations," he added.
Last fall's FIRA event, held in Fresno, attracted over 1,000 people. This year organizers hope to double that number, with over 60 exhibitors and 25 or more robots working in live field demos.
Day one will focus on youth, and include a high school robotics competition, student presentations with graduate and undergraduate poster sessions, a robot parade, and networking."We're working with the blue coats – FFA and 4-H kids -- coming back to California to (be trained) to build, service and support the robots," says Duflock. "We want to get as many FFA kids to come as we can because when they see the robots, they get excited."
Agtech hotspot
Organizers touted Salinas as an ideal location, since it is positioned less than two hours drive south of Silicon Valley and is home to fertile specialty crop fields and innovative growers. It is home to Western Growers Center for Innovation and Technology, as well as Hartnell College, which trains 800 students annually in many areas of agtech.
"We are thrilled to have FIRA in the Salinas Valley this year," noted Kimbley Craig, the city's mayor. "Salinas is a global leader in specialty crop production. We are known as the salad bowl of the world."
The venue – Salinas Sports Complex, home of the famous California Rodeo Salinas -- represents much of the city's past, says Dennis Donohue, a former mayor and now director, Western Growers Center for Innovation and Technology. "So it's only appropriate that this location also represents much of our future."
FIRA (International Forum for Agricultural Robotics) is co-organized by GOFAR (Global Organization for Agricultural Robotics, a French non-profit association), Western Growers Association, and The Vine/University of California, Agriculture and Natural Resources (UC-ANR).
Gabe Youtsey, chief innovation officer at UC-ANR, says the partnership between Western Growers, FIRA, and the university is happening at just the right time.
"This industry has to keep up with its workers and technological solutions," he said. "Salinas is a place in the world where all of it comes together to produce amazing fresh food that we eat every day."
For more information go to www.fira-usa.com. Look for #FIRAUSA23 in social media feeds for updates.
Subscribe to receive top agriculture news
Be informed daily with these free e-newsletters
You May Also Like
---