Precision Planting moves into precision soil sampling
Precision Planting moves into precision soil sampling
An automatic sample collector and your own lab back in the shop, with software that connects every bit of data to the field location? It's possible — for a fee — with Precision Planting's new Radicle Agronomics system.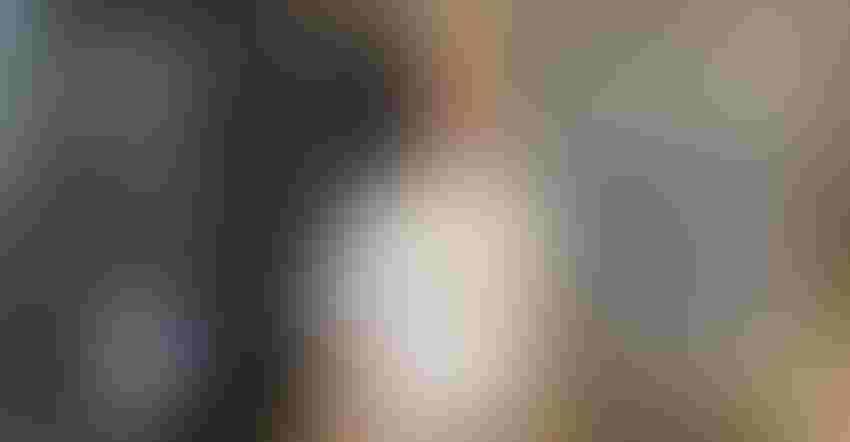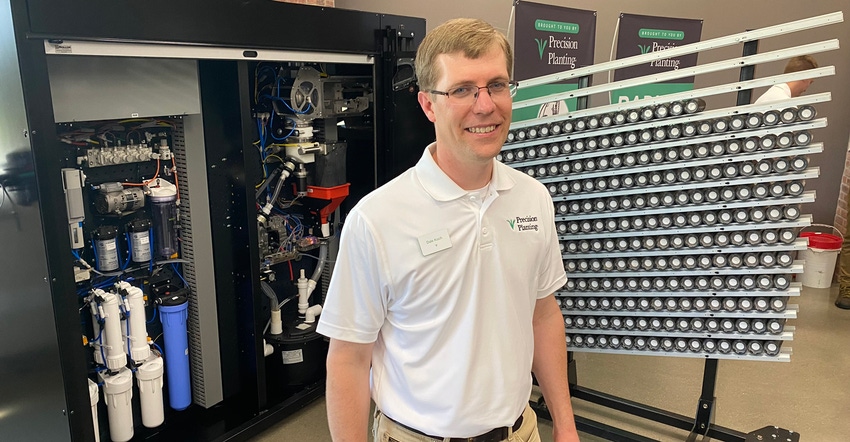 SOIL LAB: "This is a new competitor in the lab space," says Dale Koch, product lead on the Radicle Agronomics system for Precision Planting.
Photos by Holly Spangler
Dale Koch lays out a pretty straightforward case for precision soil sampling.
Farmers spend the biggest chunk of their input dollars on fertilizer. They buy that fertilizer based on recommendations that are derived from their soil tests. But those soil tests are prone to human error — in sample size, how the sample is taken, the bit of soil that is sampled, and the lab that processes the sample.
But Koch says his team at Precision Planting has spent the past six years working out a solution to that uncertainty, and this week has introduced Radicle Agronomics. The foundation of the system is what they call Radicle Lab, a mobile, fully automated soil laboratory that will let agronomists run hundreds of samples on-site.
The first step in the system is GeoPress, a structure for the back of a four-wheeler or UTV that blends and stores the soil sample in a georeferenced, reusable container. It grinds, mixes and stores the sample in 60 seconds. It's compatible with all ATVs and UTVs and connects wirelessly to an iPad app.
Koch says you can take the containers back to your shop, load them into the Radicle Lab and press "go." While you're eating dinner or sleeping, the lab analyzes every container. The system associates the field location, and the data flows from the sample to the lab to the software, eliminating the margin for error in hand-labeled samples.
Cloud-based software connects all the steps from field to lab.
The system also supports zone sampling with multiple core locations. Adam Vaccari, engineering team lead on the project, says agronomists can lay out their grid on the GeoPress and app, but they can also take more samples on the fly — say, in a low spot that looks interesting — and the system will automatically associate that sample with that spot, process the sample within the lab, and marry the data back to that location.
The introduction marks a new direction for Precision Planting, which was founded on the principle of improving planter accuracy and recently stepped into sprayer technology. But Koch, product lead for Precision on the Radicle Agronomics project, says they had to address soil sampling.
"If 22% of my costs are going into fertilizer, but I have the least amount of confidence of all my inputs, then I have the least amount of confidence that I'm getting a return on my investment for that," he says. "And when we have a problem posed to us like that, we can't not work on it."
Koch doubles down, saying if the industry can afford to spend that much money on nutrients, it can also spend more on better measurement technologies. And for his team at Precision, it was a matter of realizing they have the skills, the software team and the know-how to interact with soil. They hired a team of chemists and built a chemistry lab.
"We've done crazier things before," he says, laughing. "This is a lot of hard work and a huge investment with a team of engineers and scientists. But we believe there is a big global opportunity for farmers and for us as a business. But for farmers first."
How Radicle Agronomics works
Precision is marketing the Radicle Agronomics system to agronomists, and it'll be available on an annual lease basis for $750 a month. Koch says they got feedback that agronomists don't want to own and service the thing — they just want to use it and get back out in the field. Each sample will cost $5.50, and the software is free. Doug Wright, commercial lead for Precision, says agronomists will have to run about 3,000 samples annually to break even on the system.
But is it accurate? Koch says accuracy comes down to two factors.
The first is repeatability, which Koch says they have achieved. "If I send a certain number of the same sample through it, how consistent can I be with that same sample? So I take a volume of soil and I mix it really thoroughly, and I send the same sample through it. It's important to be repeatable."
The second is basic accuracy. "Accuracy is really determined by how well that soil test is correlated to a crop calibration — which means the agronomy trials that connect a fertilizer addition with a yield gain," Koch says. "The only thing that makes a soil test accurate is if it's connected to what actually happens in the field."
Viccari says they've built 24-hour calibration into the system, based on what they learned from their team of chemists.
"They calibrate every day, and if you ask analytical chemists if you can just calibrate every other day or once a week, they'd say you can't trust the results. So we built that into the system," he explains. "We've automatically built in a calibration process to run every 24 hours. So as things change, just as instruments in a lab would age over time, we're taking that into account."
Precision plans to pursue state certification where needed. Brad Joern, Precision agronomist, says they'll jump through the hoops they need to in order to get certified in different states.
The company believes — and acknowledges — that this technology will be a game-changer in the soil testing business. "This is a new competitor in the lab space," Koch says. "But labs will still have more boutique analyses that we don't have yet today."
In the end, Precision says the technology is a win-win.
"The great thing about nutrient management is that it's a win-win for the farmer and the stewardship of the land," Koch says. "When we can be more efficient with our nutrients, the land is going to be better stewarded."
Check out the demo video below:
Subscribe to receive top agriculture news
Be informed daily with these free e-newsletters
You May Also Like
---