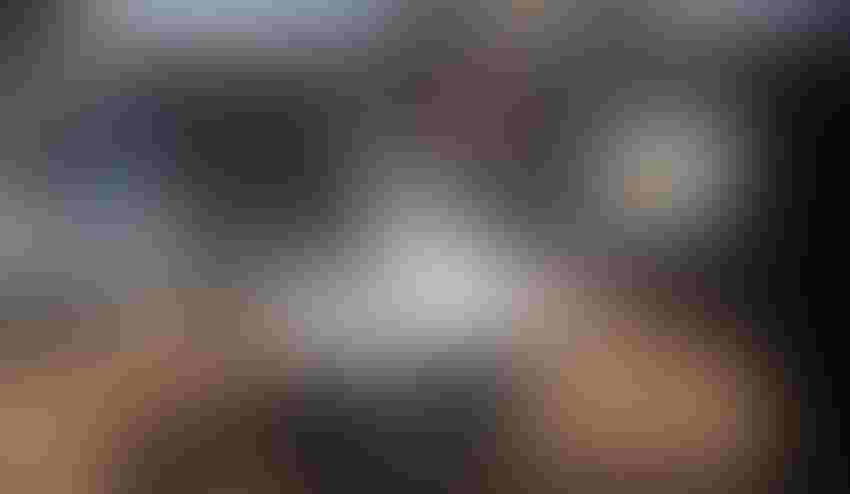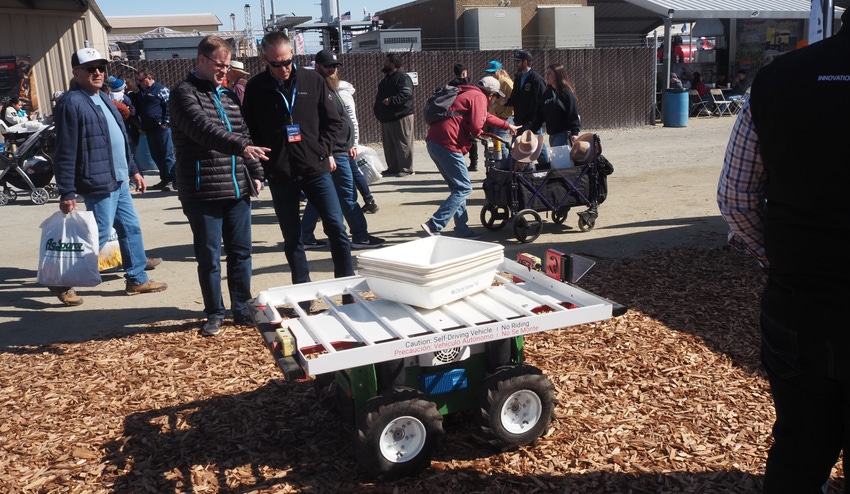 A Burro autonomous cart robot is demonstrated at the World Ag Expo Feb. 15 in Tulare, Calif.
Tim Hearden
More and more Burro automated carriers are finding their way into vineyards, orchards and fields – so much so that sales are expected to double this year and double again in 2024, according to a top executive.
Launched in 2017, the Delano, Calif.-based company started in table grapes as a way for workers to easily cart fruit into bins. The company has since expanded to service citrus orchards, nurseries, berry farms and other operations, noted Don Black, the company's vice president of growth.
And while Burro began exclusively in California, the company's equipment more recently debuted in South America and is looking to accommodate fruit growers in Georgia and elsewhere, Black said.
"There are hundreds of these things working in the field," he told Farm Progress. "Our core is table grapes, but we're doing blueberries, nurseries, citrus … The bottom line is we're getting our computer vision trained to work in other sectors."
Burro was among hundreds of equipment and other farm-related vendors highlighting their offerings during the 56th annual World Ag Expo at the International Agri-Center in Tulare, Calif. The West Coast's largest farm show began Feb. 14 and concludes today, Feb. 16.
The farm show was one of Burro's most important marketing venues early in its history and is still important, Black said.
"It's a great show with a lot of cutting-edge people and innovative products," he said.
Multiple uses
Burro bills its equipment as being able to carry, follow, tow, scout and patrol on farms. Burro markets autonomous, rugged cart robots that follows farm workers in the field and can haul goods for them.
The robots have a 26-inch by 48-inch chassis and comes with a two-wheel and a four-wheel drive option. The two-wheel Burro can carry 300 pounds while the four-wheel Burro can carry up to 450 pounds.
Burros are powered by sealed lead acid batteries, have a top speed of five miles per hour, and can travel up to 15 miles on a charge, the company says.
The machine's artificial intelligence navigates while taking images of each plant and counts grape clusters or blueberries, according to a company brochure.
The business' new Guard Dog system provides indoor and outdoor security, patrolling and sending text alerts to the grower's phone when intruders are seen. The device can return to its docking station for charging. Another Burro device keeps plants moving in assembly-line fashion – a help for nurseries.
While the company started slowly, centering on vineyards in the Delano area, Black said its "hockey-stick" sales growth has occurred in the last couple of years, fueled by labor shortages and rising costs. While U.S. growers find them useful in assisting their human workers, South American operations are finding they make larger staffs more efficient, Black said.
"In South America, managing the sheer number of people they have to manage … becomes complex," he said.
As such, the company is expanding its marketing efforts; Black recently attended a blueberry convention and plans to go to the FIRA USA ag tech show later this year, he said. Company officials expect sales to remain brisk.
"We get requests every week," he said.
For information, see burro.ai.
Subscribe to receive top agriculture news
Be informed daily with these free e-newsletters
You May Also Like
---