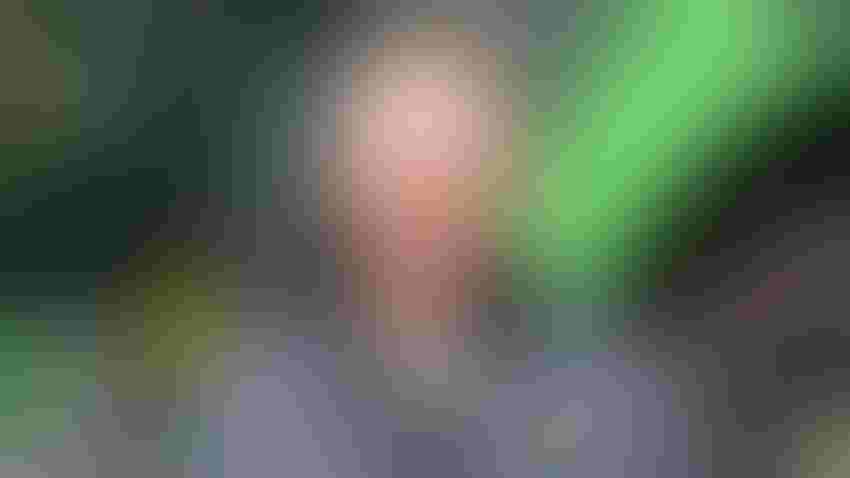 DATA: "Start using the data that you are already probably collecting," says Illinois farmer Ryan Myers, who helps farmers take data off machines and put it into platforms they can use and understand.
Photos by Mike Wilson
At a Glance
By 2050, soybean demand will grow by 60% to meet new demand for food and fuel — while fighting extreme weather.

Achieving all-farm average yields of 100 bushels per acre could be within growers' sights if they ratchet up management.

Better management includes variety selection, data use, weed control, early planting and precise planting.
When Georgia farmer Alex Harrell broke the world record for soybean yield on Aug. 23 with a massive 206.7-bushel average yield, it sparked a countrywide farm debate: Just how high can we push soybean yields?
It's a question growers should be asking as they review yield performance this fall, with an eye toward a fresh growing season around the corner. Many experts see no letup in soybean demand, both here and around the world.
"We estimate by 2050, we'll need 60% more soybeans than we grow now, considering new demand for food and fuel, and yet, fighting extreme weather," said BASF Crop Vice President Scott Kay, who moderated a soybean yield panel discussion at last month's Farm Progress Show in Decatur, Ill.
Growing a contest yield over 200 bushels is impressive, but achieving all-farm yields closer to 100 bushels per acre could be within growers' sights if they ratchet up management, panelists said.
Ryan Myers sat on the panel and is one of those farmers eyeing the 100-bushel mark. The Fairbury, Ill., farmer has increased all-farm average yields from 60 to 70 bushels per acre in just three years thanks to better seed selection matched to varied farm soils. He's also an integrated solutions consultant for John Deere, so he values data as a way to move yields even higher.
But, hitting 100-bushel soybeans, on average, won't be easy, he said. "As you fight to grow more, Mother Nature has other plans for you," he quipped.
What follows are some questions you should ask yourself and your retail partners as you review current yields and amp up yield goals for next year.
Variety selection and more
Myers plants Xitavo 2501 up to Xitavo 3752 with various populations averaging 140,000 plants per acre.
"Varieties have to keep improving, and we have to place those varieties on the farm in the correct field to achieve higher yields," he said. "We rely a lot on our seed agronomist and use Variety Profile Index to see what hybrids will perform best on what soil types — what to plant on wetter ground versus dry ground, for example.
"I've tried to stick to his plan on what hybrids need to specifically be on each soil. I'm a firm believer in it, but it takes data. You can't just wake up and do it."
Variety selection is one way to mitigate risk; layering in seed treatments gives you a solid defensive plan to get higher yields, especially with early planting.
"To mitigate environmental risk factors, we recommend early planting," said Marc Hoobler, BASF northern regional agronomy lead. "Every day after April 15, we lose half a bushel a day, so we try to get seed in the ground when soil is ready — even planting before corn, which is a mindset shift."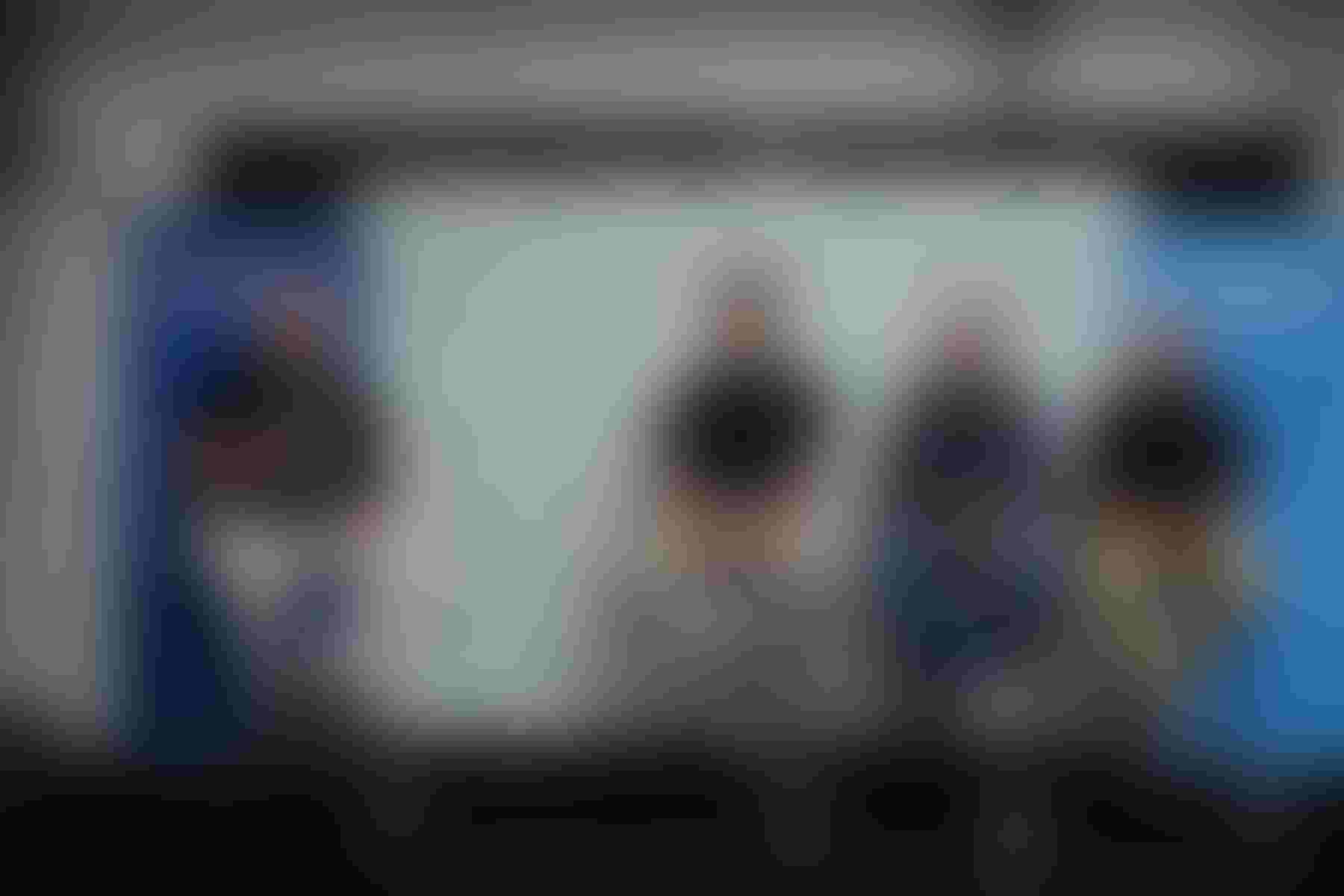 TALK: At last month's Farm Progress Show, BASF hosted a roundtable discussion on boosting soybean yields. Participants included Scott Kay (left), Nick Fassler, Ryan Myers and Marc Hoobler.
One of the main keys to good emergence is an even planting depth. Older equipment caused a lot of variance, Myers said, but modern planters have solved that dilemma.
"We can get the field fit to limit risk," he said. "We use vertical till on some early-planted ground. It makes the ground handle frost a little easier."
With early planting, seed may sit in the soil longer, so it needs to be protected, Hoobler said. "Seed treatments are a critical component of early planting," he added.
Timelier weed control
"Weeds do hinder yield," Myers said, "so more timeliness is key. If you see only a few weeds and wait until the crop gets to canopy, it could be too late. We need to be out there attacking these weeds. We're going to need different modes of action to control weeds more effectively and more cost effectively.
"At our farm, our current approach is, we want to plant into a clean field, so we start with a fall burndown; then in spring, lay down residual with the preemergence. The main weed we want to control is the almighty waterhemp.
"Our plan is to mix modes of action as best we can with residuals," he continued. "We need to put multiple residuals down through the season and rely more on technology to combat weeds in a more economical way."
This past summer, Myers got to see a See & Spray smart sprayer work in his fields. The sprayer uses camera visioning and machine learning to target individual weeds with a contact spray in-season and avoid crop plants. With two tanks working at once, it can spot-spray weeds and apply a residual in one pass.
"The cost savings of going out and only applying 10% contact herbicide along with residual is amazing," Myers said. He believes there's work to be done in narrow rows, because it's harder for the cameras to pick up the weed in close quarters with crop plants.
"Nothing is perfect, but the capabilities are there," he added. "That technology is going to be a game-changer."
Advanced management
Weather has a big hand in yield, but it's more than just rainfall or heat. It's about understanding where water is flowing to and from in your fields, organic matter, pH — and that's just for starters. There's a host of details that may not seem important on their own but can add up to huge yield boosts when considered in tandem as part of a larger management strategy. For example:
Are you sampling for soybean cyst nematode? "As a pest, SCN is robbing farmers of $1.5 billion annually," said Nick Fassler, BASF technical service director. "Annual testing is important. After harvest is a good time to check egg counts and determine if you should go to a different crop in that field."
Consider in-season tissue sampling. "If we're going to get to 100-bushel yields, we probably need to tissue sample to have a lab tell us what nutrients we're missing, and find a product to apply to fields in a timely fashion to get those yields to the next step," Myers said.
What about variable varieties and populations? "We could also manage populations with variable rate as we change slopes or soil types, to drive yield further," Hoobler said. "I would love to see us planting multiple varieties in the same field; that's the prescriptive level we want to get to."
Consider the benefits of biologicals. "The biggest thing is to understand biologicals and know what they do, but there's a lot of noise in the market right now," Hoobler said. "A clear definition — what we're actually gaining — is the key."
Myers plans to test biologicals on his farm but has yet to set up a farm trial. "Seed treatment for biologicals will be the easiest to adapt, but in-furrow treatments may also be beneficial," he said. "The ease of use is important."
Let data inform your decisions. As a John Deere integrated solutions consultant, Myers helps farmers make sense of the data coming off their planter. "Our biggest pain point is how many farmers do not keep track of their data," he said. "We have past history on soil maps, varieties and how they performed; it's going to be beneficial to those who have collected that data to use it."
Hoobler added, "What's important is the decision you make with the data you have."
Will these practices move the needle on your farm? Most likely. Maybe not all the way to 100 bushels per acre right away, but with soybean demand leading to profitable prices, every little bit will add to your bottom line.
"I don't think there's going to be one magic bullet to get us to 100 bushels," Myers concluded. "It's going to be all of these things working together."
Subscribe to receive top agriculture news
Be informed daily with these free e-newsletters
You May Also Like
---