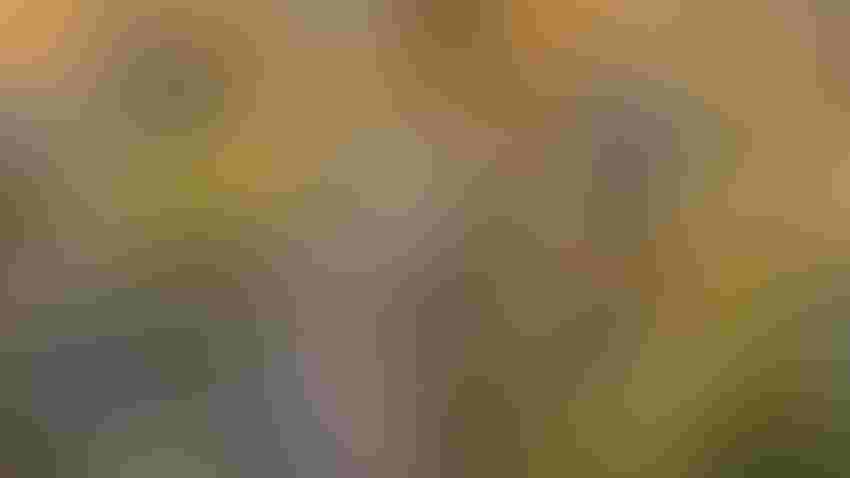 PUMPED UP SOYBEANS: Are soybeans performing to their fullest potential? A new genome project wants to amp up that potential, exponentially.
Holly Spangler
The University of Illinois and the U.S. Department of Energy's Joint Genome Institute are undertaking an ambitious project to sequence 400 soybean genomes to develop a "pangenome." Their ultimate goal? To characterize all the useful diversity in the genome to create an even more robust and resilient crop.
The soybean pangenome project will sequence and analyze at least 50 soybean genomes from cultivated lines and wild relatives at reference quality — the gold standard of modern sequencing. An additional 350 genomes will be sequenced as high-quality drafts by the JGI. The plan is to include a diverse set of soybean lines, including perennial relatives and lines selected to yield in harsh conditions, preparing the industry to move toward a climate-resilient future.    
With its inclusion of wild relatives and the sheer number of reference and high-quality draft genomes set for sequencing, the project will drastically improve the current soybean reference genome.
Matt Hudson, U of I professor of crop sciences, says genetic diversity is the raw material for crop improvement, but the crop's diversity is not reflected in the reference genome. He likens it to the first human genome, which was pieced together only from Caucasian individuals. 
"There's an increasing effort to have the reference human genome reflect all of the variation in people. We think there are equally big reasons to do the same thing in crops," Hudson says. "But it's hard to locate the missing diversity by any other means than sequencing more genomes."
Ultimately, Hudson says the project will "enable deep analysis of the evolution and domestication of modern soybean and empower soybean researchers and breeders to directly select for otherwise hidden genetic variation in genes that can be targeted for variety development. As soybean is becoming increasingly important as a worldwide crop, as well as being a key bioenergy crop, this project will have global impact and be particularly relevant to U.S. agriculture."
Keep watch for spotted lanternfly
The Illinois Department of Agriculture confirms that spotted lanternfly has been detected in Cook County, following a report in mid-September. Scott Schirmer, IDOA nursery and northern field office section manager, says the spotted lanternfly will impact residents' ability to enjoy the outdoors and may affect the agritourism industry, but will not result in widespread tree or plant death.
The pest is native to eastern Asia and was first found in the U.S. in 2014 in Pennsylvania. It's inched closer to the Midwest for the past decade, and has been recorded in Indiana, Michigan, Ohio and other states.
Spotted lanternfly feeds on the similarly invasive tree of heaven, maple trees, and both wild and cultivated grapes. Landowners should monitor those plants for feeding; look for a sticky liquid that often coats or accumulates on the foliage and other parts of plants.
The pest is tough to contain because it moves easily from one location to another, via wood surfaces and products, and vehicles like trains. Here are actions to take:
Remove and destroy pests. Crush nymphs and adults. Scrape egg masses into a container with hand sanitizer or rubbing alcohol to kill them. Remember to take photos first, and then report it.

Check vehicles, boat, camper and outdoor items. Before leaving an area, do a quick inspection for any life stages. Destroy any eggs or insects found.
Farm Family Resource Initiative report released
The Farm Family Resource Initiative has published its annual report, sharing its outreach through various outlets to rural communities, including number of calls, emails and more. The report lists its accomplishments and commitment to the people it serves.
FFRI is funded by the Illinois Department of Human Services, the Division of Mental Health and the Illinois Department of Agriculture, in cooperation with USDA National Institute of Food and Agriculture.
To contact the Farm Family Resource Initiative, call or text 833-FARMSOS (833-327-6767) or send email to [email protected].
Illinois signs on with program for better soil health
The Illinois Department of Agriculture has signed a memorandum of understanding that would establish a statewide program for standardizing soil health practices. It will use the metrics of the STAR program to implement legislation passed this year to increase use of cover crops, strip till, no-till, and erosion and sediment control practices.  
IDOA plans to leverage $3.5 million in state dollars to capture $9.8 million in federal funds, making it possible to support voluntary efforts by farmers to reduce nutrient loss, build soil health, manage water resources, and increase yields, profits and climate resilience.
Resources for the initiative will come from Conservation 40, a new IDOA partnership with USDA's Natural Resources Conservation Services and the Sangamon County Soil and Water Conservation District.
The program STAR — Saving Tomorrow's Agricultural Resources — began in Illinois by the Champaign County Soil and Water Conservation District. The program is free and encourages best practices for reducing nutrient and soil loss. Farmers receive an overall field score based on their crop rotation, tillage, nutrient applications and use of conservation practices.
STAR provides scientific validation for P.A. 103-0494 because all STAR applicants are providing the department with accurate metrics of performance. Scores are converted to a STAR rating of 1 to 5, with 5 indicating commitment to a suite of practices proven to improve soil health and water quality.
"The standardized STAR framework provides producers, investors and supply chain partners a clear road map for increasing conservation outcomes and evaluating progress," says Caroline Wade, STAR executive director, adding that by using data, STAR can bridge the gap between farmer perception of sustainability and the many outcome-based market and supply chain programs.
Subscribe to receive top agriculture news
Be informed daily with these free e-newsletters
You May Also Like
---