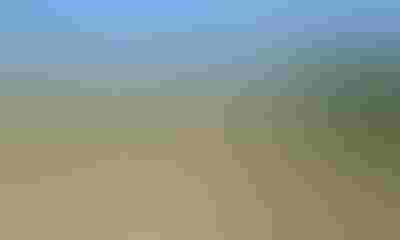 There is an area of the Crop Watch '16 field where the original stand is only 10,000 plants per acre. On the flip side, parts of the field planted April 27 have stands of 28,000 to 32,000 plants per acre. The reality is, there are far more areas of better stands than poor stands. But it took nearly a month before that was apparent.
Cool, wet soils after planting delayed germination and emergence. However, where soils were better drained, corn emerged, although not in a uniform pattern. The first day it was dry enough to replant was May 25. The farmer elected to leave most of the field alone, but spotted in new seed in the worst areas.
DECISION TIME: The decision to replant or leave a stand alone can be tough to make.
Dave Nanda, crops consultant for Seed Consultants Inc., sponsor of Crop Watch '16, says there are usually one or two days that turn out to be the wrong days to plant. The problem is, you don't know it until it's too late. That's because it's difficult to know when weather will take a sharp turn.
Was April 27 the wrong day to plant in some areas this year? Nanda says the jury is still out. However, he believes leaving adequate stands planted early is a better strategy than tearing up an entire field.
"Generally, early planted corn yields more," Nanda emphasizes. "The problem this year was that there were stretches of cool, wet weather through April and much of May."
What numbers say
Using the chart in the Purdue University Corn & Soybean Field Guide, based on research in the Midwest, the numbers for the part of the field where stands turned out adequate shake out this way: Planted April 27 with a stand of 30,000 plants per acre, the field should still have the potential to reach full yield. Even at 26,000 plants per acre, research says it could yield 98% of normal. If normal is 200 bushels per acre, expected yield would be 196 bushels.
Compare that to replanting May 25. Even if the farmer achieved a perfect stand of 32,000 plants per acre, yield potential drops to 87% of the original, or 174 bushels per acre.
That's a no-brainer. However, it can be tough to know when looking at slow-emerging, uneven stands in mid-May. This year may shed more light on what decisions make sense the next time around.  
About 90% of the field planted April 27 looked thin (left) on May 24 and the farmer had a decision - leave the stand or tear it up. By early June (right), it was obvious that the stand in most of the field was adequate. The farmer left the stand but spotted in new rows in about 10% of the field where emergence was poor.
Subscribe to receive top agriculture news
Be informed daily with these free e-newsletters
You May Also Like
---