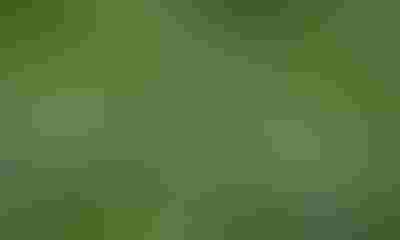 Awareness of soybean growth stages is critical for making management decisions to help preserve yield potential. The plant does not follow even, separate growth stages throughout the growing season, and some pods may just be forming while others have beginning seeds. Determining the crop's stage will help you make decisions to promote higher yields.

GROWTH STAGE: Soybeans in flowering stages of growth take up more nutrients than during other growth stages and are susceptible to white mold disease.
The flowering stages of soybean reproduction are Beginning Flowering (R1) and Full Flower (R2). R1 occurs when one flower is located on the main stem. Flowering begins at the third to sixth node. R2 is reached when a flower is present at one of the two uppermost nodes of the main stem. Plants normally have 8 to 12 trifoliolates. The plant is rapidly expanding its root system and increases its uptake of nitrogen, phosphorus and potassium. Applying a fungicide for white mold prevention is recommended during R2 in areas with white mold prevalence.
Pod development follows with Beginning Pod (R3) and Full Pod (R4). At R3, one of the four uppermost nodes has a pod that is 3/16-inch long. Stress can limit the number of pods produced as well as each pod's beans. R4 is reached when one of the four uppermost nodes has a pod that is ¾-inch long. This is a stage of rapid pod growth on the plant. Many postemergent chemicals are now off-label during pod development. Check labels for growth stage recommendations. This is an important stage for disease diagnosis. Phytophthora, brown stem rot, sudden death syndrome and charcoal rot can all be present during pod and seed development. This is also an important time for scouting for bean leaf beetle and soybean aphid.
Seed development follows with Beginning Seed (R5) and Full Seed (R6). When a seed measures 1/8 inch in a pod on one of the four uppermost nodes, the plant is in R5. This typically occurs about a month before full maturity. The plant is near its maximum height and node number. Nitrogen fixation has peaked, and dry matter is being distributed to the seeds. R5 is the last stage where an insecticide application for soybean aphid control is recommended. R6 is reached when a pod contains a green seed that fully fills the pod cavity. Root growth is complete at this stage, and the maximum pod weight has been reached.
The final stage is plant maturity, with Beginning Maturity (R7) and Full Maturity (R8). R7 is recognized by one pod anywhere on the plant that is mature in color. The leaves are turning yellow, and the plant will be fully mature in 7 to 15 days when 95% of pods have reached a mature color (brown or tan).
Knowing these stages can save you money on making pesticide applications if they are not necessary or beyond the labeled stage of application. You can also understand at times of stress what stage the plant is going through and what kind of effects could possibly be happening.
Spelhaug is an agronomist with Peterson Farms Seed, Harwood, N.D. Follow him on Twitter at @PFSAgronomyGuy, and read his contributions to The Peterson Blog at petersonfarmsseed.com/blog. For more information, contact him at 866-481-7333 or [email protected].
Subscribe to receive top agriculture news
Be informed daily with these free e-newsletters
You May Also Like
---