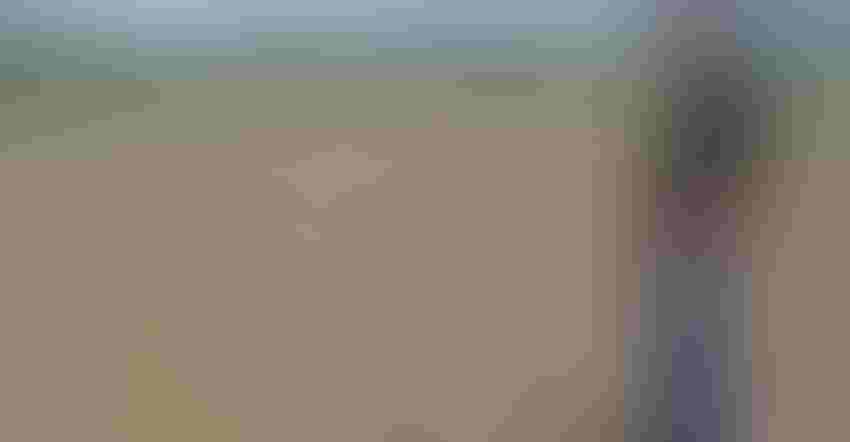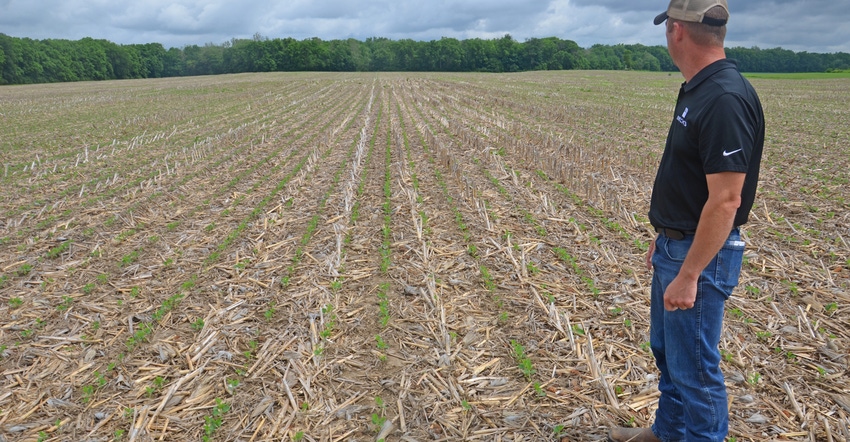 EYEING THE PATTERN: Agronomist Steve Gauck determined that a pattern of thinner stands and delayed emergence on rows over old corn rows repeated itself across this soybean field.
Tom J. Bechman
Scouting soybeans and taking stand counts can help you sleep better at night, knowing you have enough soybeans emerged per acre to reach your yield goal. There are other reasons for examining and evaluating stand emergence, too.
"If you pick up patterns in emergence, you stand a better chance of tracking the cause when plants are small and you can observe the seed trench," says Steve Gauck, a regional manager for Beck's, based near Greensburg, Ind. Once soybeans get bigger, it may be harder to see a pattern, and it may be tougher to track down the cause if you can still identify a pattern.
"If you find it early, you may be able to decide if it could have been a planter issue," Gauck says. "If so, you can go back to the planter and determine if it's likely your hunch is right. If it is right, you can decide how you want to make changes before next season, so you don't encounter the same issues again."
Related: Drones show potential in soybean replant decisions
Beck's sponsors Soybean Watch '22. Once soybeans are planted in this year's Soybean Watch field, Gauck will visit multiple times, starting with emergence. He will look for all kinds of potential issues, including possible problems with emergence.
Example of poor emergence
Here's an example from the Soybean Watch '21 field: Visiting when soybeans were at the V3 to V4 stage, Gauck noticed some rows were taller and already more advanced than other rows. Soon, he picked up a pattern. The field was no-tilled into cornstalks. Rows most behind in growth tended to be those planted over an old corn row. In some of those rows, the stand was also thinner than in rows not planted over an old row.
"We could still dig up a few of those plants," he explains. "Some of the plants from rows planted over old corn rows had obviously struggled emerging. There was a lot more residue in those rows."
Gauck speculated at what likely happened. "When a row wound up over an old row for a considerable distance, there appeared to have been more hairpinning. That means old residue was pushed into the seed slot. When that happens, the slot may not close completely, and the soybean seed could wind up in contact with more residue than soil. It could delay emergence or result in germination failure."
One possibility was that disc openers were worn enough to reduce effectiveness in cutting through residue, he surmised. It was apparently only problematic when the new row wound up over old corn rows, where corn residue was heaviest and toughest.
"That's an easy fix for next season," he says. "Go check wear on disc openers. It's a good idea to check disc openers for wear before each season anyway. Typically, if they're down to under 14½ inches in diameter, you ought to think about replacing them."
In this case, the other solution would be planting soybeans on a stronger angle across the field, so that new soybean rows don't wind up over old corn rows for a significant distance.
"This situation was a good reminder that it's good to check performance while you're planting," Gauck says. "If seed isn't getting placed as deep in some rows as in others, for whatever reason, make adjustments."
Subscribe to receive top agriculture news
Be informed daily with these free e-newsletters
You May Also Like
---