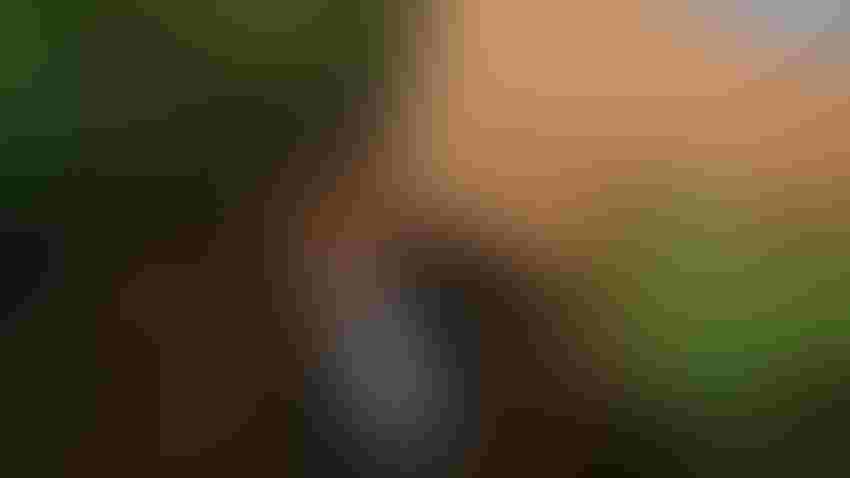 The BeCrop Test by Biome Makers is a biological soil test that gives producers precise insight on soil quality, and test results help to facilitate sustainable practices and increase crop production.
Whitney Haigwood
Soil testing is an essential part of sustainable agriculture, and the BeCrop Test by Biome Makers can equip producers with better information to improve soil health. This biological test provides a deeper look at microbial activity in the soil by extracting DNA from the sample and measuring the concentrations of bacteria and fungi. It also assesses the soil health functions that those microorganisms perform in the soil. 
Test results help farmers inventory the soil quality, determine nutrient uptake, and identify pathogens and disease issues. This information can then be used to make on-farm decisions to not only improve soil health but also optimize yield potential. 
Jamie Nix, communications and content manager at Biome Makers, described the biological soil testing as an important piece to the soil health puzzle.  
"With the BeCrop Test we look at all the abundance of soil microbial communities present to identify the biological pathways that are working. Using this biological soil test, in addition to chemical and physical testing, allows producers to see the big picture of their soil and make management decisions based on all three dimensions." 
Have you thought about biological soil testing for your farm? Here are three reasons you might consider using a BeCrop Test.  
1. Gain deeper insight about your soil and the quality of it.
The BeCrop Test gives producers a precise look at the biodiversity of their soil. Results indicate the ratios of bacteria and fungi present in the sample and identify how these species work together in the microbial community beneath your feet.  
James McCollum said that knowing the microbial ratio is key. McCollum is a sales manager at Waters Agricultural Laboratories, Incorporated. It is one of two partnering laboratory companies that process the BeCrop Test.    
He said, "More diversity in the soil means better soil health and quality. Test results report the biodiversity of the soil along with the functionality, by determining the roles that the different bacteria and fungi play," he said. 
In addition, test results can indicate any resistance issues or vulnerabilities in the soil, and McCollum said that disease risks can be identified on a crop specific basis. This information helps farmers with variety selection and crop rotation. By identifying the susceptibilities, farmers can opt for resistant cultivars or decide to plant a different crop altogether. 
2. Monitor soil health to see which practices work best.
Knowing what is in the soil and how it functions can help farmers drill down when making management decisions. Based on the test results, products may need to be added to correct microbial deficiencies. Farmers may also want to verify how the soil responds to different crop applications and which management practices best improve soil health. 
Nix noted additional testing throughout the season gives a great overall picture of how the soil adapts to stress and reacts to applications like fungicides, herbicides, fertilizers, or biologicals. 
"Samples before, during, and after mid-season can measure and monitor the effects of different management practices. This allows us to quantify the changes across time and in different plot points to compare what applications or practices are working best," she said. 
3. Determine nutrient uptake to increase yield potential.
Plants take up nutrients through biological pathways in the soil, and blocked pathways can impact plant health and limit crop production. McCollum illustrated this concept by comparing soil health to human nutrition. 
"Your soil acts like your gut. If your gut does not have the right ratios of bacteria, then your body does not absorb nutrients like it should. The same goes with plants, and the BeCrop Test may indicate that a biological application is needed to improve soil nutrient uptake," he said.  
That was the case for a citrus grower in Georgia. McCollum said the grower tested the soil then applied a biological to a portion of his acres. The remaining acres were left as an untreated check. An increase in yield on the treated acres indicated that the biological application corrected the bacterial ratio and improved nutrient uptake. 
Nix also told the story of a farmer who benefitted from using a biological. Each year, this farmer utilized physical and chemical soil tests. The results showed there was plenty of magnesium and potassium in the soil, but the tissue tests during the production season indicated nutrient deficiencies in his corn and soybean crops. 
"With the BeCrop Test, we were able to sample his soil and sequence the DNA to look at the whole microbiome. The test showed that the biological pathways were blocked, so while he was applying fertilizer and there was plenty in the soil, it was not getting to the plants. 
"We recommended that he try a biological to see how the crops would respond. He did that, in addition to reducing his synthetic nitrogen fertilizer applications by 20%, and he was able to get record bushels from those management practices," she said. 
Additional Information on Biological Soil Testing 
BeCrop Tests are available for purchase on the Biome Makers website. The cost is $199 per test, and the kit is delivered with instructions on collecting and submitting the sample. The cost also includes access to the BeCrop portal. 
McCollum noted these tests take longer to process than regular chemistry analysis tests, and he said to expect two to six weeks to receive the results.  
"It is amazing the results we can get with such a small soil sample. The quality control program is a very important aspect in this whole process, and that factors into the time it takes to get the results back," McCollum added. 
Biome Makers also offers training options through the BeCrop Advisor program, and continued education hours are available for crop advisors or farmers who are interested in learning more.  
For certified organic growers, BeCrop Rate is the latest product launch that serves as a bioindicator for measuring sustainable land management. 
"The BeCrop Rate certification is on a scale from 0 to 100, and this rating can be added value for farmers or food operators trying to validate the sustainability of the land, with the bioindicator being the soil," Nix said. 
For more information on Biome Makers products, visit their website at BiomeMakers.com. There you can also find case studies and resources for farmers, advisors, retailers, and manufacturers.  
Subscribe to receive top agriculture news
Be informed daily with these free e-newsletters
You May Also Like
---