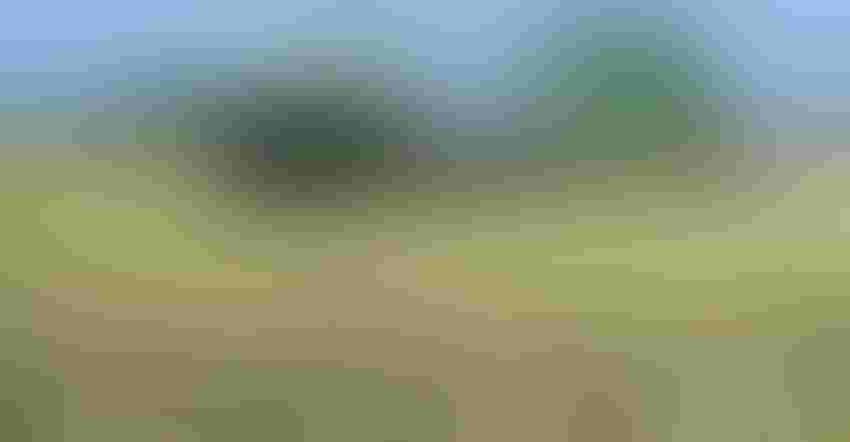 Arkansas rice harvest, off to a slow start because of weather not conducive to drying grain, likely will extend into early November.
"We could be at 90% harvested by mid-October with any luck," says Jarrod Hardke, rice Extension agronomist, University of Arkansas System Division of Agriculture.
"Some acres planted in June could drag things out a little while."
Weather has been a factor early. "At this stage, conditions haven't been that conducive to get the crop as dry as we want it for harvest," Hardke says. "High dew points and daily dew set creating foggy and cloudy mornings are slowing grain drying and overall harvest progress. We are definitely making headway but are fighting those conditions."
He says Hurricane Laura and subsequent rains caused less damage than initially feared but is "slowing harvest in the areas most affected as we try to manage and pick up the downed rice."
He says rice harvest was "roughly one-third complete at this point (Sept. 15). The long-term forecast for now is for drier and cooler conditions, so we will pick up a good head of steam over the next 10 days, we hope."
He says typically, during the best harvest windows, producers see only about a 20% jump in harvest progress in a given week. He anticipated that by the Sept. 21 NASS report Arkansas rice would be 40% harvested. "We could see 60% by the following week if conditions allow."
Hardke says the overall crop condition is very good with an expected finish date of early November.
Louisiana
Louisiana rice producers were looking at one of their best crops on record as harvest was winding down in southwest parishes and well under way to the east — until Hurricane Laura hit, leaving $28.5 million in losses to the main and ratoon crops, as well as damage to structures and rice in storage.
"Producers were wrapping up harvest in southwest Louisiana when Laura hit," says Dustin Harrell, professor and research coordinator at the Rice Research Center in Rayne, La.
Harrell says harvest was 95% complete in southwest Louisiana with "very good yields, one of the highest-yielding crops in years, not a record but possibly the second or third best."
He says harvest had just begun in northeast Louisiana where yields were also good. "The season was almost perfect until near the end."
Harrell says a lot of rice from southwest Louisiana had been harvested and in storage when Laura hit. "We had a lot of structural damage to dryers and storage facilities, tops blown off, some sides crushed. Some stored rice was exposed to the elements."
He says a lot of folks pitched in, including rice mills, to move as much of that rice as possible to other facilities. "We are not sure how much was lost. If rice was moved quickly, damage might have been minimal, staining, perhaps. Damage could range from minor to a total loss."
 He says the hurricane damaged unharvested rice. "Farmers who were cutting in the upper 50s to the lower 60s before the hurricane, cut in the 20s afterward."
In northeast parishes, producers suffered some lodging and shattering, but damage was less than in hardest hit areas.
Harrell says Morehouse Parish, the state's fifth largest rice producer, experienced a lot of wind damage, lodging and shattering, an estimated 80% loss. "That was unfortunate; the crop was yielding well." Carroll and Williams parishes also took hard hits.
Mississippi
"We have had a great harvest season to start in Mississippi," says Bobby Golden, Mississippi State University Extension rice specialist, Delta Research and Extension Center, Stoneville, Miss.
As of today (Sept. 18) we are close to 35% to 40% percent harvested. We have been lucky to dodge two hurricanes."
Golden says damage from Hurricane Laura was much less than in nearby states. "We had hardly any issues with Laura that severely impacted Arkansas and Louisiana."
He says Mississippi rice farmers planted 170,000 acres this year, up from 2019.
"Early reports suggest some of the best yields we have achieved in quite a while," Golden says. "If they hold to the end of the harvest season, we may have a record-setting state average."
He adds that producers are taking advantage of clear weather to finish harvest. "The next 10-day forecast looks good, so we are cutting rice really fast and should get most of our rice harvested in the normal time frame, out prior to October."
Subscribe to receive top agriculture news
Be informed daily with these free e-newsletters
You May Also Like
---