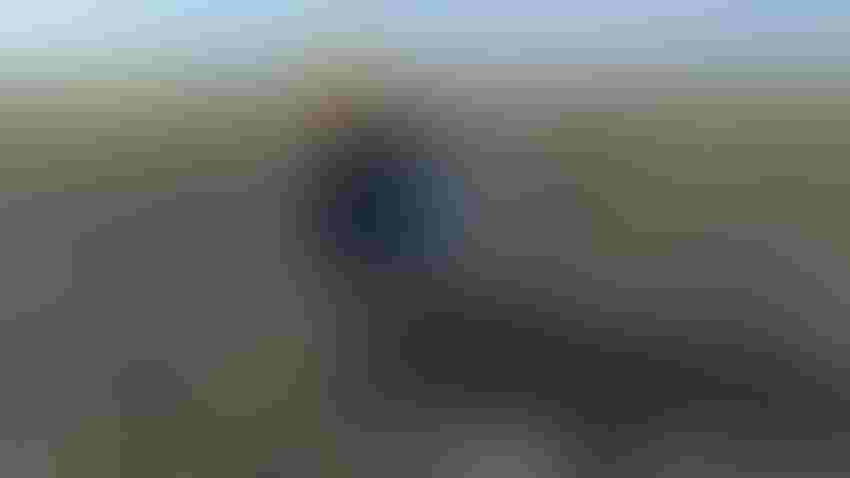 PhD candidate Sara Rosenberg collects seed emergence data of cover crop mixtures at the Colusa Farm research site
UCANR
For the first time in nearly 30 years, University of California scientists are conducting research on cover crops in rice, and they are sharing their expanded findings with growers through field days and educational materials. Previous research had focused on just two species, rendering the team unable to make recommendations to growers.
"When I went on farm calls, and at various meetings, rice growers were asking for updated information," said UC Cooperative Extension rice advisor Whitney Brim-DeForest. She and her colleagues recognized it was time to evaluate cover crops again to support the industry.
The researchers are collaborating with growers in Colusa and San Joaquin counties and at the California Rice Experiment Station in Biggs to evaluate winter cover crop mixes for their ability to increase soil carbon and improve nitrogen cycling, and to evaluate ten single species and two mixes for suitability in rice growing systems. The project is funded by a California Department of Food and Agriculture Healthy Soils Demonstration grant and the California Rice Research Board.
"Working with the growers has been a fantastic opportunity to further understand the constraints they face when cover cropping and has given us insight into how we might better implement cover cropping in California rice," said Brim-DeForest. "For example, we've learned that cover crops are very sensitive to water conditions – too much rain leads to drowning; too little rain and establishment is poor."
The project connects dedicated grower collaborators with a UC team that brings diverse expertise in agronomy, plant nutrition, soil health and pest management. "Together, we are increasing knowledge for the benefit of the rice industry," said Michelle Leinfelder-Miles, UCCE Delta crops resource management advisor and project leader at the San Joaquin location.
Leinfelder-Miles stressed another important aspect of the collaboration. "It can take years before management practices result in changes to soil health metrics, which can inhibit long-term adoption," she said. "It is important to collaborate with industry partners who have a vested interest in long-term outcomes."
More data needed
Sara Rosenberg, UC Davis graduate student in plant sciences, added that rice growers need more data to make informed decisions and policy makers need information to adapt incentive programs to the growers' contexts and the diversity of agricultural systems that exist in California.
"There are more incentive programs these days to support growers in adopting sustainable practices such as cover cropping," she said. "But rice is a unique system, and it tends to be left out of the conversation with respect to soil health practices. Due to the flooded conditions and heavy clay soils, the impacts and growth habits of cover crops may be very different than what we can expect in an upland crop like corn, wheat or tomato."
Additional project collaborators include UCCE rice farming systems advisor Luis Espino, UCCE agronomy farm advisor Sarah Light, UC Davis professor of Cooperative Extension Bruce Linquist and associate professor of plant sciences Cameron Pittelkow. When project results and grower guidance are available, the team will share them through the UC Rice Blog, county newsletters, and the winter grower meetings. There will also be a farmer field day scheduled at one of the research sites over the cover crop growing season.
Source: University of California Division of Agriculture and Natural Resources
Subscribe to receive top agriculture news
Be informed daily with these free e-newsletters
You May Also Like
---