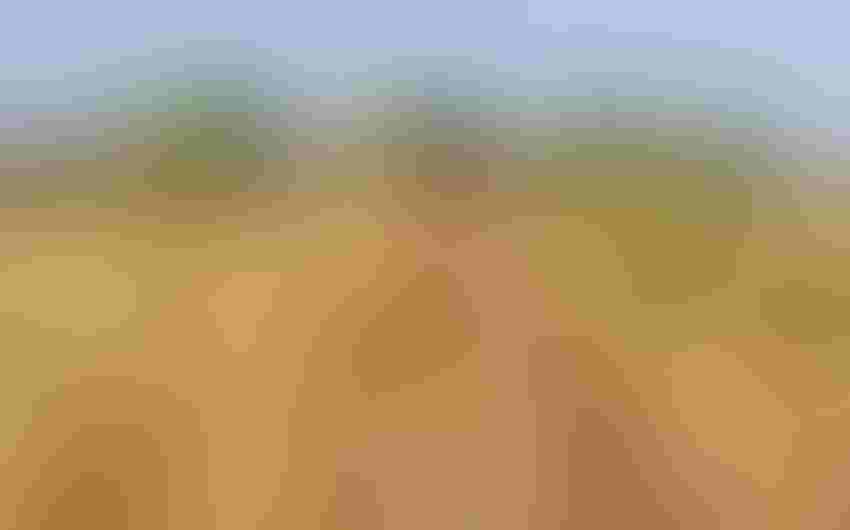 USDA has projected the 2021 average farm long-grain rice price at $12.80 per hundredweight compared to $12.40 per hundredweight in 2020.
Farm Press
Mississippi rice growers have faced a couple of challenges this season, but as they complete harvest, they are seeing good prices and some pretty healthy yields.
"From what I'm hearing, the yields are pretty good," said Kirk Satterfield, a rice grower from Benoit, Miss. "If we could just get a good run of weather." 
By mid-September Satterfield had endured the rain dropped by hurricane Ida and several days of spotty showers.
"We've gotten probably three and a half inches of rain in a lot of areas," he said of the storms over a four-day period.
Despite the rain, he said that harvest is about halfway through and yields seemed to be holding up pretty well.
Ida slowed down harvest but not just because of the rain. Some rice was lodged when winds following the rain hit the area, but it wasn't widespread.
"I could show you a field that is completely flat all the way across," he said "And, I could take you to one, three miles the other way, where you wouldn't ever know the hurricane happened. We can take a little bit of wind and we can take a little rain, but we just can't take both together."
Overall, Satterfield, who is chairman of USA Rice Farmers board of directors, believes the season will turn out to be a good one for Mississippi rice growers.
INSECTS
A couple of months earlier producers were faced with an onslaught of fall armyworms.
In August, Jeff Gore, Mississippi State University Extension entomologist and researcher, who is stationed at the Delta Research and Extension Center in Stoneville noted that the armyworm invasion was the worst he has seen in his career, affecting rice, pastures and other row crops.
"From a rice standpoint, we typically spray a small percentage - less than 10% - of the acres every year in Mississippi. This year we have probably already sprayed much more than 50% of rice acreage," he said in an Extension Service release.
A Section 18 request was granted to allow producers to spray the insecticide Intrepid 2F to help alleviate the pest, which in the end has allowed growers to keep the crop in good condition until harvest.
"We had some problems with worms," said Satterfield. "But they were diagnosed pretty quickly and we were able to spray in a pretty timely manner."
Jason Bond, weed scientist with the MSU Extension Service and researcher with the Delta Research and Extension Center in Stoneville noted that other than armyworms, rice growers have not had to manage a great deal for pests. Disease has also had little impact on this year's crop.
Flooding
Flooding impacted about 69,000 acres, according to Brian Mills, Extension agricultural economist in Stoneville. In August, he estimated rice crop damages of $37.8 million, according to Bolivar County, the state's largest rice-producing county, accounted for close to 40,000 of those acres.
"The flooding caused some of the decrease in rice acres," Mills said. "Rice acres that were destroyed would likely not have been replanted to rice because it was so late in the year."
USDA estimated that Mississippi producers would plant 110,00 acres of rice this year, down from 150,000 planted in 2020. Mills estimated that the total number of acres planted by growers this year would be more in the range of 100,00 acres.
Rice planting acreage may have also been reduced due to high corn and soybean prices, according to Mills.
"That's just a windshield estimate from driving around the area looking at it. I don't think we have even 100,000 acres this year," he said, attributing the decreased acreage to flooding and citing the decision many farmers made to plant higher-priced crops.
Price
Will Maples, Extension agricultural economist at Mississippi State, predicted that farmers should see moderately better rice prices in 2021. USDA has projected the 2021 average farm long-grain rice price at $12.80 per hundredweight compared to $12.40 per hundredweight in 2020.
"Reduced supplies in 2021 due to an acreage reduction from last year are contributing to higher prices," Maples said. "Long-grain plantings were down 11% below last year primarily due to high corn and soybean prices we saw this spring."
Maples also noted that, exports are forecast to be lower for the 2021-2022 marketing year because of reduced supply and less competitive U.S. prices, which may result in lowered prices.
Subscribe to receive top agriculture news
Be informed daily with these free e-newsletters
You May Also Like
---